Found March 09, 2012 on Obstructed View OLD:
PLAYERS:
Chris Volstad
,
Jeff Samardzija
,
Randy Wells
,
Doug Davis
,
Ramon Ortiz
,
Kerry Wood
,
Carlos Marmol
,
Dustin Ackley
,
Ted Lilly
,
Kyle Smit
,
Anthony Rizzo
,
Kevin Millar
,
Travis Wood
,
Casey Coleman
,
Paul Maholm
,
Starlin Castro
,
David DeJesus
,
Tony Campana
TEAMS:
Miami Marlins
,
Chicago Cubs
,
San Francisco Giants
,
Seattle Mariners
,
Los Angeles Dodgers
,
Chicago White Sox
Rotation battle news
Chris Volstad followed up Jeff Samardzija's strong outing with three solid innings of his own yesterday. Volstad struck out three, walked none, and allowed one hit. Spring training stats don't mean much (especially just three innings for each guy), but as far as we can tell things are very up in the air for the last two rotation spots, and Sveum seems very impressed with Shark. Carrie Muskat pointed out in yesterday's mailbag that Randy Wells still has one option left. I still like Wells much more than the rest of the options. I think he was rushed back from his injury way too soon (and who wouldn't do it with Doug Davis and Ramon Ortiz getting starts?) and it took him quite a while to get his feet under him.
Kerry Wood followed him up with a scoreless inning, but not so much for Carlos Marmol in the fifth. Marmol recorded two strikeouts in between hitting a batter, giving up three line drives, and watching a Dustin Ackley home run. He was pulled before the end of the inning. Sveum mentioned after the game that Marmol was just focusing on locating his fastball yesterday, and would have spun much more sliders if it was a for-real game.
Soriano homered in his first at-bat, prompting cries of watchering from Hobbitton. As Josh pointed out, it would have been a 2-R homer if he hustled out of the box.
Single game tickets on sale today
Get them while they're lukewarm!
Season preview from Brewers fans perspective
Brewers blog Disciples of Uecker did a preview of the 2012 Cubs. They're not too worried about the Cubs this year, but having Thoyer come in is certainly making other NL central fans nervous for the long run,
Ted Lilly
trade ephemera
Kyle Smit, who was part of the package the Cubs recieved for Ted Lilly and taking Dance Fever, was released yesterday. Smit showed a little promise in A-ball but struggled when moved up the ladder last year. Even if the stars had aligned for him it looked like he would have been a replacement level relief pitcher.
Tweet I recently enjoyed
Pat Robertson comes out in favor of legalizing pot on the same day Taco Bell releases a Doritos shell taco? Kudos to marijuana's PR firm.

— Tim Siedell (@badbanana) March 8, 2012
Confidential to person who found OV with the search engine phrase "
does Anthony Rizzo have what it takes to be a great major league pitcher"
No.
An actual baseball-related tangent in the comments yesterday
on broadcasters and statistics
There was lots of discussion yesterday about how much (and what flavor of) statistics we like the broadcast team to include during a game, stemming from comments about Len Kasper. I don't really mind when Len brings up fangraphs. I know he mention BABIP at least once, but from what I remember most of the relatively rare mentions he makes about fangraphs are usually about the pfx data they have on their pitcher pages. I don't think it's that awkward, nor is he a particular evangelist. It's not like Len Kasper is beating on the HOF WAR arguments threads that have been beaten to death over the years, or even particularly advocating for fangraphs stats he mentioned. I'm fine with a program showing a slash line, or even just putting up as OPS as many outlets do. It's not *that* far off, value-wise, from wOBA, and it's much easier to grasp for the casual fan who doesn't care about non-integer weights. The actual calculation of, say, SLG looks ugly because of all the terms but they're all integers and it's easy to translate in your head (total bases per AB).
Is there Wrigley Talk Friday today?
Indeed. Will Carroll will be a special guest.
Is there a Cubs game today?
Ideed. They play the White Sox at 2 PM today. It's even televised……by Hawk and Former Playgirl Model Steve Stone. Len Kasper and the AA Tennessee Smokies announcer, who makes Keith Moreland look good by comparison, also have the call on gameday audio.
The Cubs posted today's lineup yesterdya. Kevin Millar would approve.
DH Soriano
2B Barney
RF Baker
1B LaHair
CF Byrd
LF Mather
C Clevenger
SS Lake
3B Gonzalez
Travis Wood pitching
Is Bruce Weber the coach of the Illini?
No. At least Illinois fans are inured to late season collapses at this point.
Bunt tournament news
Five players remain. Casey Coleman, Paul Maholm, and Welington Castillo have already reached the Final Four, Either Starlin Castro or David DeJesus will join them. No word yet on whether the Cubs organization will investigate a possible point-shaving scheme involving Tony Campana.
Original Story:
http://www.obstructedview.net/chicago...
THE BACKYARD
BEST OF MAXIM
RELATED ARTICLES
I will say it is much better talking about actual games than rambling about talk and preparation for the actual games that don't count. What a rush it is to turn on the radio and hear the best seven words in the world, "Chicago Cubs baseball is on the air." Just drink it in; it always goes down smooth. The games are underway, the battles have begun and the team is, even...
Travis Wood boosted his chances of earning a spot in the Chicago Cubs' rotation, allowing one run while pitching into the third inning of a 5-1 win over the White Sox on Friday. Woods was lifted with one out in the third and the bases loaded but Randy entered and got Paul Konerko to bounce into an inning-ending double play. Projected starter Chris Sale gave up three runs in...
You people are Lazy and Stupid. I spit on you. Getty Images Miami Marlins President David Samson is biting the stupid, lazy hands that buy tickets to see his baseball team. Samson told a Miami Business Council that Miamians, and Americans in general, are stupid and lazy. Here's his quote to the business council: We're not the smartest people in Miami. If you're in this room...
New Miami Marlins Logo. Welcome to Miami…Marlins. As the team formally known as the Florida Marlins not only got a different name to go with their new uniforms, they got a new home and manager too. Marlins owner Jeffrey Loria kept his promise about investing in the team once they got a new stadium, as he opened his wallet wide. Loria went on an off-season spending spree that probably...
The Miami Marlins won Saturday's game against the St. Louis Cardinals 3-1 after a nearly two hour rain delay.  In all, the game took over four hours to play due to the unusually long delay by Spring Training standards.    Long before the final out, Josh Johnson threw the first pitch of the day in his second start of the Spring. Johnson struggled with his efficiency throwing...
PORT ST. LUCIE, Fla. (AP) -- Carlos Zambrano struggled with his control in his first start for Miami, allowing three runs while getting just four outs, and the Marlins beat the New York Mets 5-4 on Thursday. Zambrano, who was traded to the Marlins for fellow starter Chris Volstad in the offseason, walked three and allowed three hits in 1 1-3 innings. All four outs he recorded were...
There's been a lot of talk about the Miami Marlins all offseason, so I'll keep the trend going. Let me start off by saying, I downright love the "Home Run Apple." Whether it's the old one outside Citi Field or the new one inside the stadium, the Home Run Apple is a Mets and baseball icon. In addition to bringing multiple high-profile free agents including Jose Reyes, the...
Carlos Zambrano struggled with his control in his first start for Miami, allowing three runs while getting just four outs, and the Marlins beat the New York Mets 5-4 on Thursday. Zambrano, who was traded to the Marlins for fellow starter Chris Volstad in the offseason, walked three and allowed three hits in 1 1-3 innings. All four outs he recorded were strikeouts. Mets starter...
Josh Johnson got another good look at St. Louis, pitching 2 1-3 scoreless innings Saturday as the Miami Marlins beat the Cardinals 3-1. Still working his way back from shoulder issues that limited him to just nine starts last year, Johnson allowed one hit, struck out three and threw 52 pitches. He also faced the Cardinals in his first spring start on Monday, giving up two hits in...
One rusty inning proved costly to Stephen Strasburg and the Washington Nationals in a 3-0 loss to the Miami Marlins on Friday night. Strasburg allowed two runs on three hits in three innings in his second start, with all the damage coming in the third inning. He struck out two, walked a batter and hit another. Left-hander Wade LeBlanc was sharp for the Marlins in his first start...
From the CPL After completing an off-season search, the Marlins are pleased to announce the addition of Matt Sutor to the organization as the Director of Broadcasting and Media Relations for the 2012 season. Sutor, a senior at Marist College in Poughkeepsie, N.Y., already has a wealth of experience in broadcasting and journalism. In the summer of 2011, he was the Broadcasting...
Miami Marlins president David Samson ******* about a lot of things yesterday. He bashed the IQs of Florida residents and then he went Rush Limbaugh on Jose Reyes, saying his new shortstop is,... Full story at Bob's Blitz ~ http://www.bobsblitz.com
MLB News

Delivered to your inbox

You'll also receive Yardbarker's daily Top 10, featuring the best sports stories from around the web. Customize your newsletter to get articles on your favorite sports and teams. And the best part? It's free!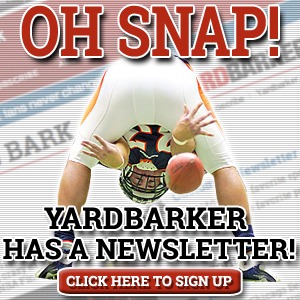 Latest Rumors
The Backyard

Today's Best Stuff

For Bloggers

Join the Yardbarker Network for more promotion, traffic, and money.

Company Info

Help

What is Yardbarker?

Yardbarker is the largest network of sports blogs and pro athlete blogs on the web. This site is the hub of the Yardbarker Network, where our editors and algorithms curate the best sports content from our network and beyond.