Found July 01, 2012 on Fantasy Baseball 365:
PLAYERS:
Brandon Phillips
,
Johnny Cueto
,
Dusty Baker
,
Joey Votto
,
Matt Cain
,
RA Dickey
,
Gio Gonzalez
,
Cole Hamels
,
Wade Miley
,
Stephen Strasburg
,
Clayton Kershaw
,
Zack Greinke
,
Madison Bumgarner
,
Dan Uggla
,
Aaron Hill
,
Billy Hamilton
,
Carlos Lee
,
Bartolo Colon
,
Ben Sheets
,
Yasmani Grandal
,
Jedd Gyorko
,
Tony La Russa
TEAMS:
Cincinnati Reds
,
San Francisco Giants
,
New York Mets
,
Washington Nationals
,
Philadelphia Phillies
,
Arizona Diamondbacks
,
Los Angeles Dodgers
,
Milwaukee Brewers
,
Atlanta Braves
,
Houston Astros
,
Oakland Athletics
,
San Diego Padres
,
St. Louis Cardinals
Dusty Baker and Joey Votto were not pleased that teammates Johnny Cueto and Brandon Phillips were not selected to the National League All Star roster that Tony La Russa selected. Let's look first at the case of Cueto. Here is how he stacks up with the other starting pitchers on the roster:
Player ERA WHIP Strikeouts Wins Cueto 2.26 1.14 79 9 Matt Cain 2.53 0.95 114 9 R.A. Dickey 2.15 0.89 116 12 Gio Gonzalez 2.78 1.08 108 10 Cole Hamels 3.08 1.10 111 10 Lance Lynn 3.62 1.25 98 10 Wade Miley 2.87 1.06 66 9 Stephen Strasburg 2.81 1.08 122 9 Clayton Kershaw 2.74 1.04 103 5
 It is pretty obvious that just looking at the roster, Cueto has a case over Lynn and Wade Miley. That said, La Russa could have just as easily picked a pitcher such as Zack Greinke (first in WAR and FIP among NL starters) or Madison Bumgarner (more wins, strikeouts, and a better WHIP than Cueto). La Russa also took Miley probably because there were no other representatives from the Diamondbacks. The story naturally becomes La Russa versus the Reds and La Russa versus Cueto, but without the recent history of the two sides the issue in play would just as easily be why does every team need a representative or when are we going to start placing more emphasis on the stats of this era? 
Then there's the case of Phillips. Dan Uggla was elected the starter. It's a disgrace. Uggla is hitting below .240 and striking out more than once a game. Again though, this is something that is out of La Russa's hands. It's a separate issue of how much should the fans input matter (if at all) in selecting All-Stars. Jose Aluve was picked as the reserve. By fantasy standards he has been the second best second baseman in the NL. Obviously fantasy standards don't necessarily make all stars, but there should be a strong correlation. He has the best average among second basemen and just like Miley is the lone representative from his team. Here are the numbers of the two second basemen versus Phillips.
  Player Runs RBI AVG HR OPS Phillips 42 46 .288 10 .776 Uggla 51 43 .235 11 .777 Altuve 45 23 .309 5 .804 The matchup between Altuve and Phillips is close anyway, so when you consider the fact that the Astros need a rep, La Russa's choice isn't so flawed. And this whole argument does not even include Aaron Hill who has the best OPS of any NL second basemen. Dusty Baker and the rest of the Reds should keep quiet. La Russa and the Cardinals won the World Series last year and won the right to make these decisions. Instead of complaining, the Reds should do something they have not done since 1990 - win a playoff game. 
A future Reds All-Star (possibly second baseman) Billy Hamilton now has 98 steals in under 80 minor league games this season.
Dee Gordon stole three bases Sunday and now has 28 for the year. That is easily the most among NL shortstops. He is also hitting .228.  
Carlos Lee wasn't traded to Gordon's team over the weekend and for the next month is sure to be the subject of another rumor or two. Lee can block trades to 14 different teams.
Bartolo Colon should come off the DL to start Tuesday for Oakland. 
Ben Sheets was signed to a minor league deal by the Braves and it sounds very similar to the Jim Morris story that the movie The Rookie came from. 
The Phillies are asking for four to five prospects in return for Cole Hamels if they can't sign him to a long term deal.
Now that Yasmani Grandal is up with the Padres, Jedd Gyorko could be the next player to get a call up and also may be the team's best prospect in the minors currently. 
Original Story:
http://www.fantasybaseball365.com/art...
THE BACKYARD
BEST OF MAXIM
RELATED ARTICLES
Johnny Cueto thought he had done enough this year to deserve an All-Star spot. The National League's manager, Tony LaRussa, thought otherwise, and the Reds are not happy about it. Cueto and Dusty Baker are both taking shot at LaRussa in the aftermath of Cueto's snub, point to a fight between the Reds and Cardinals last year, when LaRussa was still managing the Cards. &quot...
Another month of the season is in the books and with it comes the hope and promise of another. But before we look ahead to the sunny month of July, let's reflect upon the month of June by handing out the hardware for the Redlegs Review Players of the Month: Hitter of the month Joey Votto - Votto continues to be the front runner for NL MVP honors after posting...
Did Tony LaRussa hold a grudge in snubbing Cueto? Or is this choice actually justified?   On Sunday afternoon, when the All-Star rosters were announced, rapid reactions came pouring in trying to decide which players were snubbed from playing in the Midsummer Classic. The scrutiny, like everything these days, began instantaneously. Whispers, screams, and angry tweets flooded baseball's...
Call him Aaron History. Diamondbacks second baseman Aaron Hill became the second player in major league history to hit for the cycle twice in a season when he repeated in a 9-3 victory at Milwaukee on Friday. It was the second time Hill had done it in 11 days and the first double-cycle since Babe Herman had two for the Brooklyn Robins in 1931. "He's been locked in lately...
The repetitive cycler Friday night was a tremendous one for Aaron Hill of the Arizona Diamondbacks. Not only did he double in the first inning for his 1000th MLB hit, but he went on to hit for the cycle for the second time this season. This tremendous feat makes Hill only the second player to accomplish this in the same season since 1900. Only Babe Herman of the Brooklyn Dodgers...
Going Cycling Did we really witness two cycles in less than two weeks? As if it was easy to hit for one, let alone two. Arizona Diamondbacks' 2B Aaron Hill did it all on Friday, June 29, 2012. He ended his spectacular night by going 4-5, 1 HR, 3 RBI, 1 SB, and 2 runs. His first cycle of the year was on June 18 and he enjoyed it so much that he went and did it again. Hill joins...
Fans,Tony LaRussa left Phillips in a place he's left many batters this season –unexpectedly out.   In recent years, there have been few certainties in Cincinnati. Seasons of low expectations transform into seasons of promise. Years of high expectations turn into years of shattered dreams. The team has been both close and distant in the chase. The roster has been reworked. Votto's...
The Texas Rangers are hoping the Yu Darvish-Aaron Hill pairing will finally push the club over the top when it comes to the Final Five voting for the All-Star Game. After the first day of voting, things are working for the Rangers. Darvish has a slim lead over Chicago's Jake Peavy for the final All-Star spot for the American League. The Rangers decided to team with the other...
Tony La Russa and Reds manager Dusty Baker have been involved in a back and forth over La Russa leaving Johnny Cueto and Brandon Phillips off the NL All Star team. Baker contends that the snub of Cueto and Phillips stems from La Russa holding a grudge from a 2010 brawl that Cueto and Phillips were at the center of. La Russa denies that he is holding a grudge and attempts to give...
The San Diego Padres are hoping the momentum they've gained on their current road trip will help them end a long history of struggles in Arizona and the Diamondbacks' recent dominance at home. The Diamondbacks return from a rough trip looking to continue their success at Chase Field while trying to prevent the Padres from a third straight win Monday night. After salvaging...
MLB News

Delivered to your inbox

You'll also receive Yardbarker's daily Top 10, featuring the best sports stories from around the web. Customize your newsletter to get articles on your favorite sports and teams. And the best part? It's free!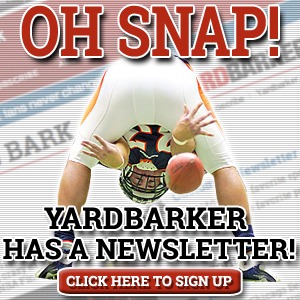 Latest Rumors
Best of Yardbarker

Today's Best Stuff

For Bloggers

Join the Yardbarker Network for more promotion, traffic, and money.

Company Info

Help

What is Yardbarker?

Yardbarker is the largest network of sports blogs and pro athlete blogs on the web. This site is the hub of the Yardbarker Network, where our editors and algorithms curate the best sports content from our network and beyond.