Derek Jeter can count the number of games he has played in a Yankees uniform this year on one hand. If the season ended today, he would have received almost a million dollars for each time he came up to bat in 2013. After a season beleaguered by injuries and full of frustration and disappointment, Jeter will return to the field in the navy blue pinstripes once again tonight for his 6th game of the year. He is in the final year of his contract and will be playing not only with the Yankees diminishing playoff hopes on the line, but also with the future of his illustrious career in the balance. Jeter has been the face of the Yankees for almost two decades, through the best and worst of times. He's won five World Series, played in thirteen All Star games, won five Gold Gloves, five Silver Sluggers, two Hank Aaron awards, and leads the Yankees in career hits, games played, and stolen basis. Amidst his incredible success, he has managed to stay well respected and well liked by coaches, fans, and teammates. He also managed to spend much of the last 18 years as healthy as a player can expect to be. He had just two notable injuries in his career before last year but has otherwise been consistent in his ability to avoid the disabled list. This season has been a remarkably different story. To say that this season can be put into the "worst of times" column is an understatement, considering Jeter's three trips to the disabled list so far this year. He left the 2012 post-season with a broken ankle, resulting in him starting the 2013 season in the disabled list. Since his first game on July 10th, he has suffered both a strained quad and a strained calf. Shortstop is one of the most physically demanding positions on the field and it may be that his hundreds of game appearances have caught up with him. While his return from injury is anything but certain, his past offers some hope. There was a time not long ago when many believed that Jeter's career was on the decline. He started the 2011 season with just a .242 average and was below average in many categories both offensively and defensively. After he got injured in June of that year, many believed it was the beginning of the end for the icon. He returned from that injury, having worked on his swing, and hit .326 in the last 64 games of the year. Jeter has proven before that he that is willing and able to work to overcome injuries in the past and can do it again this year. As he approaches his 40th birthday, his performance on the field last season gives every indication that, if healthy, he still has plenty of talent left. Last season he led the American League in hits with 216 and had a batting average of .316. Can he rebound from his injuries and once again make an impact on the field? The number on his paycheck next season will depend on it. At the start of this season, it was clear the Yankees would be faced with a tough situation regarding Jeter no matter how he played. He is in the final year of his contract and has an $8 million player option for the 2014 season. If he played well this season, the Yankees would be force to pay him an extension worth more than just $8 million (a significant pay cut from his current salary). If he played terrible, they'd be faced with a beloved franchise player in the twilight of his career. As it turns out, the latter might be true, but Jeter can prove a lot in the next month (or two) of baseball. Recently pitcher Tim Lincecum, also in the final year of his contract, stated that he would factor the love he has received from the fans in San Francisco into his decision when he faces free agency. While baseball is a business and players rarely shy away from big money or playoff hopes when contract talks come around, there is a lot to be said for what it means to play an entire career in one place. The relationship a player builds with a fan base can mean more than just signing autographs before a game. It gets players through their slumps and gives them a reason to play hard even when they are struggling. Jeter has spent his entire career in a Yankee uniform and has built a bond with New York that he hopes to keep intact. The Yankee front office would be well advised to keep that relationship in mind when they consider their future with Jeter, as he holds more value to the Yankees than he does to any other team at this stage in his career. With Alex Rodriguez becoming enemy number one, and several other big name players possibly on the way out at the end of this year, it's vital that the Yankees find a way to keep their franchise in a good light, especially to their fans. Jeter will need to come back in a big way during the finish of 2013 if he wants to remain in a Yankee uniform and again receive the salary he's earned over the last few seasons. He'll get his opportunity to start that comeback tonight in his return to the field against the Toronto Blue Jays. There will more than just the Yankees playoff hopes riding on Jeter's ability to return to form; he'll also be playing for his future.  Follow @mlbinjurynews Looking for fantasy baseball advice?
Original Story:
http://www.mlbinjurynews.com/2013/08/...
MORE FROM YARDBARKER
MLB News

Delivered to your inbox

You'll also receive Yardbarker's daily Top 10, featuring the best sports stories from around the web. Customize your newsletter to get articles on your favorite sports and teams. And the best part? It's free!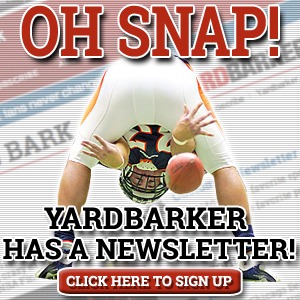 Latest Rumors
Best of Yardbarker

Today's Best Stuff

For Bloggers

Join the Yardbarker Network for more promotion, traffic, and money.

Company Info

Help

What is Yardbarker?

Yardbarker is the largest network of sports blogs and pro athlete blogs on the web. This site is the hub of the Yardbarker Network, where our editors and algorithms curate the best sports content from our network and beyond.