Found March 03, 2012 on Detroit Sports 360:
Gerald Laird Ugh…let's get this over with. Everyone and their great great great great grandmother who has needed to clip her toenails for the last five years knew that heading into this off season, Dave Dombrowski needed a back up catcher to avoid the total deterioration of Alex Avila like we all experienced in the playoffs.  There were numerous possible options available, but Dombrowski decided to go the cheap route, returning Gerald Laird to the town that loves him (sarcastic), signing him to a one year deal worth one mill.  Who would have known how thankful we would be to have gone the cheap route?  Anyway, Ole reliable…no that's not right.  Ole dependable…no that isn't it either.  Ole you-know-what-your'e-going-to-get is back, and let the celebration begin! Anyone pick up the cake yet? REGRESSION: Games Played – Obviously he will play less games than the 89 games he played the last time he was in Detroit, but that is not what I am talking about.  For the Cardinals last year, Laird appeared in 37 games.  He had 95 at bats with a hitting line of .232/.302/.358 with 1 HR and 12 RBI.  While I think it is quite obvious Jim Leyland does not want AA to catch 140 games again, he will not go from one extreme to the other. BA vs LHP – Believe it or not, Laird actually hit .286 against lefties last year. Mind blowing, right?  Well…it was only in 14 at bats. In comparison, Laird hit .183 with the Tigers in 2010 against southpaws in 109 ABs.  His career average against lefties is .263.  While he certainly will not hit .286 vs LHP this year, I do believe the majority of his at bats will come against LHP, but with him being on the down side of his career, his career averages will be tough to match as well. Caught Stealing % – In his two years with Detroit, Laird threw out 72 out of 187 runners, good for a CS% of 38.  This number is actually quite good.  May we remember that Laird is not back with Detroit for his lumber.  He knows how to catch, can block the ball and throw it well.  Above all that, he can actually call a very good game and has expirence with the majority of our starting rotation.  Having said all that, during his limited time behind the plate this year, he will not throw out 38% of attempted runners.  Sorry. PROGRESSION:  Runs Scored – Last season, Laird was only able to cross home plate 11 times in the 37 games he played.  Whether one projects him to hit 8th when he plays to set up the 2 leadoff hitters approach or 9th to hide him as much as possible, this offense should carry him to score more than 11 runs.  This will not be a large projection, but I'll take what I can get here.  Work with me a little, huh? On-Base % – In his last season with the Tigers, Laird's OBP was .263.  That is entering a face only a mother could love type territory.  I am not entirely sure how much worse a ball player can get than that, so Gerald is making this an easy one for me.  Oh G-Money, you are so kind.// < ![CDATA[ google_ad_client = "ca-pub-2050928829510309"; /* erics */ google_ad_slot = "8665250378"; google_ad_width = 468; google_ad_height = 60; // ]]>
// < ![CDATA[</p> <p>// ]]>
Slugging Percentage – I actually do not know which is worse – the .263 OBP he posted with DET in 2010 or the horrendous .306 SLG he maintained the same year.  Like his OBP, I'm not sure how much lower the floor can go, so he can only go up from that, right?Right? BOLD STATEMENT: Laird will have 5 hits or less in a month 3 seperate times this year PREDICTION:  35 GP .228/.297/.350 .647 OPS 2 HR 14 RBI 8 2B 11 BB 20 SO 33 CS% Related Tigers Links  Tigers Home Page - Stats, Free Agent Rumors, Custom Tigers Profiles for Detroit fans  Tigers Roster - See Tigers Roster and Current Salary  Free Agent Tracker - To track all the free agents and who is left  Tigers Article: Brandon Inge: Man in the Mirror – Eric S – Fan Submission Tigers Article: The Tigers are good, Inge is not, let's all move on! – By Dave Danese Tigers Article: Detroit Tigers Preview and Predictions: Delmon Young – By Eric Steplitus Tigers Article: Detroit Tigers rout Florida Southern – By John Czech Tigers Article: Detroit Tigers Preview and Predictions: Phil Coke – By Eric Steplitus DS360 Tags: gerald laird, Jim Leyland, Dave Dombrowski
Original Story:
http://feedproxy.google.com/~r/Detroi...
THE BACKYARD
BEST OF MAXIM
RELATED ARTICLES
The debate continues  about what the Detroit Tigers should do about Brandon Inge and where to play him. Since Tigers superstar Miguel Cabrera has been moved to 3B to make way for the Tigers signing of 1B Prince Fielder, Inge finds himself without a starting position. This has not stopped Detroit fans from trying to figure out a way to work him into the starting lineup somehow. Anyone...
2011 was a year that critics generally considered a huge success for the Detroit Tigers. Jim Leyland's squad won 95 games and made it all the way to Game 6 of the ALCS before finally being tripped up by the Texas Rangers. Detroit plated the 4th most runs in the American League last year, so naturally they went out and got Prince Fielder in the offseason. In fairness, the season...
Prince Fielder doubled in his first Detroit at-bat and the Tigers beat Florida Southern 11-1 Friday in an exhibition game against a local college team. Fielder, signed by the Tigers after slugger Victor Martinez was injured during the offseason, later scored on a single by Delmon Young that gave the Tigers a 2-0 lead. Miguel Cabrera, shifted from first base to third to make room...
Rick Porcello When I was 7 years old, my father decided he did not think it was best for me to tear up the Tee Ball record book for another year, so he wrote a letter to my city's youth baseball association, telling them I was ready to be called up to play with the 8, 9, and 10 year olds a year early.  They agreed, and I was allowed to take the field.  From there I excelled for...
Today was the annual exhibition game between the Detroit Tigers  and the Florida Southern Mocs. Since the series started in 1979 the Tigers have earned a 22-1-2 record, which is a pretty good indication of what was to come in today's game. Before the game even started skipper, Jim Leyland made it clear that all his regulars would get one at bat in the line up and one...
Andy Dirks isn't going to get a starting spot. With Austin Jackson, Brennan Boesch and Delmon Young penciled in as likely starters, there isn't much room in the outfield. But with one Major League season under his belt, Dirks could be a big asset coming off the bench if he shines this spring in Lakeland.
LAKE BUENA VISTA, Fla. (AP) -- Prince Fielder went 2 for 2 and Doug Fister combined with seven pitchers to throw a one-hitter, leading the Detroit Tigers to a 2-0 victory over the Atlanta Braves on Saturday. Fielder, Detroit's big free agent signing this winter, also walked. He's 3 for 3 in a Tigers uniform, having doubled in an exhibition against Florida Southern on Friday...
There is a buzz once again in the Motor City as baseball fans anxiously anticipate the upcoming season with the unexpected signing of local legend Prince Fielder. Yes, the 27 year old Prince has already reached legendary status in the Detroit area and actually did it many years ago. As a 12 year old, Prince
Prince Fielder went 2 for 2 and Doug Fister combined with seven pitchers to throw a one-hitter, leading the Detroit Tigers to a 2-0 victory over the Atlanta Braves on Saturday. Fielder, Detroit's big free agent signing this winter, also walked. He's 3 for 3 in a Tigers uniform, having doubled in an exhibition against Florida Southern on Friday. Fister walked a batter in...
By John Pesetski Special to FOXSportsWisconsin.com PHOENIX You don't replace a player like Prince Fielder. You adjust to his departure. You add a few pieces, you move around others and you ask for a little bit more out of everybody else.Aramis Ramirez, the Milwaukee Brewers' new third baseman, agrees. He will fill Fielder's cleanup spot in the lineup if not Fielder...
Tigers News

Delivered to your inbox

You'll also receive Yardbarker's daily Top 10, featuring the best sports stories from around the web. Customize your newsletter to get articles on your favorite sports and teams. And the best part? It's free!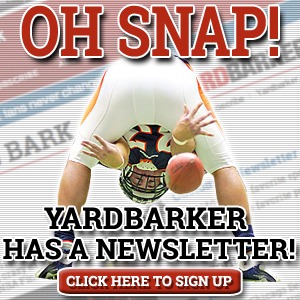 Latest Rumors
Best of Yardbarker

Today's Best Stuff

For Bloggers

Join the Yardbarker Network for more promotion, traffic, and money.

Company Info

Help

What is Yardbarker?

Yardbarker is the largest network of sports blogs and pro athlete blogs on the web. This site is the hub of the Yardbarker Network, where our editors and algorithms curate the best sports content from our network and beyond.