Found March 02, 2012 on Detroit Sports 360:
Phil Coke Phil Coke of the Detroit Tigers had himself an odd year in 2011. Starting the season in the rotation, Coke produced terrible numbers. In 14 starts, he threw 74.2 innings (an average on only 5.1 IP per start) with an ERA of 4.82, 37 SO (which produces a horrendous K/9 rate of 4.46), 30 BB (which equates to a terrible BB/9 rate of 3.63), and a 1-8 record. Ladies and gentlest of all gentlemen, as a starter Phil Coke had a strikeout to walk ratio of 1.23.  Whoa. Jim Leyland had no choice but to insert Coke back into the bullpen, where he found much more success lowering his overall ERA nearly a half run to 4.47. Coke sees himself in a different role this year, one that is much better suited for him. REGRESSION: Innings Pitched – This is not with regards to him starting games last year which allowed him to rack up 108.2 IP on the year. Rather, his role has decreased thanks to the Tigers signing journeyman Octavio Dotel during the winter meetings. It has been said that Dotel will take over 7th inning duties this year. Partner that with Verlander and Fister rarely (if ever) being taken out before the end of the sixth, and Scherzer and Porcello sure to improve, the innings are just not there for Coke. So Coke now looks to dominate lefties. That will be his role – top LH option out of the pen. But with the back end of the bullpen sewed up, Leyland will just not have to call on Coke so much this year. BAA vs RH: – In his career, Phil Coke has a Batting Average Against of .280 versus right handed hitters. Looking at his role this year, Coke should predominately face LH. But in the situation (which should be rare this year) where Coke has an inning to himself, and there is a right handed hitter sandwiched between two lefties, the results probably will not be the prettiest, as he simply may forget how to pitch to righties somewhat. PROGRESSION: ERA – This is pretty much a softball here. Coke is being placed in a mold that has had success with him to this point – that being a lefty specialist. While Coke will be the top option out of the pen not named Dotel, Benoit, Valverde and Albuquerque  (when he returns to full health and old form), the times which middle relief is needed should be relatively small. Having so little batters to face makes his ERA a sink or swim type category, but with Coke facing lefties more often than not, this number will be much more pleasing to look at then the 4.47 he posted last year. BAA vs LH: – For his career, Coke's Batting Average Against stat when dealing with lefties is .224. Last year it was .215. With LH being his top priority (whether he prepares like it is or not), his increased focus should yield a career number here. Coke's role may significantly decrease this year, but in turn, he should experience much more success. // < ![CDATA[ // < ![CDATA[ // < ![CDATA[ google_ad_client = "ca-pub-2050928829510309"; /* erics */ google_ad_slot = "8665250378"; google_ad_width = 468; google_ad_height = 60; // ]]>
// < ![CDATA[ // < ![CDATA[ // < ![CDATA[ // ]]>
K Rate: - In the 474 batters Coke faced last year, he had 69 strikeouts. That equates to a  K rate of 14.55%, which is not the brightest sun of them all. However, when it came to the 167 left handers Coke faced last year, he struck out 36 of them, which equates to a K rate of 21.5%….a much healthier number. With Coke looking to face a majority of left handers, on top of being a better pitcher against said lefties, his K rate should increase tremendously…possibly by 75%. PREDICTION: 70 GP 60.2 IP 3-2 3.34 ERA 53 SO 22 BB 1.27 WHIP Related Tigers Links  Tigers Home Page - Stats, Free Agent Rumors, Custom Tigers Profiles for Detroit fans  Tigers Roster - See Tigers Roster and Current Salary  Free Agent Tracker - To track all the free agents and who is left  Tigers Article: Brandon Inge: Man in the Mirror – Eric S – Fan Submission Tigers Article: The Tigers are good, Inge is not, let's all move on! – By Dave Danese Tigers Article: Detroit Tigers Preview and Predictions: Delmon Young – By Eric Steplitus   DS360 Tags: phil coke, Detroit Tigers, Jim Leyland
Original Story:
http://feedproxy.google.com/~r/Detroi...
THE BACKYARD
BEST OF MAXIM
RELATED ARTICLES
The debate continues  about what the Detroit Tigers should do about Brandon Inge and where to play him. Since Tigers superstar Miguel Cabrera has been moved to 3B to make way for the Tigers signing of 1B Prince Fielder, Inge finds himself without a starting position. This has not stopped Detroit fans from trying to figure out a way to work him into the starting lineup somehow. Anyone...
Prince Fielder doubled in his first Detroit at-bat and the Tigers beat Florida Southern 11-1 Friday in an exhibition game against a local college team. Fielder, signed by the Tigers after slugger Victor Martinez was injured during the offseason, later scored on a single by Delmon Young that gave the Tigers a 2-0 lead. Miguel Cabrera, shifted from first base to third to make room...
When the Detroit Tigers made their run to the AL championship series last year, Brennan Boesch wasn't able to play. Boesch, the 26-year-old outfielder who hit 16 home runs in 115 games, was unavailable because of a right thumb injury that required surgery, but he's back now and says he's 100 percent heading into the season. Boesch is expected to play an important role...
(Eds: Updates.) Detroit Tigers manager Jim Leyland has a pretty good idea who his four top starters are going to be this season. Cy Young winner Justin Verlander, of course. Rick Porcello, Max Scherzer and Doug Fister sure seem likely to make the cut, too. That leaves one spot, but don't ask Leyland about it. He bristled when he was asked about it Wednesday. ''I'...
Today was the annual exhibition game between the Detroit Tigers  and the Florida Southern Mocs. Since the series started in 1979 the Tigers have earned a 22-1-2 record, which is a pretty good indication of what was to come in today's game. Before the game even started skipper, Jim Leyland made it clear that all his regulars would get one at bat in the line up and one...
Andy Dirks isn't going to get a starting spot. With Austin Jackson, Brennan Boesch and Delmon Young penciled in as likely starters, there isn't much room in the outfield. But with one Major League season under his belt, Dirks could be a big asset coming off the bench if he shines this spring in Lakeland.
Delmon Young had 112 RBI's in 2010 (Twins) ** Writer's Note ** – This article is the first of what I will call My "Player Predictions Preview". Each article will take a different Tiger who will be on the roster out of Spring Training and attempt to predict their season. Obviously not all 25 spots are shoe ins at this point in time, so expect those last bullpen spots,...
There is a buzz once again in the Motor City as baseball fans anxiously anticipate the upcoming season with the unexpected signing of local legend Prince Fielder. Yes, the 27 year old Prince has already reached legendary status in the Detroit area and actually did it many years ago. As a 12 year old, Prince
As it turns out, the sure way to get Ryan Raburn at his best is when he doesn't think it can get any worse.
(source feed provided no summary content for this entry)
By John Pesetski Special to FOXSportsWisconsin.com PHOENIX You don't replace a player like Prince Fielder. You adjust to his departure. You add a few pieces, you move around others and you ask for a little bit more out of everybody else.Aramis Ramirez, the Milwaukee Brewers' new third baseman, agrees. He will fill Fielder's cleanup spot in the lineup if not Fielder...
Tigers News

Delivered to your inbox

You'll also receive Yardbarker's daily Top 10, featuring the best sports stories from around the web. Customize your newsletter to get articles on your favorite sports and teams. And the best part? It's free!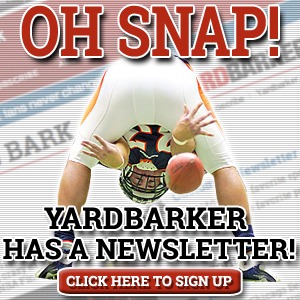 Latest Rumors
Best of Yardbarker

Today's Best Stuff

For Bloggers

Join the Yardbarker Network for more promotion, traffic, and money.

Company Info

Help

What is Yardbarker?

Yardbarker is the largest network of sports blogs and pro athlete blogs on the web. This site is the hub of the Yardbarker Network, where our editors and algorithms curate the best sports content from our network and beyond.