Found April 11, 2012 on Fox Sports Arizona:
PLAYERS:
Chris Young
,
Micah Owings
,
Justin Upton
,
Gerardo Parra
,
Kirk Gibson
,
Miguel Montero
,
Craig Breslow
,
JJ Putz
,
Trevor Cahill
,
Chase Headley
,
Edinson Volquez
,
Willie Bloomquist
,
Yonder Alonso
,
Paul Goldschmidt
,
Brad Ziegler
,
Jason Kubel
,
Bryan Shaw
,
Will Venable
,
David Hernandez
TEAMS:
Arizona Diamondbacks
,
San Diego Padres
SAN DIEGO The Diamondbacks are off to the best start in franchise history, and Chris Young is right there with them. The D-backs have won four straight, Young has hit in four straight, and even party-pooping Petco Park could not hold Young's line drive into the left field seats in the 11th inning off old friend Micah Owings for a 4-2 victory over San Diego on Tuesday. Young has two doubles, two homers and six RBIs as the D-backs reached 4-0 for the first time in their 15 seasons. They were 3-0 in 2000. It is safe to say the offseason tweaks Young made to his hitting approach are taking, not that a little review cannot hurt. Young made a quick dash into the clubhouse in the sixth inning to watch his early swings, saw something, and won the game five innings later. "I was feeling a little bit out of rhythm. I feel like I missed a couple of pitches I should have hit," said Young, who popped up twice and grounded out in his first three at-bats while hitting in the No. 3 hole while Justin Upton rested a jammed left thumb. "I was kind of dropping under the ball, popping it up a little too much. I just tried to make an adjustment to stay on top of the ball and try to get a little more backspin. I was glad I was able to transfer it. You're not always able to transfer it into a game, at-bat to at-bat, but that's the ultimate goal. "The ultimate goal is not to be able to make an adjustment game to game. Good hitters out there, they are able to make an adjustment from their first at-bat to their second at-bat. It took me from my first to my fifth, so I'd like to be able to recognize any kind any mechanical breakdown earlier." Young homered on an 80 mph slider, one pitch after Owings hit Gerardo Parra to open the 11th. Owings likes to pitch inside, and the ball just nicked Parra's jersey to give him first. Manager Kirk Gibson briefly considered a sacrifice bunt, and Young said he believed Owings might have been expecting that. "I figured he would throw me a strike. Normally in that situation, you might think a guy is going to bunt," Young said. "He looks the best I've ever seen him. His discipline at the plate looks better. He is swinging at good pitches," catcher Miguel Montero said of Young. Craig Breslow got his first National League victory with a 1-2-3 10th inning and J.J. Putz recorded converted his third save in as many opportunities this season. All that came after a quirky beginning for Trevor Cahill, who was making his first start D-backs start in his home town, by the way after being acquired over the winter to deepen the rotation. Cahill walked five of the first nine batters he faced working on an Edwin Jackson no-hitter, it appeared but had very little trouble once he found the strike zone to keep the D-backs in front through the first six innings Cahill gave up only two hits and a run, and faced only one batter more than the minimum 11 after giving up his first hit, a double by Chase Headley in the third. Headley scored on a wild pitch and a ground out. "I didn't really know where it was going," said Cahill, although he left with a 2-1 lead. San Diego starter Edinson Volquez did not know where he was supposed to go in the first inning, and it cost the Padres two runs. Willie Bloomquist opened the first with a single to left field and took second when Parra grounded out. With two outs, Montero broke his bat on fastball from Volquez, sending shards of wood toward the mound and the ball toward the hole between first and second. When first baseman Yonder Alonso fielded the ball, he was too far from the bag to beat Montero, and Volquez was still near the mound, apparently distracted by the flotsam. Paul Goldschmidt made Volquez pay almost instantly, lining a 1-0 pitch deep to left-center field to drive in both runs. It was the kind of mistake the D-backs took advantage of last season, and it did not take them long time this, either. "That bat just exploded. I think the bat got farther than the ball. It's a knock (hit), so I'll take it," Montero said. "It was good. We took advantage of the little mistakes. I would say that was the difference in the ball game. 'Goldy' came back and got a big hit." Cahill left after six innings and 104 pitches, and the Padres tied the game on consecutive pitches triple, single in the seventh off Brad Ziegler. Jason Kubel helped shorten the inning when he easily threw out Bartlett attempting to stretch it. After a walk and a stolen base, Bryan Shaw entered to strike out Will Venable, the first of four straight outs for Shaw. David Hernandez, Breslow and Putz followed with scoreless innings. The rest was, is, history. Follow Jack Magruder on Twitter
Original Story:
http://www.foxsportsarizona.com/04/11...
THE BACKYARD
BEST OF MAXIM
RELATED ARTICLES
Diamondbacks right fielder Justin Upton was given a day off Tuesday after suffering a jammed left thumb when he slid hard into second base attempting to break up a double play Sunday. Upton clipped his thumb on the second base bag as he slid through the bag on Ryan Roberts ground ball to third with the bases loaded in the seventh inning. The Giants turned the double play to end...
SAN DIEGO Chris Young has committed larceny at Petco Park before. Ask Mike Cameron, who saw a grand slam disappear into Young's glove in 2007. YouTube it, for the catch of Young's career. But try as Young might, he could not quite reach Chris Denorfia's two-run home run in the last of the eighth inning Wednesday, when San Diego handed the Diamondbacks their first loss...
SAN DIEGO There was a new nameplate on manager Kirk Gibson's desk in the San Diego clubhouse. A Diamondbacks logo and the words Deal With It were printed on the raised brass plate, which was slotted into grooves cut into two 50-caliber bullets. Gibson could not have been prouder. "Pretty cool, Gibson said in a classic understatement. The D-backs adopted that motto...
SAN DIEGO (AP) -- Chris Young hit a two-run homer in the 11th inning and the Arizona Diamondbacks remained undefeated with a 4-2 victory over the San Diego Padres on Tuesday night. After Micah Owings (0-1) hit leadoff batter Gerardo Parra, Young sent the next pitch into the lower deck of the left-field stands for his second homer. Craig Breslow (1-0) pitched a perfect 10th inning...
SHOWING SOME GLOVE
An Arizona Diamondbacks fan leaned over a railing with his glove to make a nice snag a line drive foul ball during Sunday's game against the San Francisco Giants. Your browser does not support iframes. It happened in the top of the fourth inning as Giants second baseman Emmanuel Burriss hit a line drive foul down the first base side. Burriss ended up grounding out to the...
Arizona Diamondbacks ace Ian Kennedy wasn't happy with how he pitched on opening day. It would be hard for him to complain about how he has fared against the San Diego Padres recently. Kennedy has piled up a staggering amount of strikeouts in winning five straight starts against the Padres, and he gets his first look at them this season in Thursday night's series finale...
The Arizona Diamondbacks are 4-0 for the first time their 14-year history. With Joe Saunders on the mound against the San Diego Padres, they have a good chance of improving that mark. Saunders looks to build off last season's success against the Padres when the teams continue their three-game set Wednesday night at Petco Park. Arizona is off to the best start in franchise history...
Hot News for SP Trevor Bauer
By Matt Beardmore STATS Writer Oakland Athletics assistant general manager David Forst said that Trevor Cahill took the offseason deal to Arizona in stride. Diamondbacks manager Kirk Gibson has already seen a much more expressive side to his new right-hander. Cahill makes his NL debut Tuesday night against the San Diego Padres when the visiting Diamondbacks look to open 4-0 for...
Oakland Athletics assistant general manager David Forst said that Trevor Cahill took the offseason deal to Arizona in stride. Diamondbacks manager Kirk Gibson has already seen a much more expressive side to his new right-hander. Cahill makes his NL debut Tuesday night against the San Diego Padres when the visiting Diamondbacks look to open 4-0 for the first time. A 2006 second...
MLB News

Delivered to your inbox

You'll also receive Yardbarker's daily Top 10, featuring the best sports stories from around the web. Customize your newsletter to get articles on your favorite sports and teams. And the best part? It's free!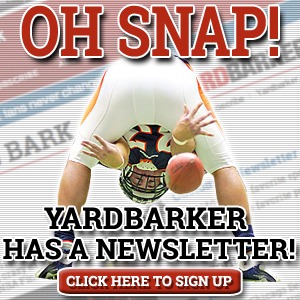 Latest Rumors
The Backyard

Today's Best Stuff

For Bloggers

Join the Yardbarker Network for more promotion, traffic, and money.

Company Info

Help

What is Yardbarker?

Yardbarker is the largest network of sports blogs and pro athlete blogs on the web. This site is the hub of the Yardbarker Network, where our editors and algorithms curate the best sports content from our network and beyond.