Found July 18, 2012 on hardballchat.com:
The Milwaukee Brewers started pitcher Zack Greinke in three straight games. Sure, he threw just four pitches on July 7 following a pathetic ejection by a first base umpire, and then tossed 66 pitches the following day before having the luxury of the All-Star break to rest before throwing 97 pitches on July 13. But he still technically started three consecutive games for Milwaukee, as the team won two of his three starts in those games. But now, as many people could have predicted, Greinke is going to be shut down for the next week and a half. His next start was scratched in order that Greinke could have 10 days off in between outings. Yet if you ask the Brewers, they will say it simply for rest. The question is, knowing that they are going to most likely attempt to trade Greinke to a contender before the July 31 MLB trade deadline, should the Brewers have been more cautious with perhaps their most attractive commodity? Greinke is having a solid season for Milwaukee, posting a 9-3 record through 20 starts. With an ERA of 3.57 along with 117 strikeouts, Greinke has been the ace of the Brewers' staff. Unfortunately, it appears as if Milwaukee will be unable to make a run in the National League Central, with stiff competition from the Cincinnati Reds, St. Louis Cardinals and the surprising Pittsburgh Pirates. That means that Greinke will most likely be moved, as he is set to become a free agent soon anyway. The 28-year-old former Cy Young winner will take the next week or so to "recharge his batteries," according to Milwaukee general manager Doug Melvin. If he comes back much fresher, or fully charged, Greinke could get in two more starts prior to the July 31 trade deadline. It could be more than enough for teams scouting him to make a wise decision as to how much they are willing to move to acquire Greinke. But what happens if he doesn't pitch that well? What happens if Greinke appears weak or tired or erratic in his two starts before the deadline? Furthermore, what haapens if he cannot make it out of the third inning in one and then fails to even make the next start? I'll tell you what happens, The return package of young prospects that the Brewers would have once been able to covet and ask for will no longer be an option. Simply out, they would have to be willing to possibly accept less in a deal for Greinke. Now, even with all of that being a distinct possibility, many teams will still be after Greinke. He is expected to be one of the top players available over the next couple of weeks, despite the fact that his ERA has increased over each of his past five starts. He also hasn't gone past the sixth inning in almost a month, so his batteries may have needed to be charged well before the Brewers sent him out to the mound to start three straight ballgames. It may not cost Milwaukee at all. But if Greinke does come back from his brief rest and gets shelled by the Philadelphia Phillies and Washington Nationals or Houston Astros in his two starts before the trade deadline, it may have cost them much more than they ever could have imagined.    
Original Story:
http://www.hardballchat.com/2012/07/d...
THE BACKYARD
BEST OF MAXIM
RELATED ARTICLES
The Milwaukee Brewers announced Zack Greinke won't start Wednesday's game as scheduled but did not offer additional explanation. Greinke can become a free agent at the end of the season and has reportedly spurned the team's overtures to extend his deal, including an offer similar to the five-year, $100 million contract proposal made to CC Sabathia in 2008. Sabathia...
Milwaukee Brewers right-hander Zack Greinke, the subject of many trade rumors in recent weeks, will have to wait awhile before getting to show scouts what he can do again. The Brewers announced Monday that Greinke is being scratched from his next scheduled start Wednesday against St. Louis to give him more rest. Manager Ron Roenicke said Greinke would miss an entire start and return...
MILWAUKEE (AP) -- Milwaukee Brewers starter Zack Greinke has been scratched from his scheduled start against the St. Louis Cardinals on Wednesday. The 2009 American League Cy Young award winner has been the subject of trade speculation, but there was no immediate indication that he had been traded or sustained any significant injury. Brewers manager Ron Roenicke is expected to...
The future of right handed pitcher Zack Greinke is still unknown. The Brewers apparently would like to keep him long-term, but according to Jon Paul Morosi of FOXSports, "it doesn't appear there has been much dialogue between the Brewers and representatives for Greinke since spring training." He says that the team haven't made a formal offer to Greinke yet. This means...
Zack Greinke remains in limbo. Greinke could leave the Milwaukee Brewers as a free agent after this season. He could sign a long-term contract extension with the team. He could be traded before the July 31 non-waiver trade deadline. At this point, all of those outcomes remain possible. It doesn't appear there has been much dialogue between the Brewers and representatives for Greinke...
The Milwaukee Brewers announced Zack Greinke won't start Wednesday's game as scheduled but did not offer additional explanation. FOX Sports reported general manager Doug Melvin denied a trade was in the works and said Greinke was "recharging his batteries." Greinke has yielded 14 runs in 14 innings this month. He was scheduled to start Wednesday against the...
Major league baseball's non-waiver trade deadline is fast approaching and rumors are swirling surrounding several big-name players. Who will be dealt before 4 p.m. EST on July 31? Fewer teams are expected to be sellers this year because the addition of a second wild-card spot allows more clubs to stay in contention. But there should still be plenty of movement involving teams...
The July 17th, 2012 edition of daily news for the Los Angeles ...
The July 18th, 2012 edition of daily news for the Los Angeles ...
Two bombshells rattled the NL Central at the beginning of this week. For the Pittsburgh Pirates, they should sound like a call to action. Early Monday, the Milwaukee Brewers announced ace Zack Greinke won't pitch until next week. Greinke has a 9.00 ERA during a bizarre month in which he started three straight games because of a first-inning ejection and the All-Star break. Brewers...
After a brief hiatus, the crew is back at you with more HardballChat Radio! This week, Dave Raymond of the Astros Baseball Radio Network joined the duo for an in-depth discussion on broadcasting. Scott and Hudson break down all the latest trade deadline fodder (Carlos Lee to Miami, Justin Upton rumors, Zack Greinke and Cole Hamels moves) and discuss Mark Appel's decision...
MLB News

Delivered to your inbox

You'll also receive Yardbarker's daily Top 10, featuring the best sports stories from around the web. Customize your newsletter to get articles on your favorite sports and teams. And the best part? It's free!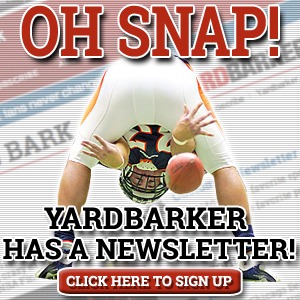 Latest Rumors
Best of Yardbarker

Today's Best Stuff

For Bloggers

Join the Yardbarker Network for more promotion, traffic, and money.

Company Info

Help

What is Yardbarker?

Yardbarker is the largest network of sports blogs and pro athlete blogs on the web. This site is the hub of the Yardbarker Network, where our editors and algorithms curate the best sports content from our network and beyond.