I don't think anyone will make the suggestion that Stephen Strasburg is hurt.  He experienced forearm tightness a little over a week ago, but outside of that, he has been healthy and left to pitch as long as he wants (or as long as he can).  However, those who watch Strasburg should see a noticeable difference in how the young pitcher looks versus seasons past.  And as much as the Nationals' would never admit it, the reason could be as simple as too much rest. Doctors and GMs around the league are starting to recognize the importance of preserving pitchers' arms for the long-term.  Doing so, though, is not always popular.  As in Strasburg's case, shutting a player down early when they are completely healthy quickly becomes a polarizing topic.  Yet, most doctors agreed the Nationals were doing the right thing in easing Strasburg back from Tommy John surgery.  The team did the same thing with Jordan Zimermann.  However, it's possible that the Nationals exercised too much caution with Strasburg, and now his mechanics are off. A quick look at his standard numbers reveals a decent line (outside wins/losses).  Strasburg is 1-4 with a 3.45 ERA in seven starts this season.  However, he has not looked dominant since his first start this season.  In fact, there have been times where Strasburg even looked wild.  Yet, his BB/9 (walks per none innings) are actually down compared with last year.  So what is it then?  What is causing Strasburg's struggles and keeping him from being the dominant pitcher we know he can be? Strasburg relies on his fourseam fastball.  He throws that pitch more than any other.  He admittedly is trying not to strike players out as more, so we shouldn't be concerned with the lower K/9 (strikeouts per nine innings) ratio.  However, as Strasburg pitches to contact more, his fourseam fastball becomes increasingly important.  This is the fastball that has little to no movement.  Placement and velocity are key when throwing this pitch. Let's take a look at some outcomes this season with Strasburg's fourseam fastball courtesy of Brooks Baseball. We can see that Strasburg gives up the most home runs with his two fastball-type pitches, the sinker and the fourseam.  That's not surprising.  However, when we delve deeper, the fourseam fastball quickly becomes the culprit for some of Strasburg's troubles with keeping the ball in the park.  Here are his HR% by year for the fourseam fastball: 2010: 0.68% 2011: 0.00% (Tommy John year) 2012: 0.78% 2013: 1.04% Strasburg is only seven starts into the 2013 season, but his HR% on the fourseam fastball is troubling.  And it's not hard to see where part of the problem lies.  Here are Strasburg's average velocities with the fourseam over his four Major League seasons: 2010: 98.26 mph 2011: 96.85 mph (Tommy John year) 2012: 96.60 mph 2013: 96.27 mph After a player undergoes Tommy John surgery, they generally see a reduction in fastball velocity.  However, Strasburg returned from the surgery in September of 2011.  He got a couple starts under his belt and was still averaging close to 97 mph.  In 2012, we saw the velocity continue to drop.  Then this season, it is at it's lowest point ever.  And keep in mind, we are now 2 1/2 years removed from Strasburg's surgery.   At this point, you may simply be saying this is a product of who Strasburg is now.  That may be true.  He may simply have less velocity because of the surgery, and he will have to find a way to work with that reduced velocity.  However, there is another part to this story.  His release point.  As suggested at the beginning of this article, Strasburg's problems are likely not injury-related, but could be mechanics-related.  Here is a graph of Strasburg's vertical release point over the years: From an original release point average of about 6.28 feet to a peak height of about 6.32 feet, Strasburg is now releasing the ball at about 6.14 feet.  That's a pretty drastic reduction is vertical release point, and may be indicative of some mechanical issues Strasburg needs to work through.  We will never know for sure if Strasburg has been adversely affected by the extra rest he got after his Tommy John surgery.  It's is possible that shutting him down early last season prevented further injury. However, it seems at this point worth considering that the extra rest threw off Strasburg's mechanics.   Fortunately, mechanics are often repairable.  Another injury would have been far more devastating.   Follow @mlbinjurynews Looking for fantasy baseball advice?
Original Story:
http://www.mlbinjurynews.com/2013/05/...
MORE FROM YARDBARKER
Nationals News

Delivered to your inbox

You'll also receive Yardbarker's daily Top 10, featuring the best sports stories from around the web. Customize your newsletter to get articles on your favorite sports and teams. And the best part? It's free!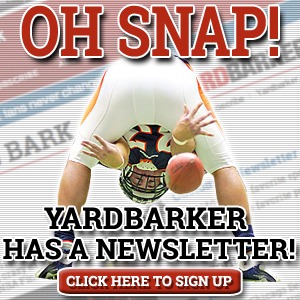 Latest Rumors
Best of Yardbarker

Today's Best Stuff

For Bloggers

Join the Yardbarker Network for more promotion, traffic, and money.

Company Info

Help

What is Yardbarker?

Yardbarker is the largest network of sports blogs and pro athlete blogs on the web. This site is the hub of the Yardbarker Network, where our editors and algorithms curate the best sports content from our network and beyond.