Found December 26, 2011 on Pirates Prospects:
PLAYERS:
Derrek Lee
,
Prince Fielder
,
Carlos Pena
,
Casey Kotchman
,
Mark Trumbo
,
Anthony Rizzo
,
Billy Butler
,
Garrett Jones
,
Casey McGehee
,
Matt Diaz
,
Frank Coonelly
,
Charlie Morton
,
Kevin Correia
,
James McDonald
,
Erik Bedard
TEAMS:
Pittsburgh Pirates
,
Milwaukee Brewers
,
Chicago Cubs
,
Tampa Bay Rays
,
Los Angeles Angels
,
San Diego Padres
,
Kansas City Royals
,
Atlanta Braves
Derrek Lee is one of the first base options who are waiting on Prince Fielder to sign.
Jon Paul Morosi of FOX Sports took a look at five off-season stories that will carry over in to the 2012 calendar year.  The first two on his list were the first base market, focusing on Prince Fielder, then the players on the market after Fielder.
Fielder is definitely holding the market up right now. Morosi mentions that he might need to choose between the biggest offer and the best opportunity to win. In either event, the Pirates aren't a candidate to sign him, as they don't project to be contenders in the next year or two, and don't have the money to get him to sign.
Morosi mentions the Pirates in the teams who are looking for a first base upgrade, also mentioning the Brewers, Cubs, Nationals, Indians, Mariners, Orioles, Rangers, and Rays. Morosi points out that Derrek Lee, Carlos Pena, and Casey Kotchman are legitimate first basemen, but their continued availability is confirmation that teams are holding out hope that Fielder will fall in to their range.
Carlos Lee, Mark Trumbo, Anthony Rizzo, and Billy Butler are four players that Morosi says could be available on the trade market. He mentions that Rizzo, Trumbo, and Butler might be available next off-season as well.
With nine teams looking for first base upgrades it becomes unlikely that the Pirates will land a significant upgrade. Derrek Lee isn't expected to return, and Carlos Pena is the only other option that provides an upgrade on the free agent market. The Brewers, Nationals, and Rangers would all have the money needed to get Pena if Fielder went to a different team. There's no guarantee that the young options will be traded. That leaves very few first base options at the top, which historically isn't a good thing when the Pirates are bidding against eight other teams.
The Pirates could use a first base option. A first baseman like Pena adds a big hitter to the middle of their lineup. It moves Garrett Jones and Casey McGehee to the bench, so that the team is relying on those two as backup plans, rather than hoping they can combine to make up a middle of the order hitter.
It wouldn't be the worst thing in the world to go with a Jones/McGehee platoon. Jones did his part in his platoon with Matt Diaz last year, hitting for an .808 OPS against right handers, and struggling with a .460 OPS against left handers. The problem was that Diaz saw some major struggles against left handers, and neither player was good enough defensively to make up for the lack of offense.
A platoon would require that McGehee hit against left handers. In the past he's crushed left handers, although that wasn't the case in 2011. After a .947 OPS in 2010 against lefties, McGehee hit for a .413 OPS in 2011 in 124 at-bats. He will need to rebound against left handers to make a platoon work.
If McGehee can hit against left handers, he might make a decent first baseman by himself. He hit for an .801 OPS with 23 homers in 2010, and had an .859 OPS and 16 homers in 355 at-bats during the 2009 season. In a platoon, Garrett Jones would see the bulk of the playing time at first base, which isn't ideal since Jones isn't good defensively and doesn't put up the numbers to excuse that. McGehee's defense might not be much better, since he's only seen 22 innings at the position. His 2009/2010 offensive numbers don't scream "superstar", but they're the type of numbers that would make for a decent starting first baseman, even if the defense isn't top notch.
If the Pirates stick with their in-house options, they're taking a gamble. The gamble mostly rests on McGehee. He needs to bounce back to his 2009/2010 numbers against left handers for a platoon to work. In order to step up as a full time starter he'd need to bounce back to his full time numbers from 2009/2010. This isn't a huge gamble, since McGehee had success in just over 1000 plate appearances in 2009/2010 combined. The Pirates would be better off adding a guy like Pena to give a boost to their lineup, which in turn improves the bench by moving McGehee and Jones there full time.
Realistically, the Pirates don't have a lot to spend. Frank Coonelly mentioned that the team could end up with an Opening Day payroll that would be higher than their final 2011 payroll, which was around $53 M. Sitting at $46 M, the Pirates have anywhere from $7-10 M to spend to get to that level. That would be enough for a first base upgrade. It would be enough for a starting pitching upgrade. But it wouldn't be enough for both, unless they went with lesser options at each position, which isn't ideal.
I wrote about the starting pitching need last week. At this point I consider the need for another starter to be more important than the need for first base. I don't think the gamble on McGehee is as big of a risk as the gamble of going in to the season with the current starting rotation. We won't see the over-achieving numbers from guys like Jeff Karstens, Charlie Morton, and Kevin Correia next year, with Karstens, Morton, and James McDonald all likely being in the 4.00 ERA range. Erik Bedard profiles as the best starter on the staff, but it would be a success if he even goes 125 innings, leaving a need for a starter to replace him. If the Pirates are spending $7-10 M, I'd much rather stick with the guy who is a year removed from an .801 OPS and 23 homers, and put the money towards a rotation which currently features a lot of question marks.
Original Story:
http://feedproxy.google.com/~r/BuccoF...
THE BACKYARD
BEST OF MAXIM
RELATED ARTICLES
HBT: Prince Fielder could opt for a three-year deal worth $26 million per year, reports say.
We heard on Friday that the Orioles are in fact interested in Prince Fielder, but not at his current asking price.  While O's executive vice president Dan Duquette won't say much about the team's pursuit of the slugger, it might be the other D.C. area team that makes an aggressive offer.  Here's the latest on Fielder with the latest news up top.. While he...
According to Peter Gammons of MLB Network and NESN, several general managers think Prince Fielder could get a three-year deal worth $26 million per season.
This is not a typical offseason. The week between Christmas and New Year's Day tends to be quiet in the baseball industry, when front offices sit empty and trade chatter is silenced. That's not necessarily the case this year. A number of factors the new collective bargaining agreement, the availability of Albert Pujols and Prince Fielder, Yu Darvish's protracted posting...
A 101-win year that saw the arrival of Zack Greinke and Tony Plush and the departure of Prince Fielder ended with a bombshell when Ryan Braun failed a drug test.
On this date in 1995, the Orioles acquired David Wells from the Reds for Curtis Goodwin and minor leaguer Trovin Valdez.  This marked the second time Boomer was traded that year as he was shipped from the Tigers to Cincinnati at the July deadline.  Here's a look at today's links.. As Prince Fielder continues to look for his next home, Derrick Goold of the St. Louis...
The final days of December are just a bit past the midpoint of baseball's hot stove season. Many big purchases have been made, while a few marquee prizes still shine in the sales brochures produced by their agents. This season, Prince Fielder, Ryan Madson, Edwin Jackson, among others, will make many millions of dollars after Christmas.Instead of the usual guessing game as to...
Padres endure year of challenge, change - Padres.com "It was a year of change for the Padres in 2011, as after winning 90 games in 2010 the club slipped to last place in the National League West, struggling to score runs without All-Star first baseman Adrian Gonzalez while also failing to replicate any of the mojo they had the previous season."   Could John Moores...
MLB News

Delivered to your inbox

You'll also receive Yardbarker's daily Top 10, featuring the best sports stories from around the web. Customize your newsletter to get articles on your favorite sports and teams. And the best part? It's free!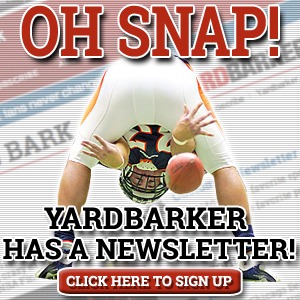 Latest Rumors
The Backyard

Today's Best Stuff

For Bloggers

Join the Yardbarker Network for more promotion, traffic, and money.

Company Info

Help

What is Yardbarker?

Yardbarker is the largest network of sports blogs and pro athlete blogs on the web. This site is the hub of the Yardbarker Network, where our editors and algorithms curate the best sports content from our network and beyond.