Found March 05, 2013 on NorthWest Sports Beat:
Love 'Em & Hate 'Em Style After ten years of professional baseball, Jason Bay has returned to the state where he played his college ball. An illustrious career at Gonzaga landed him in the Padres organization, and in 2004, Bay won the NL rookie of the year with the Pittsburg Pirates. Prior to the 2010 season, Bay signed with the Mets. The deal will result in over $63 million in his bank account, $21 million of that being paid for him to not play in New York. So, what should we love and hate about this New York castoff? Let's dive in shall we Seattle Mariners fans? Love 'em 1. 45 HR's in 200 games Those are good numbers by anyone's standards, and yes those numbers were accumulated while playing home games at Fenway park, but those are Bay's power numbers accumulated while playing in the AL. Many people do not credit RBI in the same manner, but Bay also recorded 156 RBI in as many games, so when given the opportunity, Bay has the ability to drive in the runs. 2. 1 year, $1 million This is Bay's current contract with the Seattle Mariners. Put up or shut up has never been more demanding for a veteran looking for at-bats on a young team. There are no guarantees after this season, so Bay has every incentive to produce. 3. Health… so far This spring has been very kind to the Mariners, and it is silly to assume anything like what the M's have been doing in Peoria will translate directly to the regular season. But, Bay is healthy, and has shown pop with 2 home runs in 8 games played and the ability to get on base (4 walks, 4 hits) with regularity when in the lineup. Put up or shut up has never been more demanding for a veteran looking for at-bats on a young team Hate 'em 1. Taking away from the young I love the idea of Bay in the lineup, I love the idea of a veteran leading with his bat and work ethic, I love the idea that he can contribute when healthy, but I hate the idea of at bats being taken away from our up and coming players that will take the torch for years to come. The reality is that the more plate appearance Bay receives, the less Michael Saunders, Casper Wells, and Eric Thames will get. 2. Consistent decline Bay's power is what the Mariners would love to capitalize on, but his ability to get on base consistently will make it difficult to play a slumping Bay during the season. His OBP has declined each of the last 3 seasons, and in only 70 games a year ago, his OBP was .126 points lower than his career average. If Bay cannot get on base and the power is inconsistent, that red flag may turn into walking papers. 3. Downside of his career Every M's fan hopes that Seattle revitalize Bay's career, but his power has dwindled to 26 HR's in the last three years. Bay can blame injuries all he wants, but injuries come to older players that don't take steroids, and injuries decrease the ability to hit a ball over the fences. I would like to see Bay on the 25-man roster, but he will need to have a good spring because there are 7 qualified OF's ready to play at SafeCo this season. With the coming on of a surprising Carlos Peguero (.421 BA, 3 HR's) and a healthy Franklin Gutierrez (so far) Bay will have to fight to make the team. CLICK HERE TO CHECK OUT THE MARINERS BLOG IN OUR CLUBHOUSE TODAY AT NWSB!
Original Story:
http://www.nwsportsbeat.com/mariners/...
THE BACKYARD
BEST OF MAXIM
RELATED ARTICLES
Veteran Presence, Good Game Interesting facts about Raul Ibanez: If Ibanez plays in 53 games this season, he will have played in 2,000 major league games in his career. Last season, while playing for the Yankees, Ibanez finished 24th in the AL MVP voting. There are multiple surprises with this fact, the first is that the results are exact all the way to 24th, the second is that someone...
The Seattle Mariners' Offense Blooming in the Spring The Seattle Mariners' front office didn't make any media-frenzied splashes during the off season, but they did fill holes. It is no mystery that the offense in 2012 was a record-breaking disaster, and they were desperate for some change in the lineup. GM Jack Zduriencik made some adjustments – adding Kendrys Morales and Mike...
What happens when you trade a big chip for a can't miss prospect, a can't miss prospect for another can't miss prospect, and draft a guy first round and put all these hot prospects all in one lineup? Well, if you are the Seattle Mariners and their fans, you watched all three collectively flop in 2012. We, of course, are talking about Dustin Ackley, Justin Smoak and...
Mike Zunino has the look of an All-Star and he's only been in professional baseball for one season and he's only played 44 games. Is the hype justified? Profile Mike Zunino was drafted in the 1st round (#3 overall) in 2012 out of the University of Florida. The 21 year-old right-handed hitting catcher stands 6" 2" and weighs 220. He was also drafted out of high school in 2009...
Seattle 6 – 7 Milwaukee The recent news coming out of the Seattle Mariners' camps was that everything was going according to plan, and then some. In fact, the Mariners had rattled off 10 straight victories in the Cactus League after dropping their first contest of the year. During that time frame, Seattle launched 24 home runs. For comparison purposes, last year they hit 28 total...
The Mariners selected Taijuan Walker with a first-round supplemental pick (43rd overall) in the 2010 MLB Amateur Draft. The Yucaipa, California product is an athletic right-handed starter that stands at 6'4", 210 pounds entering his age twenty season. Walker's three premium offerings — fastball, curveball and changeup — are still developing, but each appear to ooze the...
A letter to the M's skipper There is a lot being said about the expectation and projections for many of the Mariners young players and incoming veterans this season. Much of it centers on Justin Smoak to live up to his failed hype and to become the middle of the lineup guy we wanted out of the Cliff Lee trade. I really hope that the bone spur issue that was reported about Dustin...
Nolan Arenado hit his third home run in three games for Colorado, but Raul Ibanez and Kyle Seager connected for two more homers for the Seattle Mariners, who beat the Rockies 16-6 Monday. Arenado's solo shot came off Seattle right-hander Taijuan Walker in the fourth inning. Walker pitched a perfect third inning before giving up three runs on four hits and three walks in the...
Power surge in AZ Jack Z, and the rest of the Mariners front office set out to do one thing this off season; add some bats. It looks like their plan has worked, for now. The Mariners are tearing the cover off of the ball from every spot in the lineup, but does the higher elevation, drier air, and spring training pitching have more to do with this than anything else? That is the question...
Mariners News

Delivered to your inbox

You'll also receive Yardbarker's daily Top 10, featuring the best sports stories from around the web. Customize your newsletter to get articles on your favorite sports and teams. And the best part? It's free!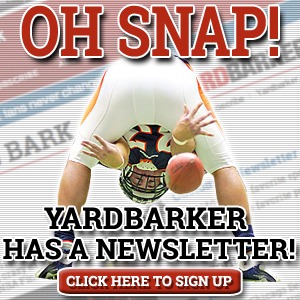 Latest Rumors
Best of Yardbarker

Today's Best Stuff

For Bloggers

Join the Yardbarker Network for more promotion, traffic, and money.

Company Info

Help

What is Yardbarker?

Yardbarker is the largest network of sports blogs and pro athlete blogs on the web. This site is the hub of the Yardbarker Network, where our editors and algorithms curate the best sports content from our network and beyond.