Found May 16, 2012 on Fox Sports Kansas City:
Obviously, Royals left-hander Danny Duffy is hugely disappointed over the likelihood of having to have Tommy John elbow surgery soon. But Duffy also sees no reason why he can't come back better and stronger sometime during the 2013 season. "I'm very positive going in," Duffy said Wednesday, speaking publicly for the first time since he was diagnosed as having a torn ulnar collateral ligament in his left elbow. "They've got the surgery down to a science now. I feel very lucky to have this happen in this period of time as opposed to 20 years ago. Dr. (Lewis) Yocum or whoever it's going to be to do the surgery will do a great job. You can come back stronger. Just look at (Stephen) Strasburg. I could name a bunch of people." Straburg, the No. 1 overall pick of the 2009 draft, had Tommy John surgery in 2010. He now leads the Washington Nationals with a 3-1 record and a 2.25 ERA. "You have to stay positive," Duffy said. "My goal is to come back by next June. That will depend obviously on how hard I work in rehab." Duffy first experienced elbow issues back in 2010. He felt some pain in the elbow again this April, was shut down for a start, and then felt discomfort again in his last start on Sunday against the Chicago White Sox. Duffy said he felt the Royals did the right thing by letting him pitch again after he originally felt some pain in April. "It's very frustrating," Duffy said. "It's something I can't control. We have the best training staff in baseball, in my opinion. I had the problem back in 2010, and I got over it. "But once you do something like that to a ligament, it never really goes away. I did everything I could and the training staff did everything they could to help it not come back. But sometimes it's out of your control." Duffy said he probably would have surgery within the next two weeks. First, he'll visit with Dr. Yocum on Friday in Tempe, Ariz., to get another opinion. Asked if he thought there was any chance Dr. Yocum might not recommend surgery, Duffy laughed and said, "If he tells me I don't need it, yeah, I'm going to feel pretty pumped. But you have to prepare for the worst. I'm a guy who likes to have a plan, so I'll brace for the worst. Just rehab my butt off for 12 months. That's my plan." Duffy said his elbow felt fine during warm-ups Sunday and didn't feel any pain until his second pitch of the game. "I threw the first pitch and got through it real nice," he said. "Second pitch, I tried to go up and in. That's when I felt it. From then on, each pitch was kind of hectic. I can't thank (catcher Humberto) Quintero enough for coming to get me. He's a seasoned vet who saw something. It could have ended up a lot worse." Duffy, 23, is the Royals' top pitching prospect and seemed poised to have a big season. His fastball was reaching 97 mph, and his command was greatly improved from last season. He will finish the season at 2-2 with a 3.90 ERA. "I'm not going to get too down on myself," he said. "I'm just going to miss being around my family (the Royals) for awhile. It's going to be tough watching the games and not being able to help out. We'll go from there. I'll keep my spirits up. This happened for a reason. I have to believe that." Duffy said he will continue to support his teammates, especially through his Twitter account. On Tuesday night, Duffy tweeted virtually a play-by-play of the Royals game. He said he will continue to tweet about the Royals as he rehabs. "Oh, yes, believe it," he said, smiling. "I can't text my teammates during the game so I have to tweet. It's the only way I can cheers my guys on. That was a lot of fun the other night and I loved seeing the fans' reaction. That was great."
Original Story:
http://www.foxsportskansascity.com/05...
THE BACKYARD
BEST OF MAXIM
RELATED ARTICLES
Just before the Kansas City Royals won their third straight game on Monday night, they received bad news about their 23-year-old left-handed starter Danny Duffy, who had to leave Sunday's start against the Chicago White Sox in the first inning:  #Royals head physician Dr. Key diagnoses LHP Danny Duffy with a torn left ulnar collateral ligament. Duffy to get 2nd opinion w...
Danny Duffy and the Kansas City Royals received the worst-case-scenario news Monday. Duffy, who left Sunday's game in Chicago after 13 pitches, has a torn ulnar ligament in his left elbow and is probably bound for season-ending Tommy John surgery. Royals physician Vincent Key diagnosed the tear after examining Duffy on Monday in Kansas City. Duffy will seek a second opinion...
ARLINGTON, Texas (AP) -- Kansas City Royals left-hander Danny Duffy is facing the likelihood of Tommy John surgery after being diagnosed Monday with a torn ulnar collateral ligament in his pitching elbow. Duffy was put on the 15-day disabled list the same day an MRI revealed the seriousness of the injury, and the Royals said he is expected to get a second opinion from Dr. Lewis...
Danny Duffy is headed for surgery. After an MRI revealed a torn ulnar collateral ligament in Duffy's left elbow, it looks like Tommy John surgery will sideline the left-hander until next season. A former top prospect in the Kansas City Royals' farm system, Duffy reached the majors last season. And even though he struggled initially, the 23-year-old seemed to be making progress...
Royals pitchers Danny Duffy and Blake Wood are scheduled to have Tommy John surgery within the next two weeks after being evaluated Friday by Dr. Lewis Yocum. The 23-year-old Duffy had been the Royals' best starter, going 2-2 with a 3.90 ERA. The left-hander was pulled from his start against the White Sox last Sunday after just 13 pitches, though, and the torn ulnar collateral...
The misfortune that is bedeviling the 2012 Royals continues. Left-hander Danny Duffy, the Royals' best young pitching prospect, will miss the rest of the season after an MRI on Monday revealed he has a torn ulnar collateral ligament in his left elbow. Duffy will get a second opinion from specialist Dr. Lewis Yocum but almost certainly will need Tommy John surgery to replace...
The Royals physician diagnosed Danny Duffy with a torn UCL, which would mean Tommy John surgery.  In related news, Dr. James Andrews is filing a trademark lawsuit, saying he's the only doctor that can shut down pitchers for longer than 60 days.  In sorta related news, Francisco Liriano is still waiting to come back.  In unrelated news, when Dr. James Andrews opens his milk,...
Mid-May callups are an intriguing lot, and the opportunities for older minor leaguers to get their first run as everyday options seem to peak as most teams wait until early or mid June to start their prospects' arbitration clocks. In some instances, an organization will give a mid-level prospect his first exposure to the big leagues, and that player will prove capable of replacing...
The hits keep on coming, but it's not Eric Hosmer hitting into better luck. With left-handed starter Danny Duffy being out for the year due to a ligament tear in his elbow, the Royals suffered another injury to a key player. The Royals already lost closer Joakim Soria for the year to Tommy John surgery. Catcher Salvador Perez won't be back until the All-Star Break recovering...
MLB News

Delivered to your inbox

You'll also receive Yardbarker's daily Top 10, featuring the best sports stories from around the web. Customize your newsletter to get articles on your favorite sports and teams. And the best part? It's free!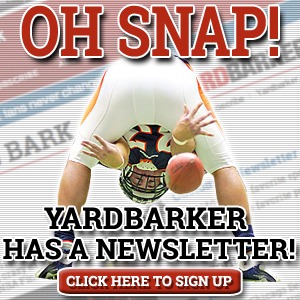 Latest Rumors
The Backyard

Today's Best Stuff

For Bloggers

Join the Yardbarker Network for more promotion, traffic, and money.

Company Info

Help

What is Yardbarker?

Yardbarker is the largest network of sports blogs and pro athlete blogs on the web. This site is the hub of the Yardbarker Network, where our editors and algorithms curate the best sports content from our network and beyond.