Found May 09, 2012 on Fox Sports:
PLAYERS:
Jake Peavy
,
Adam Dunn
,
Jim Leyland
,
Ozzie Guillen
,
Robin Ventura
,
Philip Humber
,
Paul Konerko
,
Chris Sale
,
Albert Pujols
,
Alejandro De Aza
TEAMS:
Chicago White Sox
,
Detroit Tigers
,
Los Angeles Angels
Jake Peavy is younger than you think. He's only 30 years old. But he's been around long enough to know the difference between "LOOK, IT'S JAKE PEAVY!" and "Dude, remember when you were good?" Peavy won the pitching Triple Crown in San Diego five years ago. In one of baseball's quaintest outposts, he was the most popular figure not named Gwynn or Hoffman. But then came a fluky ankle injury, a trade to the Chicago White Sox, two underwhelming seasons -- and boos. It was not supposed to be that way. Last year, after his close friend Adam Dunn joined the team, Peavy hoped to return from a rare surgery and pitch the White Sox into the playoffs. Instead, he posted the worst ERA of his career and pitched only 111 2/3 innings. Dunn fared even worse after switching leagues, batting just .159 while his power numbers fell by more than 50 percent. "Not being who we once were, we were in the same boat," Peavy told me over the weekend. "You'd rather be the one going through it than watch your buddy go through something like that. I recall his family coming to the games, his little boys. I didn't want my little boys coming to the game, because of the obscene stuff fans would yell. "They pay their money. That's their prerogative, to come and yell and tell you how bad you blankety-blank suck. But at the end of the day, Adam's got his two little boys and his wife sitting there in the stands. That's what killed him and killed me through it all: Your little boys and your family have to go through that, and you feel responsible." This is not a call for sympathy. Peavy ($17 million salary this year) and Dunn ($14 million) are well aware of how fortunate they are to earn so much money while playing a game. But if we stop counting the zeroes, we can understand why the dual resurgence of Peavy and Dunn is one of this season's most relatable stories: They were excellent at what they did. Then they weren't. Suddenly, they saw fewer smiles when they arrived at the ballpark. They experienced self-doubt. Their families heard the criticisms. Their work wasn't rewarding anymore. Money can't fix that. Peavy and Dunn did that part on their own. Peavy, who starts Wednesday night in Cleveland, ranks third in the American League with a 1.99 ERA. Among qualifying AL pitchers, he has the lowest WHIP (0.75) and ranks among the top 10 in strikeouts. The numbers suggest his fast start is more than a mirage. Dunn, meanwhile, looks more like the player he was for so many years in the National League. If he maintained his current OPS (.945) over a full season, this would become his best year since 2004. Dunn has clubbed nine home runs -- only two fewer than he had all of last year . "He looks much more relaxed," Tigers manager Jim Leyland observed. Based on his production to date, Dunn could finish with 40 or more homers and close to 200 strikeouts. In other words, he's back. "Now when me and him have a steak dinner, you feel like you're somebody in the town," Peavy said. "The steak dinners last year were at the house." We can't call this a storybook season for the White Sox. Not yet, at least. They entered Wednesday with a 14-17 record, third in the AL Central. They have scored 121 runs. They have allowed 121 runs. They are the definition of mediocre. But the organization is in a better place than it was one year ago. The White Sox have traded turmoil (Ozzie Guillen) for tranquility (Robin Ventura). Philip Humber threw a perfect game. Paul Konerko, hitting .345, remains one of the game's consummate professionals. Alejandro De Aza looks like a legitimate everyday center fielder. If the pitching staff stabilizes -- Chris Sale just moved from the rotation to the bullpen -- then this team could play meaningful games in September. Dunn, 32, believes he can play better. "I'm striking out at an ungodly pace, even for myself," he admitted Sunday. In general, though, Dunn said he feels "normal." And there was nothing "normal" about 2011. Dunn underwent an emergency appendectomy four games into his debut season with the White Sox and never recovered. Asked about his physical state one year ago, Dunn said, "There were some things that were maybe hindering some things." Translation: He wasn't entirely healthy. Now, he is. He also knows the American League. As we are seeing with Albert Pujols, unfamiliarity breeds outs. "It's tough," Dunn said. "You see the same pitchers for 10 years. You go to the same ballparks. You eat at the same places. It sounds so (silly). Why does it make a difference? I didn't think it did, either. But it's that comfort level: 'We're playing the Cardinals today. OK. I know how they're going to pitch me.' Now, you go to a bunch of American League parks, you don't know what gate to go in. It's an adjustment. It takes time." Peavy's move from the NL was made more difficult by a succession of injuries. Actually, it's remarkable that he is pitching at all. Peavy suffered a detached latissimus dorsi muscle behind his right shoulder during a start on July 6, 2010. Three doctors were needed for the surgery that reattached the tendon; it was believed to be the first procedure of its kind on an active big league pitcher. Peavy made 38 starts from the White Sox from 2009 through 2011. When asked if there were any starts over those two and a half years in which he felt like himself physically, Peavy said, "No, really not at all." The numbers say Peavy is healthy now. Another number -- the team's $22 million option on him next year -- suggests Peavy could be moved at this July's non-waiver trade deadline if the White Sox are out of the race. "I'm not worried about any of that," Peavy said. "I've been traded before. If that comes about, I'll welcome that and do what I'm asked to do. But I'd love to be in Chicago. It's a great place to play. It's just a good place to be." It's a particularly good place to be as a thriving professional athlete. Jake Peavy and Adam Dunn are learning that for the first time in 2012.
Original Story:
http://msn.foxsports.com/mlb/story/ch...
THE BACKYARD
BEST OF MAXIM
RELATED ARTICLES
It is time to give Jake Peavy the respect he deserves
Jake Peavy coasted for six innings before giving up a run in the seventh and Adam Dunn homered, leading the Chicago White Sox to an easy 8-1 win over the AL Central-leading Cleveland Indians on Wednesday night and a split of their four-game series. Peavy (4-1) allowed seven hits, struck out five and had little difficulty with the Indians, who didn't get a runner past second...
New White Sox closer Chris Sale will undergo an MRI on his sore left elbow. Chicago pitching coach Don Cooper said Sale will have the test Thursday. Manager Robin Ventura recently named Sale his closer after the left-hander made five starts but had tenderness in his elbow. He went 3-1 with a 2.81 ERA. Sale made his debut as a closer Wednesday, entering in the eighth inning with...
BLIZZARD OF OZZ
A follow-up question about the Fidel Castro incident set off the Marlins manager, causing him to do what he does best: curse up a storm.
THE DICTATOR
Some Astros fans went to a game against the White Sox and dressed in Fidel Castro clothing to tweak manager Ozzie Guillen.
Well, it didn't take long for Ozzie Guillen to return to the Ozzie Guillen of old. We hadn't heard much from Guillen, other than an apology, since being suspended for his Fidel Castro comments. So it actually could be argued that Guillen has finally gotten it. But just as you begin to think that we may be seeing a new and improved Ozzie Guillen, the same old Ozzie Guillen rears...
36-year-old Paul Konerko is off to a tremendous start this season, hitting .347/.426/.614 with six bombs, 14 runs, and 17 RBI. His value might never be higher.Paulie has hit over .300 for the past two seasons and he's off to a great start in 2012. However, it's highly unlikely that he will sustain a BABIP over .360. The question is, when his AVG drops, how far will it go? Konerko...
CLEVELAND (AP) -- Jake Peavy coasted for six innings before giving up a run in the seventh and Adam Dunn homered, leading the Chicago White Sox to an easy 8-1 win over the AL Central-leading Cleveland Indians on Wednesday night and a split of their four-game series. Peavy (4-1) allowed seven hits, struck out five and had little difficulty with the Indians, who didn't get a runner...
Marlins PR Guy – "Okay, Mr. Guillen. Now if they ask you any questions about the Castro comments – just say, "No comment." Can you do that for me, Mr. Guillen?" Ozzie Guillen – "Oh **** You. Grow up, ************." Marlins PR Guy – "Well, as long as you don't say that we should be alright."
Addison Reed (credits below) This week we take a look at another two rookies out in Oakland and the reason why in Boston they are starting to ask the question: Kevin who ?  RP- ADDISON REED (CHI SOX)- Reed has been lights out in Chicago this year in his 9 innings of work. Reed has struck out 12 batters, has a 0.00 ERA and a 0.89 WHIP. Manager Robin Ventura removed one rookie...
The old adage in baseball is momentum is the next day's starting pitcher. The beauty of the game of baseball is the you can turn the page after a bad night. The season is a marathon, not a sprint. You can't get too high or too low after one game. Take last night for example. The game between the Tribe and the Chicago White Sox was delayed by an hour thanks to a light rain storm...
MLB News

Delivered to your inbox

You'll also receive Yardbarker's daily Top 10, featuring the best sports stories from around the web. Customize your newsletter to get articles on your favorite sports and teams. And the best part? It's free!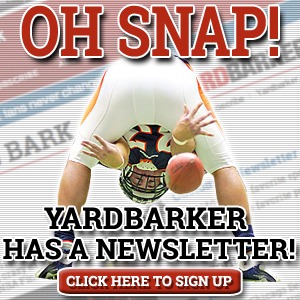 Latest Rumors
The Backyard

Today's Best Stuff

For Bloggers

Join the Yardbarker Network for more promotion, traffic, and money.

Company Info

Help

What is Yardbarker?

Yardbarker is the largest network of sports blogs and pro athlete blogs on the web. This site is the hub of the Yardbarker Network, where our editors and algorithms curate the best sports content from our network and beyond.