Found October 21, 2012 on Two Guys, a Glove and a Coke Bottle:
Episode 92: Fat Bottomed Zeets is out! In the ninety-second episode, Thomas and Danny celebrate Barry Zito's amazing game against the Cardinals by singing Zitonian Rhapsody. Also baseball and stuff. Click on the image below to find it on iTunes: You can also find it on the RSS feed, or by clicking on the play button below. We look forward to your feedback, either by commenting here on the blog, emailing us at giantspod@gmail.com, or our Twitter feed. Go Giants!
Original Story:
http://giantspod.net/2012/10/21/episo...
THE BACKYARD
BEST OF MAXIM
RELATED ARTICLES
It may be too late to justify the contract. But Barry Zito certainly picked the right time to deliver a gem. With the Giants facing elimination in Game 5 of the National League Championship Series against the Cardinals, Zito produced arguably his best start in his San Francisco career -- given the circumstances. "This is definitely it for me," Zito said, to MLB.com....
#RallyZito I'm giving the Internet credit for that one. Don't get me wrong, Barry Zito himself had a little something to do with that.  So did Hunter Pence, and Marco Scutaro on defense.  So did Pablo Sandoval and Brandon Crawford on offense. But among those who showed up to this game, even if they weren't at the game, were Giants fans.  It would've been easy to defeated...
The moments like this, the moments that come out of nowhere, they're part of the game's magic. Barry Zito's success with an 85 mph fastball, that's magic, too. But let's not get too deep here. What you saw Friday night was the result of hard work and sheer will and uncommon professionalism. What you saw Friday night, with Zito pitching 7 2/3 shutout innings to...
Barry Zito was brought in to San Francisco to anchor a San Francisco pitching staff that had some young pitchers on the horizon. Of course, the 2006 season was where Matt Cain made his MLB debut and made 7 starts. Zito was to be the number one starter on a staff that had yet to see Jonathan Sanchez, Tim Lincecum, Madison Bumgarner and even Brian Wilson to some extent. Signing a 7...
San Francisco starter Barry Zito escaped a big jam in the second and the Giants and St. Louis Cardinals were scoreless after three innings of Game 5 of the NL championship series Friday night. Lance Lynn did not allow a hit for the defending champion Cardinals. Up 3-1 in the best-of-seven series, St. Louis is seeking to go to consecutive World Series for the first time since 1967...
Barry Zito, the man most associated with bad baseball contracts, just pitched seven and two-thirds shutout innings against the best hitting team in the National League to send the National League Championship Series back to San Francisco. The Giants, dodged behind a 1-3 series disadvantage, avoided an elimination in St. Louis and lived to play another day. Zito averaged around 84...
Much like Barry Zito in Game 5, the Giants got some very clutch pitching from Ryan Vogelsong to beat the St. Louis Cardinals 6-1 from AT&T Park forcing a Game 7 Monday night. Vogelsong went 7 strong innings allowing 1 run on 4 hits with 9 strikeouts earning his second win of the NLCS. Meanwhile the San Francisco bats teed off on Cardinals pitcher Chris Carpenter early tagging...
From the moment we discover sports as children, we dream of this kind of situation. I remember the night before little league games, not being able to sleep as I fantasized about hitting game winning HRs and being mobbed by teammates. I remember shooting hoops in the driveway before dinner, narrating a farcical playoff moment out loud as a attempted a turnaround jumper.  I usually...
The St. Louis Cardinals entered Game 5 of the National League Championship Series on Friday up three games to one on the San Francisco Giants, just one win from securing a spot in the World Series. All they had to do was beat Giants starter Barry Zito, who hasn't had an earned-run average under 4.03 in six years. That sounds doable enough. The Cardinals scored eight runs the...
The Detroit Tigers are sitting and waiting to see who they will be facing in the World Series. The Giants got a great pitching performance from Barry Zito to force the NLCS back to San Francisco for game 6. The Cardinals lead the series 3-2 and only need one win to move on. Game 6 will be on TV tomorrow as Chris Carpenter of the Cards will face Ryan Vogelsong of the Giants. It'...
ST. LOUIS These energy bursts, either out of survival or necessity, have become hard to explain for the men who continue to play because of them. The San Francisco Giants have turned the elimination game into an adrenaline shot, shaking early series setbacks and somehow, someway, breathing on. Some left them for dead in the National League Division Series after dropping two games...
Game 5 of the NLCS did not go quite as planned for the St. Louis Cardinals, though that should not have been much of a surprise as the game unfolded. The Redbirds now head back to San Francisco to face the Giants in Game 6 Sunday evening. Everything started off great for the Cardinals. They weren't hitting much off Barry Zito, but Lance Lynn held the Giants without even one hit...
Giants News

Delivered to your inbox

You'll also receive Yardbarker's daily Top 10, featuring the best sports stories from around the web. Customize your newsletter to get articles on your favorite sports and teams. And the best part? It's free!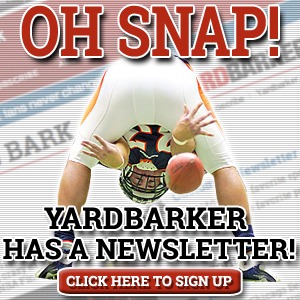 Latest Rumors
Best of Yardbarker

Today's Best Stuff

For Bloggers

Join the Yardbarker Network for more promotion, traffic, and money.

Company Info

Help

What is Yardbarker?

Yardbarker is the largest network of sports blogs and pro athlete blogs on the web. This site is the hub of the Yardbarker Network, where our editors and algorithms curate the best sports content from our network and beyond.