Everything you need to know about the World Baseball Classic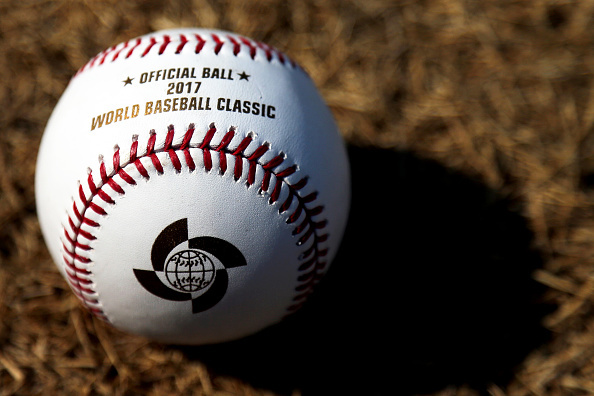 A World Baseball Classic ball used during practice on March 4, 2017 in Osaka, Japan. 
Koji Watanabe - SAMURAI JAPAN/SAMURAI JAPAN via Getty Images
With the World Baseball Classic set to kickoff this week, now it is a good time to learn how it works. Beyond the fact of it being a tournament to determine which country will be crowned the top nation in the baseball hierarchy for the next three years, it also is governed by some very specific rules in both team play and player usage.

So, let's take it from the top and run through exactly how the World Baseball Classic works:

The Basics 
The 16 teams that will compete in this year's World Baseball Classic are: 
Pool A: Israel* South Korea, Netherlands, Taiwan
Pool B: Australia, China, Cuba, Japan
Pool C: Canada, Colombia*, Dominican Republic, United States
Pool D: Italy, Mexico, Puerto Rico, Venezuela

*Colombia and Israel are making their first WBC appearances
These 16 teams have emerged from a larger pool of nations who both automatically qualified and also whom competed in qualifying rounds as well. Any of the 12 teams that won a game in the previous WBC's round robin round automatically qualify for the next. The final four spots are competed for during four-team qualifying tournaments held leading up to the games.

Those 16 teams are then sorted into groups of four, who will play in a round robin, double-elimination style format. The top two teams from those groups move on, so it takes two losses in round robin to be eliminated.

Round 2 and beyond 
After two teams have emerged from each pool, they are then split up and compete against each other, with the pool winners facing the runners up from other pools. These new pools are Pool E (winner and runner up Pools  A & B) and Pool F (winners and runner up of C & D) in another round robin round.

So in theory, if the United States advances from Pool C, they will play the winner or runner up of the Pool D bracket the next round.

The championship round 
The winners of Pool E & F move on to the championship round, where the winners in the semifinals face off against each other in Los Angeles at Dodger Stadium from March 20-22, from which a champion will be crowned.

The rules of engagement 
Since the WBC is, for all intents and purposes, a glorified series of exhibition games (as the professional leagues whom pay its competitors deem it), there are rules and regulations on player usage. Pitch counts come underneath the most intense scrutiny, due to the fact that under normal circumstances, these pitchers would competing in spring training camps and short usage games.

The pitch count rules start as limited and gradually increase in duration allowed for a single pitcher, and it expands round by round.

A pitcher cannot pitch more than:
85 pitches per game during the Qualifying Round
65 pitches per game for the First Round
80 pitches per game in Second Round
95 pitches per game in Championship Round
A pitcher can still finish a batter's plate appearance even if the limit is reached, but must come out after completing the plate appearance.

A pitcher cannot pitch until:
A minimum of four days must have passed since he last pitched, if he threw 50 or more pitches when he last pitched.
At least one day must pass since a pitcher last appeared, if he threw 30 or more pitches in his last outing.
Rules of the game 
There is a mercy rule if a particular game gets too far out of hand. Games are called if a team is ahed by 10 or more runs after the home team has batted in at least seven innings. If the visitors are up by 15 or runs after the home team has hit in at least five innings.

It is no-holds-barred during the championship rounds, as mercy rules do not apply.

American League purists will be happy, as the designated hitter is in effect for all WBC games.

There are no ties in individual games, however if a game reaches the 11th inning the stakes do get higher. In ode to some of the rule changes that have been floated around Major League Baseball this spring, if there is a tie by the top of the 11th inning, play begins with a runner on both first and second base. The runners are determined by the two players who slotted ahead of the first batter of the inning on the lineup card.

As for instant replay, there are no manager challenges. Plays that can be reviewed by the umpiring crews advance as the tournament advances as well. Only potential home runs can be reviewed before the championship rounds, however once the final round begins, the full spread of issues that can be challenged in a standard MLB game are in play.
So, there you have it. The World Baseball Classic is upon us, and the rules that will govern how it will be contested. New teams with many familiar faces from across the globe will complete starting March 9, with a champion to be crowned by March 22 in LA. And now hopefully you have a greater understanding of how we will get to that point.
QUIZ: Name the members of the 2000 Olympics Gold-winning USA Baseball team
An Olympic baseball tournament was held as a full medal sport for only the third time at the Sydney Games in 2000. Team USA beat Cuba in the Gold Medal game 4-0. The team featured a number of MLB stars and a Hall of Fame coach.
Clue: Position-MLB team in 2000
MORE FROM YARDBARKER
MLB News

Delivered to your inbox

You'll also receive Yardbarker's daily Top 10, featuring the best sports stories from around the web. Customize your newsletter to get articles on your favorite sports and teams. And the best part? It's free!