Found March 19, 2012 on Kramerica Sports:
PLAYERS:
Jose Bautista
,
Barry Bonds
,
Brett Lawrie
,
JP Arencibia
,
Mark Reynolds
,
Sergio Santos
,
Francisco Cordero
,
Ricky Romero
,
Brandon Morrow
,
AJ Burnett
,
Henderson Alvarez
,
Colby Rasmus
,
Travis Snider
,
Brett Cecil
TEAMS:
Toronto Blue Jays
,
Baltimore Orioles
,
Pittsburgh Pirates
Author: Chris McBrien

www.dmfantasybaseball.com
When considering options for your fantasy baseball team, it is never a good idea to be a "homer". In other words, be very careful about selecting players from your favorite team just because you follow them and would like to see them on your fantasy roster. My favorite team is the Toronto Blue Jays. Always has been. Always will be. However, I will never let my allegiance get in the way of winning my fantasy baseball league. Neither should you. That being said, it is worth a look at a few prominent Blue Jays and their potential fantasy impact in 2012. Some you will want to grab, others you'll want to avoid.


Jose Bautista
(OF/3B) –
It's not just his multiple position eligibility that makes Bautista so valuable (although, it certainly doesn't hurt!). Since overhauling his plate mechanics in late 2009, "Joey Bats" has become the most feared slugger since Barry Bonds. He is a leader in the clubhouse, on the field and on fantasy rosters across North America. A dip in production in the second half is a little worrisome but the Jays' slugger remains top ten material on draft day. If he ever got any help in the line up, look out.



Brett Lawrie
(3B) –
Call me pessimistic but I am a little concerned with the degree that so many fantasy owners have jumped all over Lawrie this season. With only 150 big league at bats to his name, Lawrie is being drafted like a 10-year veteran in some leagues. I for one would advise a little more caution at this stage of his career. There is no doubt that he is a special talent but he has shown a knack for being injury-prone at times and until he makes his way through the league a second time, I am reserving judgement. Ask me again in July. Until then, I am playing it safe and letting Lawrie go to another owner in the early rounds.

Kramerica Sports Top Take Contest
Submit a comment below to be entered into our monthly contest to win a $20 Best Buy Gift Card.




J.P. Arencibia (C) –
You'll take the power (23 bombs and 78 RBI as a rookie) but that batting average (.219) and propensity to whiff make him the Mark Reynolds of the catcher set. With Travis d'Arnaud nipping at his heels, I wouldn't be surprised to see Arencibia the subject of trade rumors as early as this season. If you shore up batting average at another position, grab him for the home runs.

Sergio Santos (RP) –
I'm not letting the signing of Francisco Cordero worry me. I'm pegging Santos as a top ten closer in baseball for 2012. Cordero has been brutal lately and is around for his experience and will act as an insurance policy. Santos should be given every opportunity to succeed. Originally drafted as a shortstop, Santos is really coming into his own as a pitcher and should be dynamite in 2012.


Ricky Romero (SP) –
Sure, I'm a Jays fan but I know a number one, "ace" starter when I see one and Ricky doesn't fit the bill. He has improved recently but a lack of command and a weakness for the big inning knock Romero down a few pegs in my book. There are safer bets at the draft table.

Brandon Morrow (SP) –
Morrow scares me more than just a little. We've seen this act in Toronto before and he was called A.J. Burnett. All the talent in the world with poor results. If you are in love with the strikeouts, by all means pick him up. However, you had better load up on the Tums if you want to watch him pitch. Also, say goodbye to any chances you may have at the WHIP and ERA categories while you are at it.

Another Jay to consider is Henderson Alvarez (SP) but he may be a few years from contributing anything of value in fantasy. Other jays to avoid include Colby Rasmus, Travis Snider and Brett Cecil. You'll be better off with safer picks on draft day. Let other owners pray that these players will come through on their potential.

Just because you are a "homer" doesn't mean you can't call them as you see them. Fan or not, when it comes to fantasy baseball, the only allegiance you should have is to winning your league.

Chris McBrien is a freelance writer from Barrie, Ontario, Canada. He provides fantasy baseball analysis at www.dmfantasybaseball.com and contributes his fantasy insights to Kramerica Sports.



Original Story:
http://www.kramericasports.com/featur...
THE BACKYARD
BEST OF MAXIM
RELATED ARTICLES
Yes, we know, we know: Spring Training stats mean nothing. Heck, there was a post here by that title just a week ago. Even so, it is hard to look at what the Toronto Blue Jays are doing this spring and not be a little impressed. Yesterday, on a piece for MLB Dirt, it was explained why the prognosis for the Tampa Bay Rays was bearish. This was a justification for the prediction earlier...
With Spring Training well underway, it's time for one of our favorite things in all the world: Season Previews. Five years ago, they began as a semi-serious analysis and ended up as half-assed haiku. We're just gonna go with what we know. Moving right along with our preview of the American League East, check out the one and only Canadian baseball team: the 2012 Toronto Blue...
The relationship between Major League Baseball and the Dominican Republic is vexing, with a scope that goes far beyond whether Roberto Hernandez Heredia (ne Fausto Carmona) starts for the Cleveland Indians anytime soon. The sport's economic system encourages elite prospects to sign at 16 and marginalizes those who aren't talented or mature enough by then. Age falsification...
The Phils get clobbered by the Blue Jays, losing 10-2. The Phils took the lead in the first as, with a runner on third, and with one man out, Hunter Pence hits an RBI single, scoring Shane Victorino, who had just tripled, giving the Phils a 1-0 lead. The Blue Jays tied the game up at one-all as, with a man on second, and with one man out, Yunel Escobar hits an RBI double, knocking...
While I'm on the theme of comparisons, how about a comparison between the April 2011 Blue Jays and the April 2012 Blue Jays?I say "April" because all rosters change throughout the year, and a comparison between, say, the August 2011 Jays and the April 2011 jays would reveal many differences and we can take the April team and "this is what came after in 2011, and...
Jose Bautista hit his third home run of spring training and Philadelphia's Cole Hamels gave up five runs and eight hits in 3 1-3 innings as the Toronto Blue Jays defeated the Phillies 10-2 Sunday. Bautista's two-run homer capped a five-run sixth. It came on David Herndon's first pitch after he replaced Jose Contreras. Hamels, who had allowed two runs in 10 2-3 innings...
Which way does this thing go T... Breakin' the Lawrie You have your list of guys YOU have to have on your fantasy team.  This is TO's list.  Getcha popcorn ready. Brett Lawrie Out of all the old and boring 3B in the top 10, this guy could have the 2nd biggest upside next to Longoria. Lawrie made a splash in 2011 at just 21 years old. In 150 ABs, he had 9 homers, 25 RBI...
8 a.m.: Bobby Valentine and the Red Sox will welcome old friend John Farrell to JetBlue Park on Tuesday, as the Blue Jays' manager enters the new confines with a surprisingly successful 13-4 record, so far this Spring. After a tough 8-4 loss to the Twins on Monday, the Sox will be looking to bounce back with some more enthusiasm and much a better effort out of their bullpen,...
MLB News

Delivered to your inbox

You'll also receive Yardbarker's daily Top 10, featuring the best sports stories from around the web. Customize your newsletter to get articles on your favorite sports and teams. And the best part? It's free!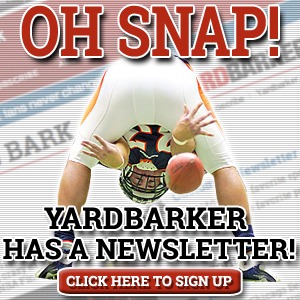 Latest Rumors
The Backyard

Today's Best Stuff

For Bloggers

Join the Yardbarker Network for more promotion, traffic, and money.

Company Info

Help

What is Yardbarker?

Yardbarker is the largest network of sports blogs and pro athlete blogs on the web. This site is the hub of the Yardbarker Network, where our editors and algorithms curate the best sports content from our network and beyond.