Posted April 12, 2012 on AP on Fox
Mariners manager Eric Wedge is all set to return to his house Thursday night, for the first time in nearly 21/2 months. From Washington state to Arizona, to Japan, back to Arizona, to California, to Texas and finally back to the Pacific Northwest, Seattle's two-month, transcontinental spring training/opening road trip will finally come to an end Friday night when it hosts Oakland. "I was just talking to my wife - we've been gone forever," Wedge said. All the traveling has been taxing on the players and coaches. But the Mariners are off to a respectable 4-4 start considering the circumstances surrounding a road trip that started in Asia and concluded in Texas. Some of the excitement about Seattle's start was tempered by dropping three of four in Texas, but the Mariners will play the next nine games at home. Oakland, Cleveland and the Chicago White Sox come to town for three games apiece before the Mariners head out on the road again. The Mariners completed their opening road trip with a 5-3 to the Rangers on Thursday. All told, they traveled more than 15,000 miles by air, including 11,500 to and from Tokyo. It's an extraordinary early season amount for a team that's regularly among the most traveled in all of baseball. "Even by baseball standards (it's long)," Wedge said. "Like I said to all of our guys, I think everybody's done a really nice job of handling it well. Nobody's complained about it. Everybody's been on point and doing what they need to be doing." Felix Hernandez will make his third start of the season against Oakland in the home opener. The Mariners juggled their rotation after coming back from Japan so Hernandez would get the ball when Seattle finally returned home. He'll be greeted by a huge home crowd and the return of his own cheering section - the hugely successful "King's Court" - stationed out near the left-field foul pole with specially designed bright yellow t-shirts and a raucous college atmosphere. "It'll be awesome, man. It's going to be crazy," Hernandez said. "A lot of opening days, eh? But being at home, it's always good." Hernandez (1-0) was brilliant in the season opener in Tokyo, throwing eight innings and allowing only one run, only to come away without a no-decision in Seattle's 3-1 victory that took 11 innings. Back in the U.S., Hernandez was roughed up for six runs and eight hits in 6 1-3 innings by the same A's lineup, yet came away with the victory in Oakland. The rough effort against the A's only heighted concerns about Hernandez's velocity appearing to be down. "Actually we did well against him last time, we just gave up a few too many runs," Oakland manager Bob Melvin said. "Hopefully we can keep that same approach. We all know what he brings to the table and what he does confidence-wise for their team, but hopefully we can gain some confidence off the last time." Melvin will send Bartolo Colon (1-1) to the mound for his third start of the year against Seattle. Like Hernandez, Colon pitched very well in Japan, retiring the first 13 batters he faced on his way to a 4-1 A's victory. Colon gave up just one run and three hits in eight innings. And like Hernandez, Colon got roughed up back in Oakland, giving up 10 hits and seven runs in just 4 1-3 innings. What remains to be seen is the type of interest the Mariners will draw on Friday night. They are coming off their worst attendance season since moving into Safeco Field, the first time they failed to draw at least 2 million fans since 1995. And the Mariners' front office irritated area sports fans last week when the club publicly objected to the proposal for a new NBA/NHL arena that would be in the same neighborhood as Safeco, with the club citing traffic and parking as their main issues with the proposed project. The Mariners said Friday's opener is nearly sold out with only a scattered seats remaining and should be filled up by the first pitch. There are plenty of seats still available for the rest of the opening series. In a non-strike shortened season, Friday's opener will be just the fourth time in franchise history the Mariners will make their home debut this late into April. The Mariners opened on April 16, 1982, April 13, 1990 and April 14, 2009. "I think any time you see a team as much as we have, it's going to be another opening day where I'm going to have to shake the manager's hand at home plate again," Melvin said. "I've been shaking his hand more than a lot of my own players I think, so we'll both be ready to move on from getting called out onto the line on opening day." --- AP Sports Writer Janie McCauley and Associated Press reporter Schuyler Dixon contributed to this report.
Original Story:
http://msn.foxsports.com/mlb/story/Fi...
THE BACKYARD
BEST OF MAXIM
RELATED ARTICLES
Who's on third? The season is still young for this 2012 Seattle Mariners team, but they are already facing some big decisions. Usually it is regarding poor play or injuries decimating the team in one way or another. This time, the problem is much, much different. And it's one the team is not used to having – depth. That's a good thing…right? The Mariners were the best hitting...
The Seattle Mariners' good start at the plate will make manager Eric Wedge's job more difficult with outfielders Mike Carp and Franklin Guiterrez scheduled to return from the disabled list in the next week or two. The two players filling in for them, Chone Figgins and Michael Saunders, have been a pleasant surprise so far at the plate and will stay with the team once Carp and...
Who's hot, who's not? Week 1 is in the books around Major League Baseball. There are some surprising players and teams already to start off the year, but the Seattle Mariners started the year off in almost shocking fashion. In fact, such a shocking fashion that their star pitcher didn't know how to handle the change at hand. That's right, Mariners fans, the team is scoring...
It's hard to be enticed by anyone in the Mariners' lineup not named Ichiro, who isn't too enticing himself.  However, one guy impressing so far this season for Seattle is third baseman Kyle Seager. Seager is hitting .321 with 1 HR and 6 RBI in 28 AB this season.  With third basemen like David Wright, Ryan Zimmerman, Adrian Beltre, Brett Lawrie, Mark Reynolds, and Alex Rodriguez...
It's about time! Tonight is the first opportunity  this season for the Mariners to get some hometown love after being away since starting up at Spring Training in early February. Though I will say, the fans in Japan were as supportive as it gets on the road – at least as far as I could tell from Bellevue, Washington! But, it won't compare to what the Mariners will hear tonight...
The Seattle Mariners struggled mightily against the Texas Rangers in 2011 dropping 15 of 19 games.  In their first series against the Rangers in 2012, Mariner fans were treated to more of the same.  The good news was that after an 11-5 bashing on Monday night, the other two losses to Texas were by one and two runs respectively.  And, Seattle rallied from down 3-0 to take yesterday's...
The Mariners Come To Life in the 9th The Headline: The Seattle Mariners bats remain anemic through 6-innings, but come alive in a late inning comeback. Seattle Mariners 4, Oakland Athletics 3 When: 8:05 ET, Wednesday, April 11, 2012 Where: Rangers Ballpark, Arlington Temperature: 81 Degrees Umpires: Home — Kerwin Danley, 1B — Doug Eddings, 2B — Paul Nauert, 3B — Dana DeMuth...
ARLINGTON, Texas (AP) -- John Jaso had an RBI single with two outs in the ninth to cap a three-run rally off new Rangers closer Joe Nathan and give the Seattle Mariners a 4-3 victory over the two-time defending American League champions Wednesday night. Jaso, the No. 9 hitter playing his first game this season, had a leadoff triple in the eighth and then scored Seattle's first...
John Jaso had an RBI single with two outs in the ninth to cap a three-run rally off new Rangers closer Joe Nathan and give the Seattle Mariners a 4-3 victory over the two-time defending American League champions Wednesday night. Jaso, the No. 9 hitter playing his first game this season, had a leadoff triple in the eighth and then scored Seattle's first run on a single by Dustin...
Bartolo Colon gave up just three hits in seven shutout innings for his 16th career win against Seattle, and the Oakland Athletics won 4-0 on Friday night to ruin the Mariners' home opener. Making his third start already this season against Seattle, Colon (2-1) rebounded from a shaky effort last time out against the Mariners and beat them for the second time in 2012. His first...
After spending nearly two months away from home, the Seattle Mariners will get their first chance for a lengthy stay there. The Mariners will try to kick off their nine-game homestand with a win over an already-familiar foe, the Oakland Athletics, on Friday night. Since opening spring training in Arizona, they have traveled to Japan, returned to Peoria, Ariz., and then traveled...
In a somewhat unfamiliar situation, the Mariners have more healthy, contributing, MLB-quality players that they want to give time than they have spots on the Major League roster. With Carp and Gutierrez returning soon, two tough roster decisions lie ahead for manager Eric Wedge.
MLB News

Delivered to your inbox

You'll also receive Yardbarker's daily Top 10, featuring the best sports stories from around the web. Customize your newsletter to get articles on your favorite sports and teams. And the best part? It's free!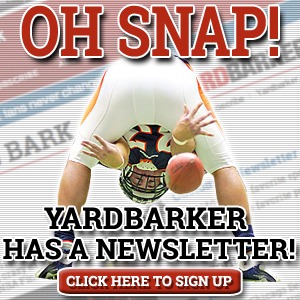 Latest Rumors
The Backyard

Today's Best Stuff

For Bloggers

Join the Yardbarker Network for more promotion, traffic, and money.

Company Info

Help

What is Yardbarker?

Yardbarker is the largest network of sports blogs and pro athlete blogs on the web. This site is the hub of the Yardbarker Network, where our editors and algorithms curate the best sports content from our network and beyond.