Found June 21, 2013 on Fox Sports Detroit:
PLAYERS:
Doug Fister
,
Shane Victorino
,
Jim Leyland
,
Daniel Nava
,
Darin Downs
,
David Ortiz
,
Brayan Pena
,
Miguel Cabrera
,
Andy Dirks
,
Phil Coke
,
Al Alburquerque
,
Avisail Garcia
,
Jhonny Peralta
,
Jarrod Saltalamacchia
,
Jose Valverde
TEAMS:
Detroit Tigers
,
Boston Red Sox
DETROIT -- If you listened to Doug Fister after Friday's game, you probably thought he had just pitched the worst game of his career. If you then looked at his box-score line, you'd be even more convinced. Fister didn't get out of the fourth, allowing six runs on 11 hits and a walk in 3 13 innings. "I just didn't do my job," Fister said. "I didn't execute. I felt good, and I thought I made some good pitches, but there were too many pitches that I didn't make." That, though, is Doug Fister. If he pitched a one-hitter and lost 1-0, he'd take all of the blame, while he's more than happy to credit winning performances to his teammates. On Friday, he was being a little hard on himself. Yes, he did allow a first-inning homer to Shane Victorino, but Boston's next five runs came off a bewildering array of bloopers, infield singles and balls that found the tiniest gap in Detroit's defense. "He certainly wasn't at his sharpest today, but I don't think Doug pitched badly at all," Jim Leyland said. "I'm not making an excuse for him, but he didn't have any luck, either. When they hit the ball hard, and they did hit some hard, they got a bit. When they didn't hit the ball hard, and there were some of those as well, they still got hits." Things finally fell apart in the fourth. Fister retired Daniel Nava to start the inning, but the next six batters all got hits, leading to four runs and the end of his night. Just to show how badly things had gone for him, Darin Downs came into the game and got David Ortiz to ground into an inning-ending double play on his first pitch. "This wasn't a good day for us," Brayan Pena said. "Doug will tell you that he didn't pitch well he's always the first to admit that but we sure didn't get much luck, either. That's how this game is, though. Some days everything is great, and some days you have to play the Red Sox, and they put every ball into play and you don't get any breaks." Fister's biggest problem was the lack of a strikeout pitch. He came into the game averaging over seven strikeouts per nine innings, but he didn't get any against Boston. The Red Sox put 20 balls into play against him, and 10 ended up dropping for hits. "It wasn't his night, that's for sure," Leyland said. "But give Boston credit. They put the ball into play and made all those things happen." Detroit's offense tried to keep the Tigers in the game Miguel Cabrera hit his 20th homer and slumping Andy Dirks hit one off the Belle Tire sign in right but the bullpen kept leaking runs. Downs gave up a run in the sixth, Phil Coke and Al Alburquerque combined to give up a pair in the eighth and an error by Avisail Garcia in center field let the Red Sox reach double figures in the ninth. "We just never stopped the bleeding," Leyland said. "Our offense was keeping us alive, but those add-on runs just killed us." That wasn't a good sign, especially from a bullpen already in turmoil, but Albuquerque's outing did give a glimmer of hope. On his first day back from Toledo, he held four batters to two infield bouncers and two pop ups, and while two runs did score, one of them was on an apparent missed call at the plate. "I'll sleep better tonight," Pena said after learning that replays had shown Jhonny Peralta's throw to the plate had indeed beaten Jarrod Saltalamacchia. "I was sure we had him." The other one scored on what remains Alburquerque's Achilles' heel, the wild pitch. "He throws a great slider, and I thought it was very good today on his first outing up here in a while," Leyland said. "But when you throw a slider that breaks like that, you are going to bounce a couple. It's just something you have to live with if you want his slider." Right now, with Jose Valverde gone and several relievers struggling in Detroit or trying to find themselves in Toledo, the Tigers will take Alburquerque. He isn't enough to solve the bullpen problems alone, but he's a start.
Original Story:
http://www.foxsportsdetroit.com/mlb/d...
THE BACKYARD
BEST OF MAXIM
RELATED ARTICLES
The short lived Jose Valverde return/experiment for the Detroit Tigers appears to be over. According to Jon Heyman of CBS Sports, the Tigers designated for assignment the 35-year old closer after a stretch of bad outings allowing 11 runs and 6 home runs in 7 1/3 innings. It also appeared more and more likely that Valverde would be shown the door after manager Jim Leyland commented...
Detroit -- Baseball is a game of imperfections and failure, yet somehow most of that has eluded Max Scherzer this season. Scherzer held the Boston Red Sox to two runs on six hits in a 10-3 Tigers victory Friday night at Comerica Park to become the first Tigers pitcher to win 11 consecutive decisions to start the season. How wowed is Scherzer by what he's done? "Not too...
Austin Jackson's hamstring may not be back to full strength quite yet. The Tigers outfielder was held out of Friday's lineup with soreness in his left leg which is related to the recent hamstring injury that put him on the DL. MLB.com's Jason Beck & Bobby Nightengale reported that the problem is in the same place in Jackson's left hamstring, as confirmed by...
DETROIT - Chase Salazar got to live out a childhood dream for many people Friday when he put on a Detroit Tigers No. 24 uniform and played the body double for slugger Miguel Cabrera during a commercial shoot for FOX Sports at Comerica Park. While other extras told him they had spent six hours trying to perfect Cabrera's swing in hopes of being selected, Salazar got the part...
If we needed any confirmation that Kate Upton doesn't like Justin Verlander as much as she allegedly used to, a happy birthday tweet she sent to Frank Viola III on Wednesday confirmed it. What does Frank Viola III, a son of the famed left-handed pitcher with a similar name, have to do with ex-SuperCouple Kate 'n' Justin? He's one of Verlander's best friends and, apparently...
DANA WAKIJIFOXSPORTSDETROIT.COM DETROIT -- The move that Tigers fans were hoping for happened Friday. Tigers president and general manager Dave Dombrowski announced the team was designating closer Jose Valverde for assignment. Dombrowski said they asked Valverde if he'd be willing to go to Triple-A Toledo if he cleared waivers but did not receive a definitive answer from him...
Eric D. Schabell Contributing Writer The new sheriff rolled into town on his horse, gently bringing her to a stop outside of the stadium. He peered up at the bright sun from under his dusty black hat, squinting slightly and surveyed the scene around him. This town was ready for a new law man, a strong and dominating type of law man needed to put the riffraff in its place. No more...
By DAVE HOGGFOXSPORTSDETROIT.COM The Tigers have a new closer and his name is Joaquin Benoit. Jim Leyland made the announcement before Thursday's series opener with Boston and one day after Jose Valverde's latest pitching mound meltdown. Valverde allowed four runs in his first 10 pitches against the Orioles, including a long homer by Chris Davis. "Right now, I'm...
DETROIT - Miguel Cabrera, baseball's incredibly underexposed superstar, got a little taste of the Hollywood life Friday morning. Cabrera took part in a movie-like production for a 90-second commercial to promote the launch of the Fox Sports 1 television network. He's one of the top athletes featured in the spot that will be aired for the first time July 16 during FOX'...
Shane Victorino homered and hit three singles, driving in five runs to lead the Boston Red Sox to a 10-6 win over the Detroit Tigers on Friday night. Miguel Cabrera hit a three-run homer for Detroit, which nearly rallied from a 6-1 deficit but couldn't come through against the Boston bullpen. Jon Lester (7-4) allowed five runs and nine hits in 5 2-3 innings, but he won for the...
Ben Whitehead Contributing Writer After splitting the first two games, the Boston Red Sox (45-31) and Detroit Tigers (40-32) tangle in tonight's Game 3 from Comerica Park. The Sox offense exploded for 10 runs, led by right fielder Shane Victorino, who went 4-for-5 with a home run and five RBIs. Boston's batters must have thought the same as Red Sox Nation: No lead is safe. ...
There can be no argument that the best 1-2 hitting punch in Major League Baseball is Miguel Cabrera and Prince Fielder of the Detroit Tigers. The scary thing now about the defending American League champions is they have an argument for the best 1-2 pitching punch in the game, as well. That's because Max Scherzer has gone to a new level and might be even filthier than Justin Verlander...
MLB News

Delivered to your inbox

You'll also receive Yardbarker's daily Top 10, featuring the best sports stories from around the web. Customize your newsletter to get articles on your favorite sports and teams. And the best part? It's free!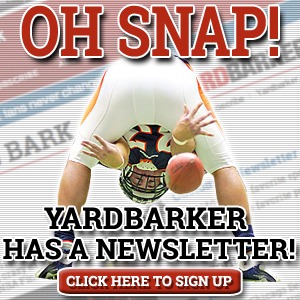 Latest Rumors
The Backyard

Today's Best Stuff

For Bloggers

Join the Yardbarker Network for more promotion, traffic, and money.

Company Info

Help

What is Yardbarker?

Yardbarker is the largest network of sports blogs and pro athlete blogs on the web. This site is the hub of the Yardbarker Network, where our editors and algorithms curate the best sports content from our network and beyond.