Found March 27, 2013 on Monkey with a Halo:
PLAYERS:
Hank Conger
,
Chris Iannetta
,
Jeff Mathis
,
Josh Hamilton
,
Albert Pujols
,
Mike Trout
,
Peter Bourjos
,
Erick Aybar
,
Jacoby Ellsbury
,
Garrett Richards
,
Joe Blanton
,
Jason Vargas
,
Tommy Hanson
TEAMS:
Los Angeles Angels
,
Miami Marlins
,
Boston Red Sox
Preseason is a time for bold predictions. Before opening day, every team is tied for first place, thus springing forth eternal hope for the fans of all teams that this year could be their "year". 1. By the end of 2013, Hank Conger and Chris Iannetta will be in a fairly equal timeshare at catcher. Chris Iannetta's the man. He's earned this title, he's played like it and no one is disputing this. However, I believe that Iannetta will inevitably need some time on the DL given his recent past and the physical demands of playing catcher for the Angels. This will open the door for Conger to earn some playing time. I believe his defense, or more specifically his throwing will progress far enough that Scioscia won't be afraid to deploy him in Iannetta's absence. Conger's ability to hit from both sides of the plate for average, some power and show good plate discipline will make him an attractive and dangerous option for the Angels. This isn't to say that Chris Iannetta is going to be bad, quite the contrary, I think he'll be even better in 2013 than he was in 2012. But a productive Iannetta/Conger timeshare is inherently a better option than any lineup featuring Bobby Wilson or Jeff Mathis on a regular basis as we've seen in the past. 2. Josh Hamilton will hit UNDER 30 HR for the Angels in 2013. This isn't a "dig" on Josh Hamilton. He's a great hitter and will continue to be for quite some time. He may have hit 43 HR for Texas last year, but when we look at his career thus far, that appears to be an outlier. In previous season where he had played in 120 games or more, he hit 25, 32 and 32 HR's. His .359 batting average from 2010 also appears to be an outlier. His strikeouts have since skyrocketed (though to be fair his walks have progressively increased as well). So playing for Texas, the norm was more like a .300 batting average with around 30 HR's. But Hamilton is no longer playing in Texas. The tall wall in RF and the marine layer in Anaheim knock down their fair share of potential HR's. Hamilton should still be a productive hitter, to the tune of a .290 batting average with 40 doubles and 25+ HR's, but gone are the MVP caliber days. 3, Albert Pujols and Mike Trout will find themselves competing for the MVP award. Bold prediction? Not so much, but the manner in which it will occur will be bold. After questions concerning Albert's age, health and productivity, in true Albert fashion he'll silence critics with an offensive barrage rarely replicated before by anyone not named Pujols or Cabrera. His strikeouts will decrease, his walks will increase, his doubles will decrease, his HR's will increase and as his knee becomes healthier and he won't be pressing like he did early in 2012, Pujols' batting average will again climb. By the end of the year, we're looking at .300 with 35 doubles and nearly 40 HR's. However, Trout will have a season for the ages that silences critics and puts statistical projection models to shame. As Trout begins seeing the same pitchers for the second consecutive year, his strikeouts will decrease. More batted balls in play is dangerous for any hitter, but is certain death on pitchers if it's coming from Mike Trout. As we saw last year and this Spring, the power is real, and the more often he reaches base, the more often Trout will be stealing second. Trout will hit .320 with 35 home runs and 60 stolen bases in 2013. I don't think that's ever been done. Trout will win the MVP and Pujols will finish top three. 4. The Angels will take home three Gold Gloves in 2013. The main entries for this contest are Mike Trout in LF, Peter Bourjos in CF, Josh Hamilton in RF, Albert Pujols at 1B and Erick Aybar at SS. After Trout finishing second in voting behind Adam Jones in 2012 and Bourjos finishing second behind Jacoby Ellsbury in Gold Glove voting for CF, both will win the prestigious award in 2013 (though I question the validity of this award). As for the third award, I'll let you decide who wins. 5. Garrett Richards will be the Angels #3 starter by the end of 2013. The Angels went out and brought in Joe Blanton, Jason Vargas and Tommy Hanson this past offseason, effectively relegating Richards to the bullpen or AAA to begin the season. But through a variety of injuries and not performing up to expectations, Garrett Richards will get an extended look in the rotation. He'll seize the opportunity and become a "season-saver" for the Angels with his gutsy performances. Armed with a 96 mph four seam fastball, 93 mile an hour two-seam fastball, sharp, wipeout slider, exceptional 12-6 curve and usable change up, Richards will appear downright unhittable at times for the Angels when they need it the most. [follow]
Original Story:
http://www.monkeywithahalo.com/2013-a...
THE BACKYARD
BEST OF MAXIM
RELATED ARTICLES
The March 28th, 2013 edition of daily news for the Los Angeles Angels including Trout in GQ, Angels sign Mark Lowe, trade Geltz and much more... The Story: The Angels signed reliever Mark Lowe to a minor league contract with a invite to spring training. The Monkey Says: It looks like the Angels are getting really nervous about the bullpen's performance. It seems the plan...
TEMPE, Ariz. The Angels finalized their trade of Vernon Wells to the New York Yankees on Tuesday after the veteran outfielder passed a physical and the commissioners office approved the cash being exchanged in the deal. The Angels will pay 28.1 million of the remaining 42 million on Wells contract, which runs through 2014, meaning the Yankees will pick up 13.9 million of the deal...
And now we finally get to the projection you have all been waiting for. And now a player that needs no introduction... 2012 Stats: 639 PA, .326 AVG, .399 OBP, .564 SLG, 129 R, 30 HR, 83 RBI, 49 SB, 5 CS, 139 K, .409 wOBA, 170 OPS+, 10.0 fWAR 2013 ZiPS Projections: 695 PA, .282 AVG, .364 OBP, .507 SLG, 122 R, 29 HR, 83 RBI, 47 SB, 8 CS, 149 K, .371 wOBA, 142 OPS+, 7.4 fWAR...
TEMPE, Ariz. (AP) -- Angels manager Mike Scioscia is very excited about Ernesto Frieri and the rest of his bullpen. Frieri pitched a hitless inning in Los Angeles' 6-3 victory over the Texas Rangers on Wednesday. On getaway day for the Los Angeles Angels and with most of his starting lineup already on the way to California, manager Mike Scioscia gave several glowing reports...
(Photo by David Saltzer - AngelsWin.com Senior Writer) ANAHEIM, CA – The Angels Tuesday traded outfielder Vernon Wells to the New York Yankees in exchange for outfielder Exicardo Cayones, LHP Kramer Sneed and cash considerations. Today's transaction was announced by General Manager Jerry Dipoto. Cayones, 21, spent the 2012 season playing for New York's Single-A Staten Island...
Garrett Richards, who figures to open the season in the bullpen, started for the Los Angeles Angels and threw 2 1-3 scoreless innings Wednesday in a 6-3 win over the Texas Rangers. Richards made his fifth spring appearance and second start. He allowed three hits. Jerome Williams followed Richards and struck out six in 3 2-3 innings. He gave two runs and six hits. Lance Berkman...
The March 26th, 2013 edition of daily news for the Los Angeles Angels including Madson feeling good after another bullpen session, Trout vs. Harper and much more... The Story: Ryan Madson is feeling good after another bullpen session on Monday. The Monkey Says: Nice to hear, but he still isn't throwing 100% or throwing his changeup. In other words, he still has a long...
In the latest episode of Podcast with a Halo, we deliver the definitive eulogy for Vernon Wells' career, debate Nick Maronde's transition to relief, fret over the big league pitching staff and fear another miserable April. Other than that, this episode is a real upper! Direct download the episode here or subscribe to the podcast here.  And help us out by leaving...
On his first day with the New York Yankees, Vernon Wells recalled a game in the International League more than a decade ago and he saw Darryl Strawberry in uniform for the opposition. ''I remember the first time I played the Triple-A Yankees, when I was 20 years old,'' he said Tuesday. ''It was the first that I actually got goosebumps playing against another...
I examined the NL West this morning; now let's take a look at the Junior Circuit and see what's in store for their counterparts in the AL in 2013. Los Angeles Angels Notable offseason additions:  Josh Hamilton, Tommy Hanson, Joe Blanton, Jason Vargas, Ryan Madson, Sean Burnett Notable losses:  Zack Greinke, Dan Haren, Torii Hunter, The post NCB MLB Preview–AL West appeared...
Often those teams that are hot favorites with the sports betting sites to win their divisions are also among the favorites for the league pennants and even the World Series. This means that many baseball betting fans opt for combined bets on a particular team, but which clubs would make a good bet for this season's AL West division? In fact the hot favorites for the AL West are...
By Geoff Stoddart, Director of Social Media "The Jukebox in the corner blasting out my favorite song The nights are gettin' warmer it won't be long Won't be long 'til summer comes Now that the boys are here again The boys are back in town, the boys are back in town!!! The boys are back in town, the boys are back in town!!!" You're like a modern day Paul...
MLB News

Delivered to your inbox

You'll also receive Yardbarker's daily Top 10, featuring the best sports stories from around the web. Customize your newsletter to get articles on your favorite sports and teams. And the best part? It's free!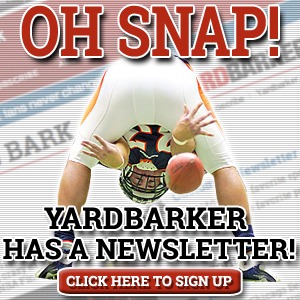 Latest Rumors
The Backyard

Today's Best Stuff

For Bloggers

Join the Yardbarker Network for more promotion, traffic, and money.

Company Info

Help

What is Yardbarker?

Yardbarker is the largest network of sports blogs and pro athlete blogs on the web. This site is the hub of the Yardbarker Network, where our editors and algorithms curate the best sports content from our network and beyond.