Found May 14, 2013 on Fox Sports Carolinas:
Baseball can be cruel sometimes. Too cruel. All it takes is a bad half-inning from a starting pitcher, and you find yourself down 4-0. Thats what happened to N.C. State (39-13, 16-10 ACC) when Florida State (42-10, 18-9) got back-to-back home runs against starter Brad Stone in the top of the first. The Seminoles led 4-0 before Stone was pulled, and it was 8-1 Seminoles before the Wolfpack could find a pitcher that could settle things down (reliever Josh Easley, ultimately). N.C. State is a confident bunch, though. And the Wolfpack, even with the early deficit, still thought they were going to win the rubber match of the series. But ultimately, it wasnt to be and a few N.C. State rallies fell just short as the Wolfpack fell, 8-4. I got the feeling we were coming, N.C. State head coach Elliott Avent said. I got the feeling we were coming and I got the feeling (Florida State) thought maybe we were, too. Im so proud of our team from like the fourth inning on, because I felt like even though we were down by a good margin, it was our ballgame. Two well-hit balls very nearly left the park, but both died somewhat inexplicably on the warning track, and the FSU outfielders were able to snag both for outs. The most puzzling one was hit by Tarran Senay, who hit the ball so hard that teammate Brett Williams was sure it was out. Tarran Senays ball I thought was in the top of the trees, Williams said with a shrug, and it seemed like the wind just kicked it out of the sky. But despite the fact that N.C. State kept fighting back, the fact remains that their starting pitching -- minus staff ace Carlos Rodon -- has been putting the Wolfpack in far too many early holes. In N.C. States last three games against top 10 opponents that Rodon didnt start (two against FSU and one against No. 3 UNC), the Wolfpack have trailed by a combined score of 15-1 after the first two innings of each game. Weve kind of struggled out of the gate the past two games, and that can be tough for your confidence as a team, Williams said. Weve battled from behind a lot this year and been successful coming back. So were comfortable in that position, but we just didnt get all the way back this time. We still feel confident. Avent and his team have been able to adapt to almost anything all season long. When the bottom of the order wasnt getting it done, they made changes and now thats better. When Trea Turner went out with an injury, the team made things work. But the lack of starting pitching beyond Rodon is something that has been a problem all year. Its a big concern. Its been a concern all year, Avent said. Things have had to change all year, and weve made some changes. ... But the one catch this year is the starting pitching just hasnt done what we thought it was going to do. A lot of things would have to happen for N.C. State to win the Atlantic Division, but its not impossible. All teams will play their final ACC series this weekend, and N.C. State would have to sweep Duke in Durham (the Blue Devils are 25-26, 9-18 ACC). Florida State will host Clemson, and the Tigers are surging with a 37-15 record (17-10 in the ACC). The problem is that both Clemson and Florida State hold the tiebreaker in the Atlantic Division over N.C. State now, both having taken series wins over the Wolfpack. But despite all that, if N.C. State sweeps Duke and Clemson takes two of three games (but no more than that) off of Florida State, the Wolfpack will win the Division. Thats not something the team is worried about right now, though. The Wolfpack are used to playing from behind. They did it last year, and they got to a Super Regional against Florida. Sure, winning the Division was a goal. But in the ACC Tournament, its wide open and N.C. State still has a chance to get a national seed. Its the same place we were last year and we went to a Super Regional and were two wins away from (the College World Series in) Omaha, shortstop Turner said. I think were just as good a team as we were three days ago when everybody thought we might win this series. I dont think it should matter that much. I think were going to bounce back and be fine.
Original Story:
http://www.foxsportscarolinas.com/sto...
THE BACKYARD
BEST OF MAXIM
RELATED ARTICLES
Florida State must fill key voids on the defensive line and at quarterback, but the Seminoles should push for 10 wins in 2013. 
Florida State and SouthFlorida have set a home-and-home football series beginning in 2015.The Bulls will travel toTallahassee in '15, and the Seminoles will visit Tampa the following year. Florida State and SouthFlorida have played twice. The Bulls won 17-7 in 2009 at Tallahassee.The Seminoles won 30-17 in Tampa last season.Weve been workingcollaboratively on extending the series...
Who are the top Noles football players of the Athlon era?
There was optimism that Andrew Wiggins would be the cornerstone of Florida States 2013-14 basketball team. And it turned out to be a close decision Wiggins father, Mitchell, told pool reporters in Huntington, W.Va., on Tuesday afternoon that Florida State was Wiggins second choice (over Kentucky and North Carolina). When the nations top prep basketball prospect chose Kansas instead...
BILL MOOS, CONTINUING to scramble to fill home football dates after a proposed alliance between the Pac-12 and Big Ten conferences fell through last year, said he's pursuing home-and-home arrangements with such schools as Florida State, Michigan State and Texas Christian.
It was a sad day for Florida State Seminoles everywhere when Andrew Wiggins chose Kansas over FSU. This meme probably won't help them get over it.
5 Greatest Moments in Florida State Seminoles Football History
Despite a revamped coaching staff and a handful of new starters, hopes are high in Tallahassee for the Seminoles to win 10 games in 2013. New...
Another Florida State transfer as Terry Whisnant, looking for more playing time, will be at either Coastal or ECU. We can understand the desire to try your luck somewhere else, but consider: if you're not good enough to start for a mediocre FSU team, odds are the basketball gods are telling you that you're not national basketball association material. At some point when you realize...
Some of our favorite cheerleaders from the past twenty years. 
Andrew Wiggins has committed to Kansas Wiggins also considered Florida State, Kentucky and North Carolina. Wiggins, a native of Toronto, is widely thought to be the best high school prospect since LeBron James. Florida State and Kentucky were considered the favorites to land Wiggins.
No. 9 Florida State, behind the solid pitching of sophomore LHP Brandon Leibrandt, defeated the No. 5 N.C. State Wolfpack 12-3 at Doak Field in Dial Park.
MLB News

Delivered to your inbox

You'll also receive Yardbarker's daily Top 10, featuring the best sports stories from around the web. Customize your newsletter to get articles on your favorite sports and teams. And the best part? It's free!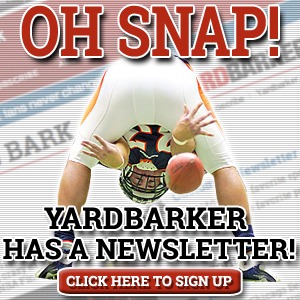 Latest Rumors
The Backyard

Today's Best Stuff

For Bloggers

Join the Yardbarker Network for more promotion, traffic, and money.

Company Info

Help

What is Yardbarker?

Yardbarker is the largest network of sports blogs and pro athlete blogs on the web. This site is the hub of the Yardbarker Network, where our editors and algorithms curate the best sports content from our network and beyond.