Found March 25, 2013 on Fox Sports:
People questioned him. People in the game, people with the Orioles, even people in the media privately wondered what the heck was wrong with Brian Roberts. How come the second baseman was taking so long to recover from post-concussion symptoms? When was he going to play again? Did he even want to play anymore? Roberts heard the whispers. And for 13 months as he struggled to get well, he could do nothing about them. "It's terrible. You don't have a cast on. You didn't have surgery. Even in your darkest moments sometimes, people can look at you and think you're fine," Roberts says. Roberts, 35, finally is fine now, enjoying an excellent spring with the Orioles. He made a triumphant return from post-concussion symptoms last June 12, but his comeback was interrupted three weeks later when he suffered a season-ending torn labrum in his right hip. That injury required surgery, as did a sports hernia in December. In between the two operations - sometime last autumn, more than two years after his initial concussion and about a year-and-a-half after his second - Robert says he finally began to feel "completely normal," no longer burdened by his concussions. Every day, it seems, we become more knowledgeable about the impact of concussions in sports. Roberts' case reinforces that we still have much to learn - and that it is dangerous for any of us to rush to judgment. Baseball adopted new protocols for managing concussions before the 2011 season, including the creation of a seven-day disabled list. Justin Morneau, Jason Bay and Denard Span are among the other players who have dealt with concussions in recent years. "I had so many people say, 'You looked like you were looking right through me,'" Roberts says. "From the outside looking in, the brain is such a complicated thing, people just don't understand. I don't blame them for that. There are a lot of things in life, when you look from the outside, you don't understand. "But when people are questioning whether you want to play the game, that's really hard. It's hard enough going through it with support. It's even worse going through it with people questioning you." Roberts' wife, Diana, says that she, too, heard the whispers about Brian - and that she, too, understood the source of people's doubts. Initially, she and Brian didn't know much about concussions, either. But Diana knew what she saw - her once-vibrant husband, the Orioles' energetic leadoff man, lying on a couch in the dark for "months and months," unable to function normally, much less play baseball. "If you were in our home every day," Diana says, "you definitely would not have doubted him." And if you were Dr. Michael "Micky" Collins, director of the University of Pittsburgh Medical Center Sports Concussion Program, you would have seen that the skeptics could not have been more wrong. Collins, who began treating Roberts in the middle of the 2011 season, says that the two-time All-Star wanted to play so badly, he put too much stress on himself, adding to the difficulty of his recovery. "I've never met someone who wanted to play more," Collins says. "He went through a long, windy, arduous road." Roberts suffered his first concussion on Sept. 27, 2010, when he hit himself in the helmet with his bat out of frustration. He suffered his second on May 16, 2011, diving headfirst into first base to beat a throw. At first, as the symptoms took hold, his goal was simply to get healthy. "Most of the days, I wasn't even sure if it was ever going to go away," Roberts says. "Forget baseball. I wasn't even thinking about baseball. I was just thinking about the fact that I wanted to be the person that my wife knew when she married me, the person I had been." As it turned out, even getting to that point was a struggle. Brian, Diana says, "was having a hard time just living everyday life." Baseball? If Brian could get back to a normal day-to-day existence, Diana reasoned, then he could get back to playing baseball. Brian wasn't so sure. He says he thought about quitting the game on certain days - many days, in fact. But he would ask himself, would he be walking away because he had lost his desire to play? Or would he be walking away because he didn't think he would be healthy again? "If it had come to the point where I just didn't have the desire to get healthy anymore, I would have shut it down," Roberts says. "But praying about it, talking to my wife and other people I trusted, I didn't feel like I was being called away from the game." Still, all concussions are different, and people react to them in different ways. Roberts' concussion was particularly trying for a baseball player. It disrupted his vestibular system, Collins says, the system that "coordinates space, motion, movement - sensory integration." "For a baseball player to make it back, that system has to be perfect," Collins says. "You have to be able to integrate a lot of information - reaction time, visual awareness, all of the things that make a baseball player at that level compete at a high level involve that system. "Every step we took was getting that system to re-integrate. Just to get back on the field with a bunch of people moving around him, the crowd in the stadium, taking groundballs and flyballs, stepping in the box and hitting 95-mph fastballs . . . he would take these painstaking steps that would allow him to re-integrate." It was not a smooth or rapid process. Collins described Roberts' primary symptom as "fogginess," adding, "I know it sounds very cryptic." To a normal person, walking through a crowded place, be it a hallway, mall or ballpark, is no problem. But Roberts, Collins says, would feel, "foggy," in such situations, "kind of one step behind, sort of outside himself, slow." He would suffer headaches, dizziness, vision problems. Merely moving his eyes would cause him stress. Even when Roberts resumed baseball activities, he needed to take special precautions. Collins recalls consulting with the Orioles' training staff, telling them to limit the number of people on the field when Roberts performed drills. Not even re-acclimating to a batting cage came naturally. Roberts' problems weren't just physical, either. "Physiologically, it can kick off emotional stuff," Collins says. "The same neuro-chemicals that kind of feed the (vestibular) system feed the emotional circuitry in the brain. "He'd feel down. He'd feel anxious. He'd feel crushed from an emotional standpoint. Which, of course, exacerbated all of the physical symptoms he was feeling as well." Diana Roberts recalls tapping on her computer, researching Brian's condition as he lay on the couch. Collins recalls Diana calling him three or four times during periods "when Brian had kind of gone to that darker place." "A weaker person would have just hung it up," Collins says. So here is Roberts in the spring of '13, recovered from his concussions, recovered from his recent hip and sports-hernia surgeries, seemingly reborn. Over the past three seasons, Roberts has played in only 115 of the Orioles' 486 games, or 23.7 percent. But this spring, he's batting .357 with a .937 OPS in 46 plate appearances, and has stolen three bases in four attempts. "He looks just like I remember him," Orioles outfielder Nate McLouth says. "He would be as good as any off-season addition you could make." But can Roberts be the same player he once was? He batted only .182 with a .415 OPS in the 17 games he played last season between returning from his concussion and injuring his hip. But the feeling now, he says, is different. For one thing, Roberts is going through a full spring of preparation. Even more important, he says he turned a corner in October or November, and is more completely recovered from his concussions than when he rejoined the Orioles last June. "I can remember telling my wife, I wake up in the morning and I feel like a normal person again," Roberts says. "For the first time in years, I don't think about, what am I going to feel like in the morning when I wake up? It was definitely a serious weight lifted." Roberts says the next step is to get back to playing the game instinctively, something that requires repetition. But that's simple stuff - baseball. He remains mindful of the big picture, calling it a "a huge blessing" just to be back on the field. Diana, watching from the stands, says the feeling is "indescribable." "When your husband comes back from stuff like this, those games are sweeter," she says. "You don't take anything for granted." Collins speaks even more excitedly about Roberts' future, even though it might adversely affect his favorite team, the Red Sox. "I'm very confident that Brian put this behind him," Collins says. "I can't wait to see what that guy does this year. "I think he's healthy. I think he's hungry. I think his brain is working perfectly well. I think he's going to have a great season, knock on wood that no other injuries occur." A few days ago, Orioles manager Buck Showalter met with reporters before Roberts played his first road game of the spring in Fort Myers, Fl., and spoke with great empathy about all that his second baseman has endured. Showalter talked about how so much is still unknown about concussions, about how concussions cannot all be put in the same category, about the times last season when he worried Roberts might never be a healthy human being again, much less a healthy player. Even the most enlightened manager might not have spoken with the same compassion in Sept. 2011, when Roberts suffered his first concussion. "If anyone deserves to be healthy, it's Brian," Showalter said. Everyone in the room nodded. Everyone understood. Those questions from the past, they've all been answered.
Original Story:
http://msn.foxsports.com/mlb/story/ba...
THE BACKYARD
BEST OF MAXIM
RELATED ARTICLES
Baltimore Orioles utility player Wilson Betemit collapsed yesterday during an exhibition contest with what was initially described as a knee injury. The O's have since announced that Betemit has suffered a Grade 2/3 posterior cruciate ligament (PCL) tear and "associated injuries," according to Roch Kubatko of MASN Sports. Betemit sustained the injury while running...
Baltimore Orioles designated hitter Wilson Betemit suffered a sprained ligament in his right knee in the fifth inning of Monday's game with Boston. The 31-year-old Betemit, who was the Orioles' regular third baseman until the recall of Manny Machado last August, was on first base and running on the pitch when Machado flied to left. He collapsed near second base and was carted...
The Baltimore Orioles were dealt a major blow yesterday when Wilson Betemit went down with a torn PCL.  However, they got a bit of good news.  Nick Markakis is scheduled to play in his first spring game since March 1st. Markakis has been sidelined with a herniated disc in his neck.  He has been cleared to play in games now says Brittany Ghiroli of MLB.com.  As long as Markakis...
There is an incredibly good chance Nolan Reimold will go undrafted in your fantasy league, and to be honest, I can't argue with that rationale. However, there are a few reasons why he should remain on your radar as an intriguing sleeper option, especially in leagues with 5 OF or multiple UTIL slots. Here's your [...]
Markakis hit .450 against the Yankees in 2012. Threat Level: 8 In 2012, the Orioles were 29-9 in 1-run games and 16-2 in extra inning games (where they won their last 16 in a row). Both of those numbers are major league records. To say they cannot do that again would be stating the obvious, but saying they cannot be competitive again would be wrong. The Orioles' offense still...
Here are the media organizations following the BALTIMORE ORIOLES. Newspaper- One of the most underrated mid-sized newspapers in the country is the Baltimore Sun.  It has a long tradition of having a comprehensive sports section.  The online version of the paper has a page dedicated to the Orioles. Eduardo Encina (Twitter), Dan Connolly (Twitter) and  David
Chris Dickerson hit a grand slam that gave the Baltimore Orioles an eight-run lead in the first inning Sunday, but it took Steve Pearce's solo shot in the seventh to secure a 12-10 win over the Pittsburgh Pirates. Andrew McCutchen hit a two-run homer in the bottom of the first off Orioles starter Brian Matusz. Gaby Sanchez had three hits and three RBIs for Pittsburgh. Matusz...
Adam Jones hit his first two home runs of the spring, J.J. Hardy homered and drove in four and Wilson Betemit also had RBIs before leaving with a knee injury as the Baltimore Orioles beat the Boston Red Sox 12-9 Monday. Jones, who missed more than two weeks of spring training while playing in the World Baseball Classic, was 1 for 19 before his first home run. He also singled. Hardy...
Nick Markakis got a hit in his return to Baltimore's lineup while Twins pitcher Liam Hendriks exited early after being struck in the hand by a batted ball Tuesday in the Orioles' 9-4 win over Minnesota. Markakis went 1 for 5 as the designated hitter in his first exhibition game since March 1 after recovering from a herniated disk in his neck. Hendriks, still in the mix...
The surprise team of 2012 has much of it's core in place, but did they address the needs from last season? Key Losses: Robert Andino, SS (Mariners, Trade) Endy Chavez, OF (Royals, Free Agent) Bill Hall, 3B (Angels, Free Agent) Joe Mahoney, 1B (Marlins, Waivers) Jhondaniel Medina, RHP (Pirates, Trade) Omar Quintanilla, SS (Mets, Free Agent) Mark Reynolds, 1B (Indians, Free Agent...
Jeff Karstens was scratched today with soreness. Jeff Karstens was originally scheduled to make a start today against the Baltimore Orioles. Instead he was scratched and will be replaced by Chris Leroux. Prior to this, Karstens had yet to throw more than two innings in a start, and the season is a week away. The reaction that I've seen so far is that this will open up the competition...
MLB News

Delivered to your inbox

You'll also receive Yardbarker's daily Top 10, featuring the best sports stories from around the web. Customize your newsletter to get articles on your favorite sports and teams. And the best part? It's free!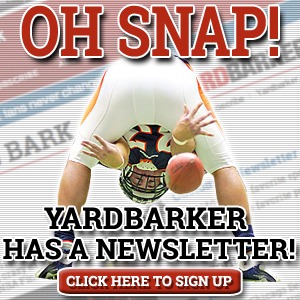 Latest Rumors
The Backyard

Today's Best Stuff

For Bloggers

Join the Yardbarker Network for more promotion, traffic, and money.

Company Info

Help

What is Yardbarker?

Yardbarker is the largest network of sports blogs and pro athlete blogs on the web. This site is the hub of the Yardbarker Network, where our editors and algorithms curate the best sports content from our network and beyond.