Found January 13, 2012 on hardballchat.com:
PLAYERS:
Bill James
,
Matt Wieters
,
Albert Pujols
,
Mark Trumbo
,
Adrian Gonzalez
,
Dustin Pedroia
,
Ben Zobrist
,
Omar Infante
,
Adrian Beltre
,
Pablo Sandoval
,
Placido Polanco
,
Brendan Ryan
,
Brett Gardner
,
Austin Jackson
,
Jacoby Ellsbury
,
Justin Upton
,
Torii Hunter
,
Nick Markakis
,
Eric Hosmer
,
Asdrubal Cabrera
TEAMS:
Baltimore Orioles
,
Los Angeles Angels
,
Boston Red Sox
,
Tampa Bay Rays
,
Miami Marlins
,
Texas Rangers
,
San Francisco Giants
,
Philadelphia Phillies
,
Seattle Mariners
,
New York Yankees
,
Detroit Tigers
,
Arizona Diamondbacks
,
Kansas City Royals
,
Cleveland Indians
We continue our trip through the Bill James Handbook with a look at how the experts graded out fielders. John Dewan, the author of The Fielding Bible Volume III, releases the Fielding Bible Gold Gloves inside the Bill James Handbook. The idea is that he cherry picked ten experts and had them vote on their Gold Gloves. Of course, he had a vote and his Fielding Bible scores were released for the top and bottom fielders in 2011.
So, he has his picks. Total Run Index included a conglomerate of numbers from different sources independent of the Fielding Bible. When we look at the Gold Glove winners for the experts, Fielding Bible, and TRI we notice some differences. As I present the chart, keep in mind that these Gold Gloves were ML wide instead of both leagues.
Experts Fielding Bible Total Run Index Catcher Matt Wieters Matt Wieters Matt Wieters First Base Albert Pujols Mark Trumbo Adrian Gonzalez Second Base Dustin Pedroia Ben Zobrist Omar Infante Third Base Adrian Beltre Pablo Sandoval Placido Polanco Shortstop T. Tulowitzki Brendan Ryan Brendan Ryan Left Field Brett Gardner Brett Gardner Brett Gardner Center Field Austin Jackson Austin Jackson Jacoby Ellsbury Right Field Justin Upton Torii Hunter Mike Stanton
What I can tell you from the list above is that each list has eight players that were positive impact fielders. So, while there is considerable disagreement in some spots, no one picked a horrible fielder. Compare that with the actual Gold Gloves if you wish. However, there is a point to be made here with the table above: the sabermetric community is nowhere close to having universal agreement on who the best fielders are.
This is important because traditionalists often assume that the scientists get together to downgrade certain guys or boost certain guys. This is simply not the case. Many of the folks above are purely independent. So, when they all agree on a player you can probably take it to the bank. We see that in a few positions (left field and catcher). One of those had a player elected for a Gold Glove in front of him. That's when it becomes painfully obvious that those that vote for the Gold Glove award really don't know what they are doing.
I included total runs index not because I consider myself a fielding expert but because those that produced numbers included in the TRI were not included in the group of experts. John Dewan is my personal favorite, but he did not get included in mine. So, you get a pretty good cross-section of the sabermetric community.
We will look at fielding a lot more when the Fielding Bible is actually released in February, but the implication is clear. When the entire community says that certain fielders are poor (Nick Markakis, Eric Hosmer, Asdrubal Cabrera, Adam Jones) it isn't the opinion of one guy sitting behind his computer. It isn't the collective opinion of a bunch of guys at a kind of Star Trek convention for stat geeks. It is the considered opinion of more than a dozen sabermetric experts that happens to come together in agreement on certain players. People that argue with me love to make it personal. It's not about me. I'm just the messenger.
In addition to being the editor of hardballchat.com, Scott Barzilla is also the proud father of one and the author of four books. His books can be found at Amazon and Barnes and Noble. Barzilla's Hall of Fame Index was nominated for the Sporting News Award for statistical advancement.
Original Story:
http://www.hardballchat.com/2012/01/f...
THE BACKYARD
BEST OF MAXIM
RELATED ARTICLES
As promised, I am starting a series of sabermetrically based articles. The intention is for those just breaking into sabermetrics to get a kind of tutorial in the different things that the industry has to provide. In the course of our discussions, I will be taking some items from The Hardball Times, Bill James Handbook, Fielding Bible Vol. III, and Baseball Prospectus...
Back when I was doing the daily series about player birthdays in team history, I ran this for Rick Burleson which detailed the catastrophic trade by the Angels of Carney Lansford, Mark Clear, and Rick Miller to Boston for Rick Burleson and Butch Hobson. That deal turned out to be a catastrophe for the Angels — it was the second such horror in as many years, given the team let Nolan...
Michael Baron of MetsBlog wrote the following this morning regarding the Mets projected starting rotation: According to FanGraphs, Bill James predicts Gee will go 8-10 with a 4.33 ERA in 160 innings, Niese will go 9-10 with a 4.28 ERA in 160 innings, Dickey will go 12-11 with a 3.89 ERA, Pelfrey will go 9-11 with a 4.36 ERA in 188 innings, and Santana will go 14-7 with a 3.10 ERA...
MLB News

Delivered to your inbox

You'll also receive Yardbarker's daily Top 10, featuring the best sports stories from around the web. Customize your newsletter to get articles on your favorite sports and teams. And the best part? It's free!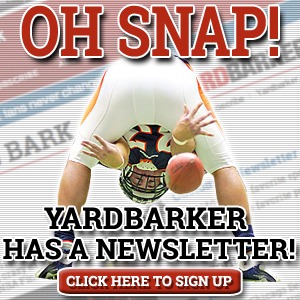 Latest Rumors
The Backyard

Today's Best Stuff

For Bloggers

Join the Yardbarker Network for more promotion, traffic, and money.

Company Info

Help

What is Yardbarker?

Yardbarker is the largest network of sports blogs and pro athlete blogs on the web. This site is the hub of the Yardbarker Network, where our editors and algorithms curate the best sports content from our network and beyond.