Found March 03, 2013 on Fox Sports Midwest:
VIERA, Fla. Cardinals shortstop Rafael Furcal suffered a recent setback while rehabbing from a partially torn ligament in his right elbow and has stopped all baseball-related activities. Furcal reported progress earlier in the week and had hoped to begin playing in the field as early as Saturday. But things changed later in the week and an MRI taken Friday revealed Furcal has an inflamed ligament. He'll seek a second opinion this week, likely from Dr. James Andrews. Surgery could force him to miss the entire 2013 season. "He's just not feeling good and kind of went in a bad direction," said manager Mike Matheny. "We don't know the severity of it but it wasn't good news. "I'm not getting too far ahead in any one direction, but we know that he's done quite a bit of rehab and to go backwards isn't necessarily a good sign." The 35-year-old Furcal missed the final month of the regular season and playoffs last fall due to the elbow injury. But he rehabbed the elbow and an MRI in late-November showed the ligament had completely healed. "The progression points along the way had indicated that things were looking positive," said GM John Mozeliak. "Having said that, we knew that he was never tested (in the field). We knew that he wasn't in an aggressive throwing program to get it to a point where it was 100 percent healed or not. "Part of that is because rest was part of what we wanted him to do. There was always some risk going into this past offseason and this spring that things wouldn't go well for him." Furcal took at-bats in Grapefruit League games but has yet to play in the field. He was also dealing with a bone spur issue in the elbow but Matheny said Sunday that the issue was likely ligament related, which would be a bad sign. "Right now he's just having pain standing around," Matheny said. "With the way he's talking it sounds like the ligament may be problems. We don't know for sure but things are pointing in that direction." Asked about what Furcal could do to treat the issue, Matheny said, "More rehab or surgery, but I don't want to get too far ahead because we still don't have enough information. "We did take a turn in the wrong direction." Furcal could be lost for the season should he need surgery on his elbow ligament. Even if he elects for rehab it would seem to be a long shot that he's ready to play by Opening Day. The Cardinals currently have Pete Kozma and free agent addition Ronny Cedeno as backups at shortstop and Matheny said both would get the majority of work there in the short term but he wouldn't rule out Daniel Descalso moving to short. Descalso is currently battling for playing time at second base with Matt Carpenter. "We're acting like the chapter is written," Mozeliak said. "We don't even know that yet." Said Matheny on the Cardinals' possibilities at shortstop moving forward and the chances Descalso gets a look, "I'm not ruling out anything but we'll have to see just kind of how things play out. Pete has done a nice job and Ronny had a couple tough plays yesterday but overall he's done a real nice job in the field and he's doing some work, he and john are really getting after his stroke and his approach. "Those two guys are still going to get the majority of the time at shortstop but we don't rule anything out." Furcal has one year and 7 million remaining on a two-year deal he signed with the Cardinals prior to last season.
Original Story:
http://www.foxsportsmidwest.com/03/03...
THE BACKYARD
BEST OF MAXIM
RELATED ARTICLES
Rafael Furcal had hoped to make his spring training debut Sunday. Instead, the 35-year-old shortstop was told to stop baseball activities. Trying to come back from a torn ligament in his right elbow, the three-time All-Star has been told he must have additional medical tests. ''He's just not feeling good, kind of went in a bad direction,'' Cardinals manager...
St. Louis Cardinals shortstop Rafael Furcal is getting a second opinion on his ailing elbow. General manager John Mozeliak said Furcal would be examined Wednesday by Dr. James Andrews. The 35-year-old Furcal is out indefinitely after reinjuring the elbow he hurt late last season. Furcal and the team elected to try rehab rather than reconstructive surgery in the offseason. The...
With the latest setback for Rafael Furcal likely knocking him out for the early part of the season, if not longer, there has been a lot of vitriol spewed in Furcal's direction.  But is it really warranted? According to Jennifer Langosch, back in 2012, when he suffered the injury, Furcal was examined by team medical director George Paletta who diagnosed him with a grade 2 UCL...
Last September, with shortstop Rafael Furcal out and fill-in Pete Kozma excelling beyond anyone's expectation, the St. Louis Cardinals eked out the last wild card spot and came to within one win of the World Series. Fast forward six months and the club is in almost the exact same situation with its middle infield. Furcal's elbow still has him sidelined indefinitely. Kozma remains...
Courtesy: Cardinals Media Relations JUPITER, Fla. The St. Louis Cardinals announced today that they have re-assigned catchers Adam Ehrlich and Jesus Montero and infielder Starlin Rodriguez to minor league camp. All three players were non-roster invitees. Todays roster move reduces the number of players in camp to 55, however four of those players have departed for the World Baseball...
St. Louis Cardinals shortstop Rafael Furcal was supposed to make his 2013 Spring Training debut in the field over the weekend. Now he may not be playing at all in 2013.  The veteran 35-year-old shortstop suffered a set back in the rehab of his partially torn ligament in his throwing arm and the news is obviously not good [via Fox Sports Midwest]:  "He's just not...
Many of the St. Louis Cardinals' top prospects have made plenty of noise already this spring. Kolten Wong, Michael Wacha and Matt Adams have all been impressive and all have already appeared on our list of the Cardinals' top prospects. We continue our ranking of the organization's top prospects today and coming in at No. 3 is a prospect you have heard very little...
Spring Training.  The Cardinals, like most teams now have a full week of games under their belts that you may or may not be paying attention to. If you like basketball or hockey, you're probably a bit out of the loop of what happened last week. So let's get caught up together. Biggest surprise?  Shane Robinson. He's batting .556 with 2 HR and 7 RBIs...
The St. Louis Cardinals' Hall Of Fame pitcher Bob Gibson was born in 1935 in Omaha, Nebraska.  He spent his youth there, eventually graduating from Omaha Tech high school, where he was named to the All State Basketball team.  He later attended Creighton University and eventually started his professional baseball career with the Cardinals Triple-A affiliate in 1957, which was...
Adam Wainwright struggled with location in his second spring-training start, giving up five runs and eight hits over three innings Saturday in the St. Louis Cardinals' 6-2 loss to the Washington Nationals. Gio Gonzalez won his second exhibition start for the Nationals, allowing two runs and five hits in three innings. Kurt Suzuki doubled off the Cardinals' ace leading off...
Today, we hit the NL Central. Can the Cubs start down the road to respectability? Will the Cardinals miss Chris Carpenter? Are the Pirates ready to put together a full season? And what impact does the loss of Houston have on expectations for the five teams that remain? Tune in at Eastern/2 Pacific and chime in on Facebook or @doviddobin on Twitter.
Cardinals News

Delivered to your inbox

You'll also receive Yardbarker's daily Top 10, featuring the best sports stories from around the web. Customize your newsletter to get articles on your favorite sports and teams. And the best part? It's free!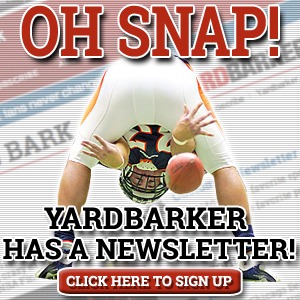 Latest Rumors
The Backyard

Today's Best Stuff

For Bloggers

Join the Yardbarker Network for more promotion, traffic, and money.

Company Info

Help

What is Yardbarker?

Yardbarker is the largest network of sports blogs and pro athlete blogs on the web. This site is the hub of the Yardbarker Network, where our editors and algorithms curate the best sports content from our network and beyond.