Found August 25, 2012 on Tigers Weblog: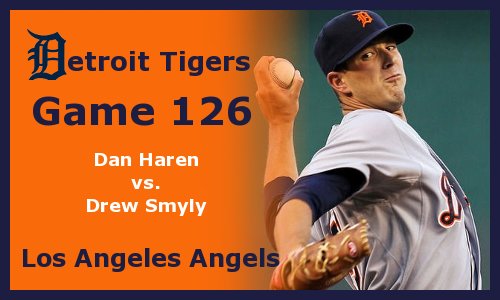 Detroit Tigers, 67-58, 2nd place, 2.5 back, 1 back for WC spot.
Well, all good things must come to an end, and the Tiger win streak ended with a couple of misplays in the field, one bad pitch, and an incredible disappearing offense (or Greinke suddenly found himself again, pick your explanation).
Cabrera and his taped ankle provided the lone run of the game, and the grumbling commenced.  Just how bad has the Tiger offense been? Well…not bad at all, which is the mysterious part.  The Tiger team OPS (.779) is 3rd best in the AL since the break, behind only the Angels and Yankees.  If you just look at August, they are 3rd best (.820) behind only the Angels and Rangers.
What makes them frustrating is that they tend to be starving or binging: they already have 8 5 run+ innings this season, but when they need just one run, like last night, they seem unable to create one, instead crossing their fingers and waiting for Cabrera and Fielder to come up.
The win Thursday over Toronto was an anomaly: a single, stolen base (!), single to win the game. Sloppy play in the field, bad base running (and an inability to stop running teams), a tendency to hit into DPs, an inability to move runners up or score them from 3rd with less than 2 out (except for the wild pitch runs; they've got that down), mean that they are going to lose more often than win in games like last night.
So the Tigers are NOT a bad offense; they are one of the league's best. Just incredibly inconsistent.  No three solid meals here, it's feast or famine.  Hopefully The Tiger is hungry tonight.
Smyling Drew Smyly makes his way back into the starting rotation tonight.  As expected, Putty Time has come to an end for now: Luke Putkonen has been returned to Toledo to make room for Smyly.
Stat of the Day: The Tigers have the 2nd-half lead in intentional walks with 12. Wonder why.
Today's Player of the Pre-game: Delmon Young.  He has seen all of 24 pitches in his last 9 at bats. So he is more rested than some of the other guys. That's the best I can do at why he is batting 5th again.
Todays Half-Baked Lineup:
Austin Jackson CF
Omar Infante 2B
Miguel Cabrera DH
Prince Fielder 1B
Delmon Young LF
Andy Dirks LF
Jhonny Peralta SS
Alex Avila C
Jeff Baker 3B
Original Story:
http://feedproxy.google.com/~r/TheDet...
THE BACKYARD
BEST OF MAXIM
RELATED ARTICLES
DETROIT -- It was a very different lineup for the Tigers on Sunday -- star slugger Miguel Cabrera wasn't in it. For the previous 126 games, Cabrera had played. With Cabrera battling a sore right ankle, manager Jim Leyland wrestled with the decision of whether he should use Cabrera as the designated hitter or sit him out completely. "I didn't even sleep last night...
Detroit Tigers star Miguel Cabrera left Thursday's game with an ankle injury. The severity of the injury is unclear as of Thursday afternoon, and Cabrera is listed as day-to-day. But if Cabrera has to miss games, it will be a blow to the Tigers, who play the Angels in an important series this weekend. Cabrera has had problems with his ankle for much of August, although...
Tigers third baseman Miguel Cabrera who has been hampered by a sore ankle as of late is out of the lineup Sunday afternoon as the Tigers take on the Los Angeles Angels in the rubber match from Comerica Park. After suffering the ankle injury during the Toronto series, Tigers manager Jim Leyland worked Cabrera at DH before deciding to give him a full day-off Sunday. Subsequently Cabrera...
It could have been a no-win decision, except for the fact Detroit won with Miguel Cabrera sitting out for the first time this season. Manager Jim Leyland spent a largely sleepless night Saturday wondering the best thing to do -- DH Cabrera and his ailing right ankle or get him off the foot altogether Sunday and take his potent bat out of the lineup. With Detroit not playing Monday...
Detroit Tigers slugger Miguel Cabrera is back in the lineup with a heavily taped right ankle. Cabrera was set to be the designated hitter Friday night against the Los Angeles Angels. Cabrera says he hopes to be healthy enough to play third base in the second game of the series on Saturday night. He left Thursday's game against Toronto during the second inning with soreness...
DETROIT -- It was a little easier to overlook the lack of offense when the Tigers were sweeping the Toronto Blue Jays out of town. But the fact is, the Tigers haven't been scoring a whole lot lately. Including Friday night's 2-1 loss to Zack Greinke and the Los Angeles Angels, the Tigers have scored just 44 runs in their last 12 games, which equates to about 3.67 runs...
DETROIT -- Manager Jim Leyland said he learned something about his team on Sunday. For the first time all season, the Tigers were without MVP candidate Miguel Cabrera in the lineup. They didn't flinch. Max Scherzer had another stellar outing, taking back the major-league strikeout lead (with nine for a season total of 195) from teammate Justin Verlander. Offensively, Andy...
The Detroit Tigers and Los Angeles Angels are each sitting a star in the hopes of keeping them healthy for rest of the season. Miguel Cabrera and Albert Pujols were not in the lineup because of injuries Sunday in the Angels-Tigers series finale. Both teams are off Monday. Cabrera played in Detroit's first 126 games this season. The third baseman has a sore right ankle that...
Good news Tigers fans… Detroit can win games with Miguel Cabrera out of the lineup! Cabrera an AL MVP candidate and catalyst of the Tigers offense was given a full day off by manager Jim Leyland after suffering an ankle injury during the Toronto series last week. But Cabrera's absence didn't hamper the Tigers as they hammered out four runs and five hits on Angels starter Ervin...
A fan attended Friday night's Detroit Tigers game at Comerica Park wearing a T-shirt that read "THIS IS MY LUCKY SHIRT". That may have actually brought the fan some luck, as he managed to snag a foul ball hit by Tigers third baseman Miguel Cabrera. It happened in the bottom of the sixth as the "lucky" fan in the right field stands reached over several...
In a game showcasing the talents of two of the top candidates for the American League Most Valuable Player award, LA's Mike Trout (0-5, 1 SO) remained hitless and left 3 runners on base. Detroit's Miguel Cabrera (2-4, 1 HR), on the other hand, slugged a solo homerun in front of a soldout crowd at Comerica park. Trout went 0-5 with a strikeout to see his average drop to .341 as...
Both Detroit and Los Angeles received a bit of a scare in the last few days as Miguel Cabrera and Albert Pujols were forced out of games with injuries. While the Tigers are hopeful Cabrera will be back for Friday night's series opener, the visiting Angels don't seem as optimistic about Pujols' return. Cabrera left Thursday's 3-2, 11-inning win over Toronto in the...
Tigers News

Delivered to your inbox

You'll also receive Yardbarker's daily Top 10, featuring the best sports stories from around the web. Customize your newsletter to get articles on your favorite sports and teams. And the best part? It's free!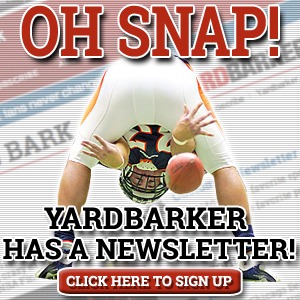 Latest Rumors
Best of Yardbarker

Today's Best Stuff

For Bloggers

Join the Yardbarker Network for more promotion, traffic, and money.

Company Info

Help

What is Yardbarker?

Yardbarker is the largest network of sports blogs and pro athlete blogs on the web. This site is the hub of the Yardbarker Network, where our editors and algorithms curate the best sports content from our network and beyond.