Found May 02, 2012 on Bronx Pinstripes:
<a href="http://NYYUniverse.com/wp-content/plugins/wordpress-feed-statistics/feed-statistics.php?url=aHR0cDovL05ZWVVuaXZlcnNlLmNvbS9nYW1lLWRheS9nYW1lLTIzLWRlZmVuc2l2ZS1saWFiaWxpdGllcy1vZmZlbnNpdmUtaW5hYmlsaXRpZXMvYXR0YWNobWVudC9nbTIzZmVhdC8=" rel=\"attachment wp-att-5326\"> Baltimore Orioles 7 — New York Yankees 1   The lack of offense and difficulties on defense played a huge factor in tonight's 7-1 loss to the Baltimore Orioles.   Phil Hughes went a season-high 5.2 innings and gave up just 4 runs on 4 hits with 1 walk and 6 strikeouts. Two of the four runs that he gave up were from the long ball, solo home runs by J.J. Hardy and Chris Davis. This has been Hughes best outing so far despite throwing 100 pitches in this outing. Hopefully, he gets another start to build upon this start as he attempts to put this season back on the right track. Boone Logan replaced Hughes and after consecutive singles, a fly ball to left fielder Eduardo Nunez proved to be difficult as it got by him and became a two-run error.   After Alex Rodriguez, the lineup was non-existent. Derek Jeter, Curtis Granderson, and Alex Rodiguez went a combined 7 for 12 with a double from Jeter, a solo home run from Granderson, and a bunt single by Alex Rodriguez. The rest of the lineup could only manage two walks without getting a hit. The Yankees were hitless with runners in scoring position and left 9 on base.   Win – Brian Matusz (1-3) Loss – Phil Hughes (1-4)   Notable Orioles *J.J. Hardy – 1 for 5, 2-Run Home Run (4) in the 3rd, 2 RBI (8) *Chris Davis – 3 for 4, 3 R, 2B, Solo Home Run (5) in the 2nd, RBI (13) Yankees *Curtis Granderson – 2 for 3, R, Solo Home Run (9) in the 1st, RBI (17) *Derek Jeter – 3 for 5, 2B   Current Yankees Record: 13-10   Ryan Nakada @adakannayr
Original Story:
http://NYYUniverse.com/game-day/game-...
THE BACKYARD
BEST OF MAXIM
RELATED ARTICLES
<a href="http://NYYUniverse.com/wp-content/plugins/wordpress-feed-statistics/feed-statistics.php?url=aHR0cDovL05ZWVVuaXZlcnNlLmNvbS9nYW1lLWRheS95YW5rZWVzLWdhbWUtMjItbGluZXVwLTA0MzAxMi9hdHRhY2htZW50L2t1cm9kYS0yLw==" rel=\"attachment wp-att-5182\">Hiroki Kuroda is on the mound for the Yankees tonight in game one of a three-game set against the Baltimore Orioles...
With the big league pitching staff under performing, the New York Yankees front office has been forced to shake things up. In the upheaval, minor league starter D.J. Mitchell finds himself added to the 25-man roster for the first time in his four-year pro career. Mitchell, who was omitted from the Yankees pre-season Top 15 prospect list, was out-performing – and earned the promotion...
Eric Chavez left the New York Yankees' game against the Baltimore Orioles during his at-bat in the fifth inning because of a whiplash injury and possible concussion. The Yankees say the oft-injured third baseman sustained the injury in the top of the fifth Wednesday night while diving for J.J. Hardy's double down the line. Still, Chavez tried to bat in the bottom half....
In 2001, while Roger Clemens was a Yankee, he set a franchise record of 16 straight winning decisions. Several years later he and his then good friend Andy Pettitte were accused of using performance-enhancing drugs. Clemens denied it. Pettitte did not and was accused of "mis-remembering" by Clemens. This morning Pettitte will likely conclude his testimony against Clemens...
Buck Showalter got his 1,000th victory as a major league manager, Brian Matusz ended his 11-month losing streak and the Baltimore Orioles beat the New York Yankees 7-1 Tuesday night. Chris Davis and J.J. Hardy homered off struggling Phil Hughes, giving the Orioles their first win in five tries against the Yankees this year. Showalter, whose first win came 20 years ago across the...
Given the amount of catching prospects in the Yankees system – even with the trade of Jesus Montero to Seattle – Jeff Farnham has gone about his career as a farmhand mostly out of the spotlight. The 24-year-old , a native of Las Vegas drafted in the 27th round in 2009, is not mentioned with the likes of Austin Romine, Gary Sanchez or J.R. Murphy. Yet, when Andy Pettitte's comeback...
Pitcher Andy Pettitte acknowledged under cross-examination Wednesday that he might have misunderstood Roger Clemens when Pettitte said he heard his former teammate say he used human growth hormone. Asked by Clemens' lawyer if it was fair to say it was ''50-50'' that Pettitte misunderstood the conversation from about a dozen years ago, Pettitte responded, '...
Andy Pettitte and Roger Clemens sat some 20 feet apart, Pettitte on the witness stand and Clemens at the defense table trying to avoid going to jail. The topic: a remark about human growth hormone Pettitte recalled hearing from his longtime teammate, mentor and workout partner a dozen years ago. ''Roger had mentioned to me that he had taken HGH,'' Pettitte testified...
I'm sick of the Cook watch too, but this is a real twist.Jon Heyman of CBSSports.com hears that the New York Yankees would be interested in Cook.For years, the Sox and Yankees have refused to deal directly with each other. It's hard to say when this started, but I believe it predates the current owners. Roger Clemens and others went to Toronto first on their way to New YorkLike...
Ryan Howard (left) and Albert Pujols (Photo credit: Wikipedia) The New York Yankees are not the only team happy that April is finally over, as a few other MLB teams are hoping to turn things around in May. So, here is a quick list of the Yankees and three other troubled teams who should be much better than they were in April: 1 -  Back in Spring Training, the New York Yankees were...
When the Yankees got their season on track with a sweep in Baltimore, I considered it nothing more than the Bombers beating a team they were supposed to beat. Now, that's not to downplay the significance of those three wins; taking care of the easy ones is more indicative of future success than beating the beasts. As it it turns out, Baltimore may not be all that bad. I'm not...
Here's the press release from the Boston Red Sox announcing the makeup date of the April 22nd game with the New York Yankees that was rained out: The Red Sox today announced that the Sunday, April 22 home game against the New York Yankees, which was postponed due to inclement weather, will be made up as the opener of a split day-night doubleheader on Saturday, July 7 at 12...
MLB News

Delivered to your inbox

You'll also receive Yardbarker's daily Top 10, featuring the best sports stories from around the web. Customize your newsletter to get articles on your favorite sports and teams. And the best part? It's free!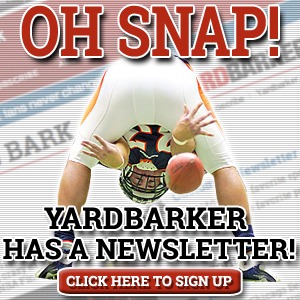 Latest Rumors
Best of Yardbarker

Today's Best Stuff

For Bloggers

Join the Yardbarker Network for more promotion, traffic, and money.

Company Info

Help

What is Yardbarker?

Yardbarker is the largest network of sports blogs and pro athlete blogs on the web. This site is the hub of the Yardbarker Network, where our editors and algorithms curate the best sports content from our network and beyond.