Found June 14, 2012 on Raise the Jolly Roger!:
PLAYERS:
Charlie Morton
,
Erik Bedard
,
Tommy Hunter
,
Adam Jones
,
Matt Wieters
,
Mark Reynolds
,
Robert Andino
,
Chris Davis
,
JJ Hardy
,
Wilson Betemit
,
Brian Roberts
,
Rod Barajas
,
Jose Tabata
,
Pedro Alvarez
,
Garrett Jones
,
Andrew McCutchen
,
Neil Walker
TEAMS:
Pittsburgh Pirates
,
Baltimore Orioles
,
Texas Tech Red Raiders
Pirates (32-29) at Orioles (36-26)
7:05 PM EST–Camden Yards, Baltimore
TV: ROOT Sports
The Pirates will look to avoid a sweep in Baltimore tonight.
Lots of stuff happened today:
The Pirates signed a bunch of draft picks, including their second choice (45th overall) Barrett Barnes from Texas Tech. Here's the full rundown of picks that have and have not signed.
The Reds won again, completing a sweep of the Indians. That puts them 2.5 games ahead of the Bucs. On the bright side, they pounded Cleveland's pitching and hopefully wore down the bullpen a bit for this coming weekend
Tonight's starters…
Erik Bedard (4-6, 3.59) vs. Tommy Hunter (2-3, 5.40)
Bedard is no stranger to Baltimore. He pitched for the O's for parts of five seasons, building his reputation as an injury-prone starter that can be excellent when healthy. Baltimore made a great move by flipping him to the Mariners for Adam Jones (and other prospects), who has become one of the top outfielders in all of baseball. Erik has faced his former team three times. He's coming off a strong 7-inning effort Friday night against KC.
Hunter hasn't been all that good this season, but that didn't stop Jake Arietta from throwing a gem last night. The good news here is that the Bucs are finally throwing one of their better pitchers at the O's tonight (unlike Tuesday and Wednesday), so they should certainly have a shot to take advantage of a mediocre guy like Hunter and avoid a sweep.
O's vs. Bedard:
PA AB H 2B 3B HR RBI BB SO BA OBP SLG OPS
Adam Jones
12 11 6 2 0 0 0 1 4 .545 .583 .727 1.311
Matt Wieters
11 9 3 0 0 2 3 2 2 .333 .455 1.000 1.455
Mark Reynolds
10 9 2 0 0 0 2 1 4 .222 .300 .222 .522
Robert Andino
8 7 1 0 0 0 0 1 3 .143 .250 .143 .393
Chris Davis
6 6 1 0 0 0 0 0 4 .167 .167 .167 .333
J.J. Hardy
6 5 0 0 0 0 0 1 1 .000 .167 .000 .167
Wilson Betemit
5 5 0 0 0 0 0 0 4 .000 .000 .000 .000
Brian Roberts
3 3 0 0 0 0 0 0 1 .000 .000 .000 .000 Total 61 55 13 2 0 2 5 6 23 .236 .311 .382 .693 Provided by
Baseball-Reference.com
:
View Play Index Tool Used
Generated 6/14/2012.
Pirates vs. Hunter:
PA AB H 2B 3B HR RBI BB SO BA OBP SLG OPS
Rod Barajas
6 6 2 1 0 0 0 0 0 .333 .333 .500 .833
Jose Tabata
4 4 0 0 0 0 0 0 0 .000 .000 .000 .000
Pedro Alvarez
3 3 1 0 0 0 0 0 1 .333 .333 .333 .667
Garrett Jones
3 3 2 0 0 0 1 0 1 .667 .667 .667 1.333
Andrew McCutchen
3 3 0 0 0 0 0 0 1 .000 .000 .000 .000
Neil Walker
3 3 1 1 0 0 0 0 1 .333 .333 .667 1.000 Total 22 22 6 2 0 0 1 0 4 .273 .273 .364 .636 Provided by
Baseball-Reference.com
:
View Play Index Tool Used
Generated 6/14/2012.
©2012 Raise the Jolly Roger. All Rights Reserved.
.
Original Story:
http://raisethejollyroger.com/2012/06...
THE BACKYARD
BEST OF MAXIM
RELATED ARTICLES
#Pirates announce Charlie Morton has already undergone surgery. As u might guess it was performed by Dr. James Andrews. — David Todd (@DTonPirates) June 14, 2012   Well this is bad news. Charlie Morton will be out until at least this time next season if everything goes perfect. Morton, 28, was 2-6 with a 4.66 ERA in nine starts this year after a breakout year where he posted a...
This is some pretty upsetting news (via the Trib). Morton has a torn elbow ligament that will apparently put him out for the rest of the season. Charlie hit the DL after feeling pain on May 29, but the injury was reportedly minor. That doesn't seem to be the case any more, although the team has not yet commented on the situation. Tommy John surgery requires about a year's time...
Pittsburgh Pirates right-hander Charlie Morton is out for the season after undergoing elbow surgery. Dr. James Andrews repaired the ulnar collateral ligament in Morton's right arm. The procedure took place Thursday in Pensacola, Fla. The 28-year-old pitcher went on the 15-day disabled list on June 1 with inflammation in his right elbow. He was 2-6 with a 4.65 ERA in nine starts...
The Pittsburgh Pirates' loss of pitcher Charlie Morton to Tommy John surgery will have major implications for the team and the player, now and into the future. Morton had the surgery Thursday to repair a torn ulnar collateral ligament, performed by Dr. James Andrews in Birmingham, Ala., an injury that surprised all concerned. Morton had been shut down after a May 29 start,...
Final: Orioles 12, Pirates 6 WP: Tommy Hunter (3-3, 5.58 ERA) LP: Erik Bedard (4-7, 4.36 ERA) The Orioles scored 10 runs in this one before the Pirates even got a single player on base. That is not a recipe for success. The Pirates' offense eventually woke up and scored six runs on ten hits, but it was way too late as this one was put out of reach early on. Erik Bedard gave up...
Following the surprising and very upsetting news of Charlie Morton's Tommy John surgery, the Bucs could have used a nice lift from Erik Bedard and company tonight in Baltimore. They didn't get it, and were blown out to complete a really awful series. Bedard was bad from the start in his former home ballpark. The O's struck for four runs in the first inning…the dagger being...
Dejan Kovacevic is reporting today that Charlie Morton has a torn ligament in his elbow and that it'll likely result in Tommy John surgery and that the Pirates would comment further today. He was following up on a lead from 93.7's Chris Mueller, who said that there would be a "Tommy John announcement" involving Morton today. Morton was obviously not very good this...
It turns out the injury to Charlie Morton wasn't a made-up excuse to give him some time to improve in AAA or wherever.  Charlie was placed on the disabled list on June 1 with "inflammation in the elbow." Today, the Pirates announced that Charlie will undergo Tommy John surgery.  Those are the words no pitcher [...]
Here's a running list with injury updates around the Major Leagues: – According to Todd Zolecki of MLB.com, doctors found a a pars fracture in Freddy Galvis' lower back and he will be in a brace for the next three weeks. "Then we're going to reexamine him and see where we're at," said the Phillies head athletic trainer Scott Sheridan. "Based on his symptoms...
I was always a big Erik Bedard fan - his stuff when he was on was fantastic, and the 15 strike-out game he had against Texas was probably the best pitched game I've ever seen live (batter were literally going back to the dugout shaking their heads). It would have been nice to see him do well tonight (though not quite well enough to win), and it wouldn't have been terribly...
This series in Baltimore has certainly not gone the Pirates' way through two games, but at least they have a favorable pitching matchup to try and sneak out of Baltimore with one win tonight as Erik Bedard goes up against Tommy Hunter. Bedard, of course, started his career with the O's and had his best years there, so maybe there will be some sort of added motivation for...
MLB News

Delivered to your inbox

You'll also receive Yardbarker's daily Top 10, featuring the best sports stories from around the web. Customize your newsletter to get articles on your favorite sports and teams. And the best part? It's free!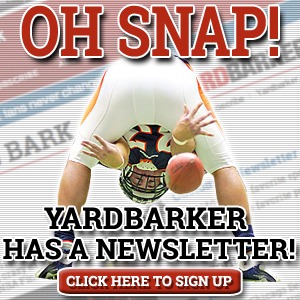 Latest Rumors
Best of Yardbarker

Today's Best Stuff

For Bloggers

Join the Yardbarker Network for more promotion, traffic, and money.

Company Info

Help

What is Yardbarker?

Yardbarker is the largest network of sports blogs and pro athlete blogs on the web. This site is the hub of the Yardbarker Network, where our editors and algorithms curate the best sports content from our network and beyond.