Found April 02, 2013 on SF Lunatic Fringe:
PLAYERS:
Gary Brown
,
Angel Pagan
,
Francisco Peguero
,
Cole Gillespie
,
Andres Torres
,
Gregor Blanco
,
Chris Heston
,
Michael Kickham
,
Heath Hembree
,
Brian Wilson
,
Sergio Romo
,
Joe Panik
,
Marco Scutaro
,
Andrew Susac
,
Tommy Joseph
,
Adam Duvall
,
Ricky Oropesa
,
Kyle Crick
,
Angel Villalona
,
Mac Williamson
,
Josh Osich
,
Chris Stratton
TEAMS:
San Francisco Giants
,
Philadelphia Phillies
The major league season has begun, but the farm is about to start games as well.  For all you Giants fans out there, here's a quick guide to the guys you should keep an eye on at each level of the farm system for the future of the Giants. Fresno Grizzlies (AAA): • Gary Brown – The top pick in 2010, Brown was expected to be on the fast track to be the Giants center fielder and leadoff hitter, but a tough year in Richmond slowed things, and the deal with Angel Pagan complicates things.  It's possible that Pagan and his routes may be headed for left field, but when that will happen depends on Brown.  He's the most interesting guy in Fresno. • Francisco Peguero and Cole Gillespie – While Brown has the higher ceiling, Gillespie and Peguero are the guys who are likely to help out this season.  Both have talent, but also have frustrations.  If the Andres Torres and Gregor Blanco have problems, Gillespie and Peguero will be battling to be the first man up. • Chris Heston and Michael Kickham – Speaking of the guys competing to be the callups, Heston and Kickham were quietly the best pitchers in Double-A Richmond, and will be kept an eye on in case of injuries.  They don't have the ceiling of the stars lower in the system, but could be major leaguers in either a starting or relief role eventually. • Heath Hembree – Hembree came into the season last year as an expected heir to closer Brian Wilson.  But he had a 4.74 ERA in Fresno last year, and only 15 saves with 36 strikeouts and 20 walks in 38 innings.  Hembree was just 23 last season, so there's a chance for a bounceback.  After what happened to Wilson and the shaky hold that Sergio Romo has on the closer role, eyes will be on Hembree to see if he can produce. Richmond Flying Squirrels (AA): • Joe Panik – The Giants' top pick in 2011 is finally moving to second base, and has a three-year timetable (also known as Marco Scutaro's contract) to get ready.  Panik isn't a power hitter, but he makes great contact, draws walks and is a sneaky dangerous hitter.  His year in San Jose wasn't as good as expected, but there are some high hopes for him. • Andrew Susac – The catcher who made it possible for the Giants to trade Tommy Joseph, Susac is highly rated but had a really rough year in San Jose.  It's a bit of a surprise that he got pushed to Richmond.  However, he's the guy the Giants will be keeping an eye on to let Posey truly move away from catcher longterm. • Adam Duvall and Ricky Oropesa – Duvall plays third and Oropesa plays first.  These are two guys with big power but questions about their contact.  Duvall hit 30 in San Jose last year, while Oropesa hit 16.  Richmond can eat up guys like this, but a hitter with power will always inspire hope. San Jose Giants (High-A): • Kyle Crick and Clayton Blackburn – Duh.  These are a couple of the top pitchers.  Crick is your power pitcher with some control issues but the ability to be dominant.  Blackburn has a fastball that rivals Zito's, but excellent control and an advanced feel for pitches, especially for someone as young as he is. • Angel Villalona – If you haven't heard his name before, you obviously don't follow mugshots.  Villalona was a big-money signee out of the Dominican Republic…in 2006.  He had so-so seasons as an incredibly young player until 2009, when he was charged with murder in the Dominican Republic.  After the charges were dropped, it took him time to get back into playing shape and get his visa back, but now he's back in San Jose at the age of 22, where he last played with the Giants system in 2009 as an 18-year old.  Still has talent, but it'll be interesting to see what he can do no matter what. • Mac Williamson – A 3rd round pick from 2012, he hit .321 and nine home runs for the AZL and short-season Salem-Keizer.  Williamson has a lot of tools, but is very raw and has a bit of bust potential.  He's getting a very aggressive push, so it will be interesting to see how he responds. • Josh Osich – A 2011 draftee out of Oregon, Osich was a top pitcher prospect in college before injuries derailed the end of his college career.  He's being used mostly as a reliever, but has strikeout tools and can be dominant against both righties and lefties.  There's closer potential here with health. Augusta GreenJackets (Low-A): • Chris Stratton – The top draft pick in 2012, some expected him to make it to San Jose, but he had a rough spring as he is coming back from getting hit in the head with a ball during batting practice late last season.  Stratton has a big fastball, and could have as high a ceiling as Kyle Crick, with a faster timetable. • Tyler Hollick – The 14th-round pick from the 2012 draft, Hollick only played down at the Arizona League to start his career, but was impressive.  He had 21 steals in 23 tries in 31 games.  He hit .301, but had a very impressive .441 on-base percentage.  No home runs, but he put together all the tools needed to be a speedster center fielder. • Joseph Rapp – The Giants didn't get a lot of power hitters in the 2012 draft, but Rapp may be the best.  He had 11 home runs in 64 games for Salem-Keizer, with an .839 OPS.  However, the 73 strikeouts in 239 at-bats isn't encouraging. • Mason McVay – The 6'7" lefty reliever made 18 appearances in Salem-Keizer, but put up some nice numbers.  In 30 1/3 innings, he struck out a very impressive 43 and had just a 1.19 ERA.  The 26th round pick has a lot of tools, and might move up the reliever scene fast.
Original Story:
http://www.sflunaticfringe.com/2013/0...
THE BACKYARD
BEST OF MAXIM
RELATED ARTICLES
Opening Day has finally arrived and this is the day that all San Francisco Giants fans have been waiting for!  Matt Cain will lead the Giants into Los Angeles against Clayton Kershaw and the Dodgers. Giants Opening Day Roster Pitchers Jeremy Affeldt Madison Bumgarner Matt Cain Santiago Casilla Chad Gaudin George Kontos Tim Lincecum Javier Lopez Jose Mijares Sergio Romo Ryan Vogelsong...
At the end of last year Madison Bumgarner was not his normal self as he struggled through inconsistent mechanics. He spent all offseason and spring working on it and last night that hard work paid dividends. Over at Bay Area Sports Guy, I took a look at how good Bumgarner was last night: Bumgarner cruised through eight innings, giving up just a pair of doubles, walking none...
Opening Day didn't go the way San Francisco Giants fans had hoped for, but guess what?!?! It's just game 1 of 162! The Giants are back at it tonight against the Dodgers, and Madison Bumgarner will try to get the Giants their first win of the 2013 season. Matt Cain started his first career Major League Opening Day, and it didn't end like he hoped it would. However, he did pitch...
The San Francisco Giants have invited Brian Wilson to re-join the team April 7. Kinda.Before the World Champs hit the field Sunday to take on the St. Louis Cardinals, they will be presented with their 2012 World Series rings.  And, well…they'd like the bearded one to be part of the celebration. According to Henry Schulman, the team's senior vice president of communications...
As the 2013 Major League Baseball season gets underway, we step off the diamond for a moment and into the financial records of each of the 30 teams in the league. We are taking a look at the salaries each team has on its records as of April 1, a joke to some folks but Opening Day to fans and teams alike. Obviously, with trades, cuts, call-ups and whatever else these numbers are...
When you hear the saying, "We're golden," it's not often that you think of a team uniform in Major League Baseball. There have been highlights of it (the Nationals come to mind), but not to the extent about to unfold. When the San Francisco Giants receive their second World Series rings on Sunday, April 7 they will be wearing these specially-designed jerseys from Majestic...
Tim Lincecum walked seven, matching a career worst, yet still managed to get the win when Pablo Sandoval and Hunter Pence homered to lead the San Francisco Giants to a 5-3 victory over the Los Angeles Dodgers on Wednesday night in the rubber game of their season-opening series. Lincecum (1-0) threw 91 pitches in five innings, but limited the Dodgers to two unearned runs and three...
North Texas Fisticuffs' Hector Sanchez interviews Dallas boxing prospect Ray Ximenez as he prepares for his April 6 fight in Dallas.
Losing a fly ball in the sun is part of afternoon baseball. Sunglasses help, but there's only so much they can do. As Philadelphia Phillies outfielder Hunter Pence could tell you, they do even less when you don't use them to cover your eyes. During the sixth inning of Philadelphia's 4-0 loss to the Los Angeles Dodgers on Monday, Pence was unable to track down a shallow fly...
The San Francisco Giants came into today looking for revenge against the hated rival Los Angeles Dodgers and they got exactly that. After starting off the season being shutout 4-0 by Clayton Kershaw, San Francisco sent 23-year-old Madison Bumgarner to the hill and he delivered in a big way. Bumgarner (1-0) shutout the Dodgers offense for 8 innings while only allowing 2 base runners...
It's like stepping in a large pile of deja vu on the sidewalk. All over again. On April 1, 2013, the San Francisco Giants lost their 6th season opener in the last ten years. Will anything get this off my sneakers? Before the Giants met the newly diamond-encrusted, gold leaf festooned Los Angeles Dodgers yesterday at Chavez Ravine word on the streets was, SF's gonna...
The parity of the Giants-Dodgers rivalry is one of the few ways that some national writers will admit that the west coast rivalry beats out that east coast one. I still hate seeing the Dodgers win, however. Props to Clayton Kershaw, however.  That guy is an amazing pitcher.  Nothing but respect to him as a player, but I'll still always boo him.  Dirty Dodger…
MLB News

Delivered to your inbox

You'll also receive Yardbarker's daily Top 10, featuring the best sports stories from around the web. Customize your newsletter to get articles on your favorite sports and teams. And the best part? It's free!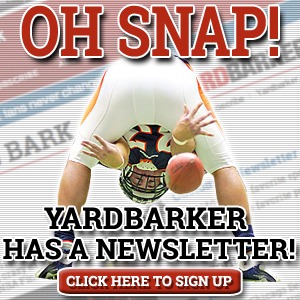 Latest Rumors
Best of Yardbarker

Today's Best Stuff

For Bloggers

Join the Yardbarker Network for more promotion, traffic, and money.

Company Info

Help

What is Yardbarker?

Yardbarker is the largest network of sports blogs and pro athlete blogs on the web. This site is the hub of the Yardbarker Network, where our editors and algorithms curate the best sports content from our network and beyond.