Found December 30, 2011 on Dugout Central:
PLAYERS:
Bernie Williams
,
Jeff Bagwell
,
Lou Gehrig
,
Albert Pujols
,
Robin Yount
,
Cal Ripken
,
Cal Ripken Jr.
,
Tim Raines
,
Mark Mcgwire
,
Larry Walker
,
Rafael Palmeiro
TEAMS:
Cincinnati Reds
,
Houston Astros
,
Los Angeles Angels
,
Detroit Tigers
,
Chicago White Sox
,
St. Louis Cardinals
On January 9, the Major League Hall of Fame inductees for the Class of 2012 will be announced.
This is always a hot topic here on Dugout Central, so I figured it was high time to get the thread rolling.
My ballot:
1. Barry Larkin (Cincinnati Reds, 1986-2004)
Larkin was in a class by himself among National League shortstops during his playing career, and might very well find himself being inducted alone come this summer. The mainstay for Cincinnati for almost two decades, Larkin got 52% in 2010 and jumped to 62% in 2011. As the strongest new player to the ballot is Bernie Williams, Larkin should find himself with a big enough of a boost to find his way in, over the 75% margin. The 1995 NL MVP, Larkin hit .295 with an excellent .371 on-base percentage from the shortstop position, while also contributing 379 stolen bases at an 83% success clip.
2. Jeff Bagwell (Houston Astros, 1991-2005)
Jeff Bagwell is conservatively a top-10 first baseman of all-time, and probably in the top-5, decisively behind only Lou Gehrig, Jimmie Foxx, and Albert Pujols. His career .408 on-base percentage and .540 slugging percentage both rank favorably among some of the all-time greats, and his 80 WAR rank among the top-40 for position players. For WAR-haters, he is one of just 31 players to ever amass both 1500 RBI and 1500 runs scored, doing so in a 15-year career (essentially averaging 100 of each, year-in and year-out). Bagwell only got 42% of the vote last year, largely because he played in the 1990's and had big muscles.
3. Alan Trammell (Detroit Tigers, 1977-1996)
Alan Trammell is one of those guys who didn't "feel" like a Hall of Famer, largely because he wasn't exceptional at any one thing. If he had hit over .300 for his career with north of 3000 hits but with about the worst range of any shortstop ever, he would be in, no problem (and rightfully so); ditto if he was a spectacular defensive shortstop with an 87 career OPS+ (again, rightfully so). But because he was a very good hitter with a very good glove and all-around outstanding baseball skills with zero deficiencies, he has yet to eclipse a quarter of the vote. A player's whole contributions should be considered, not just the ones that stand out to us. Alan Trammell – who should have won the 1987 MVP – has a career .285/.352/.415 line, one that compares solidly with, say Robin Yount (.285/.342/.430) and Cal Ripken Jr. (.276/.340/.447), both of whom were contemporary shortstops who made the Hall of Fame on the first ballot. With just five years left on the ballot, he's the neglected star that we should be focused on electing.
4. Tim Raines (Monteal Expos, Chicago White Sox, and others, 1979-2002)
Tim Raines has been cover ad nausea-um on this website. The pro's: he reached base at an extremely high clip (.385) over the course of 10,000 plate appearances during which time he stole the 5th highest number of bases of all-time (808) at a clip exceeded by no one who's even in the top 150 for swipes. These factors made him a prolific run-scoring machine, and one of the top-3 lead-off hitters to ever play the game. The con's? He stopped being a good player in his late 30's and early 40's, becoming the first player EVER to be like this.
5. Mark McGwire (Oakland A's and St. Louis Cardinals, 1986-2001)
Mark McGwire's Hall-of-Fame candidacy comes down to how you feel about steroids. I believe in simply judging a player within the context of the era that he played; in the steroid era, when PED use was rampant, PED-user Mark McGwire amassed a 162 OPS+, 12th all-time. Relative to his peers, McGwire was the 12th most dominant hitter, ever, on a per-at-bat basis (further "enhanced" by the fact that every at-bat he had was an event in the late 1990's). The way I see it, McGwire didn't cheat his competition, he simply cheated past players…and I think we, as baseball fans, are savy enough to know that his 70 home run season of 1998 must be judged differently from Ruth's 1927 or Maris's 1961. If you feel that steroid users should be barred, obviously McGwire is a no.
Close, but no cigar:
Edgar Martinez – I'm not going to be pre-disposed against all DH's forever, but if you're only coming to bat 4 times a game, I needed to see a slightly longer body of work. The rate stats were outstanding, but the lack of some truly big-time counting statistics (2247 hits, 1219 runs scored, 1261 RBI, 309 HR), while not necessarily indicative of his overall abilities  certainly speak to a lack of longevity.
Larry Walker - Fantastic all-around player, but he was too reliant on Coor's Field to put him over the hump. Walker hit a solid .278/.370/.495 on the road, but that wouldn't have gotten it done within the context of the era in which he played.
Rafael Palmeiro – He'll never get in (steroids), but for me the reason lies in the lack of a dominant peak. He had just four seasons above  a 5 WAR (aka all-star level) in his career.
Original Story:
http://www.dugoutcentral.com/?p=2374
THE BACKYARD
BEST OF MAXIM
RELATED ARTICLES
A generation ago, Jeff Bagwell would have been a first-ballot Hall of Fame inductee. Not anymore. Bagwell's resume for the 15 years he played with the Houston Astros is sparkling. Bagwell, however, is back this year on the Hall of Fame ballot for the second time. A year ago, his first year of eligibility, he was named on only 41.7 percent of the ballots cast by veteran members...
Back in May, I wrote that it was wrong to speculate about any player using performance-enhancing drugs without any actual evidence of that use. That column was about Jose Bautista. It could have been about Jeff Bagwell, though I made no specific mention of him at the time. I voted for Bagwell for the Hall of Fame this year. Many of my colleagues again will refrain, suspecting that...
It's Hall of Fame voting season, and everyone is making their arguments for who should and shouldn't get in. The Baseball Bloggers Alliance is no different, and as a member of the BBA, I recently sent in my ballot for 2012.Last year, the BBA only made two recommendations for the Hall, and they ended up being the two that were actually inducted -- Roberto Alomar and Bert Blyleven...
(source feed provided no summary content for this entry)
MLB News

Delivered to your inbox

You'll also receive Yardbarker's daily Top 10, featuring the best sports stories from around the web. Customize your newsletter to get articles on your favorite sports and teams. And the best part? It's free!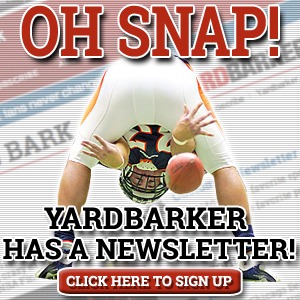 Latest Rumors
The Backyard

Today's Best Stuff

For Bloggers

Join the Yardbarker Network for more promotion, traffic, and money.

Company Info

Help

What is Yardbarker?

Yardbarker is the largest network of sports blogs and pro athlete blogs on the web. This site is the hub of the Yardbarker Network, where our editors and algorithms curate the best sports content from our network and beyond.