Found April 17, 2012 on Monkey with a Halo:
PLAYERS:
Mike Trout
,
CJ Wilson
,
Erick Aybar
,
Howie Kendrick
,
Jimmy Rollins
,
Rich Thompson
,
Ian Kinsler
,
Mike Scioscia
,
Vernon Wells
,
Torii Hunter
TEAMS:
Los Angeles Angels
,
Philadelphia Phillies
,
Texas Rangers
The April 17th, 2012 edition of daily news for the Los Angeles Angels of Anaheim including Aybar seeking 5 years and $50 million, Trout's legend grows again, C.J. Wilson doesn't hold a grudge against the Yankees for not pursuing him in free agency and much more... The Story: Erick Aybar is seeking a five-year, $50 million extension from the Angels. The Monkey Says:  That strikes me as a bit on the steep side.  Howie Kendrick just signed for under $10 million per year and is the better player, though at a position with more depth throughout the league.  Compared to other shortstops though, it still seems like Aybar is asking for a bit much, especially when you consider that Jimmy Rollins got an $11 million per year contract this last off-season. The Story: The legend of Mike Trout's speed grew once again after he scored from first on a single over the weekend. The Monkey Says: I haven't seen video of the play, but there has to be something else going on for that to happen (like a loafing outfielder).  Trout is fast, but no human being should be able to score from first on a routine single.  Of course, Trout may not actually be a human being. The Story: C.J. Wilson does not hold a grudge against the Yankees for not pursuing him in free agency. The Monkey Says: This is so stupid.  Why is this a story?  Are we going to ask C.J. if he holds a grudge against the Orioles for not pursuing him?  What about the Rays?  Or the Pirates? The Story: The Angels will shop Rich Thompson on the trade market. The Monkey Says: Good luck with that.  Thompson had a solid year last year, but he got rocked in his last outing to the point he got DFA'd.  Other teams aren't going to view that, or his decreased velocity, very well.  I do suspect that someone will take a flier on him and pick him up off waivers though, but there is no way anyone is going to trade an asset for Chopper. The Story: Howie Kendrick has no regrets about signing a discounted extension. The Monkey Says: It would be pretty gauche of him to admit buyer's remorse at this point though he would have a good case since the new contracts Ian Kinsler and Brandon Phillips got just months after he signed his deal are almost twice the value. The Story: The Angel offense is being plagued by a lack of plate discipline. The Monkey Says: Great stuff.  I actually consider this a good sign, believe it or not.  The primary culprits in the over-swinging are veterans like Pujols and Hunter who should eventually wise up and get it under control.  That may be just be me trying to find a silver lining in all of this though. The Story: Mike Scioscia is going to continue to mix up the lineup to try and ignite the offense. The Monkey Says: I think he is right to tinker, but I don't think is doing the right tinkering yet.  He has insisted on letting Erick Aybar leadoff despite his early struggles and the general notion that he isn't a real leadoff hitter to begin with.  And, of course, he continues to show faith in Vernon Wells for some reason while simultaneously keeping Iannetta's hot bat buried in the eight and nine holes. The Story: Torii Hunter's taxes must be a nightmare to do. The Monkey Says: The same goes for all pro athletes, but still, that just sounds crazy to try and figure out.  I'm guessing he didn't use TurboTax. [follow]
Original Story:
http://www.monkeywithahalo.com/2012-a...
THE BACKYARD
BEST OF MAXIM
RELATED ARTICLES
The Los Angeles Angels completed an oft-rumored four year, $35 million contract with shortstop Erick Aybar today. Aybar is coming off the best season of his career in 2011, and the deal will take him through the 2016 season, when Aybar will be 32 years-old. Aybar is making $5.075 million this year, and was scheduled to hit free agency after this season. On the surface, I really...
The Los Angeles Angels are close to finalizing a contract extension for Gold Glove shortstop Erick Aybar. Angels spokesman Tim Mead confirmed Wednesday the club is getting close to a new deal for the switch-hitting leadoff man, who would have been a sought-after free agent this fall. Angels general manager Jerry Dipoto has been negotiating with Aybar's agents since shortly...
The Los Angeles Angels are close to signing shortstop Erick Aybar to a long-term deal, according to EPSN.com's Jerry Crasnick.Aybar is set to become a free agent at season's end and is making just over $5 million this year.The 28-year-old is batting .171 in 10 games this season. Aybar will receive his Gold Glove Award for his defensive efforts last season prior to Thursday...
If recent reports are to be believed, it is only a matter of time before the Angels lock up Erick Aybar to a lucrative contract extension.  Nothing is official yet, but reports are circling around a contract somewhere in the neighborhood of five years and $50 million for Aybar.  That seems to be what Aybar is asking for, anyway.  But is that what he should get? We could debate...
Erick Aybar will be the Angels shortstop for the foreseeable future. According to a report from ESPN's Jerry Crasnick, Aybar will a four-year, $35 million dollar extension which means he will be paired with Howie Kendrick and Albert Pujols through the 2016 season. The deal is expected to be officially announced by the team when Aybar is presented with his Gold Glove award tomorrow...
Forgoing free agency is the new hotness. After already locking up his double play partner Howie Kendrick back in January, the Angels gave Erick Aybar a reported four year, $35 million contract extension today. Aybar is under contract for 2012 at just over $5 million, so this represents a pretty nice raise in annual average value, and assuming that the contract covers 2013-2016...
The April 16th, 2012 edition of daily news for the Los Angeles Angels ...
The Los Angeles Angels have reached to an agreement with shortstop Erick Aybar according to Alden Gonzalez of MLB.com. The deal would be for four years and $35 million. According to Gonzalez, the announcement of the deal, expected tomorrow, "will mark the end of at least a five-month-long negotiation between Angels general manager Jerry DiPoto and Aybar's agent, Fernando Cuza...
Minor League Top 10 1. Mike Trout - OF, Triple-A Salt Lake City (LAA) - .435/.491/.652, 1 HR, 3 3B - Mike Trout not only does "Blue Steel" really well, but he has started out the season with a 10-game hit streak, is 4-for-5 in stolen bases, and doesn't belong in the minor leagues anymore. I don't want to put him on this list ever again. Yet for some reason, Vernon...
Last week, we learned that the Angels were making progress towards a new deal with shortstop Erick Aybar. Today, Mike DiGiovanna of the Los Angeles Times says that Aybar is believed to be looking for at least five years and $50 million. Even though the Angels "would prefer to sign Aybar for something closer to the four-year, $33.5-million deal" as DiGiovanna says, both "parts...
The Angels are a much better team then they were last year. The team's offseason additions of Albert Pujols and C.J. Wilson have caused many people to pick them as the favorites to win the World Series. However, the Angels have more holes than many people would think. Where the team is lacking the most is in its bullpen, which is one of the worst among teams expected to make the...
There's been quite a bit of complaining over the way Scioscia has been handle the lineup the past weekend, and with good reason too. Who wouldn't be a little frustrated with the way the lineup has been managed thus far? He's burying the teams hottest hitters in the bottom of the lineup, he's thrust his veterans into the middle of the order when they've been...
MLB News

Delivered to your inbox

You'll also receive Yardbarker's daily Top 10, featuring the best sports stories from around the web. Customize your newsletter to get articles on your favorite sports and teams. And the best part? It's free!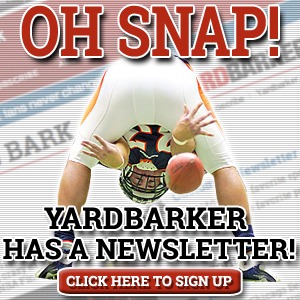 Latest Rumors
Best of Yardbarker

Today's Best Stuff

For Bloggers

Join the Yardbarker Network for more promotion, traffic, and money.

Company Info

Help

What is Yardbarker?

Yardbarker is the largest network of sports blogs and pro athlete blogs on the web. This site is the hub of the Yardbarker Network, where our editors and algorithms curate the best sports content from our network and beyond.