Found May 07, 2012 on Monkey with a Halo:
PLAYERS:
Miguel Montero
,
Scott Downs
,
LaTroy Hawkins
,
Ernesto Frieri
,
Jason Isringhausen
,
Tony La Russa
,
Albert Pujols
,
Kevin Jepsen
,
Jordan Walden
,
Mike Scioscia
,
David Carpenter
,
Peter Bourjos
,
Loek Van Mil
TEAMS:
Arizona Diamondbacks
,
Los Angeles Angels
,
St. Louis Cardinals
The May 7th, 2012 edition of daily news for the Los Angeles Angels of Anaheim including Hawkins and Downs both injured, Tony La Russa speculates on Pujols' slump, the Angels could make an off-season play for Miguel Montero and much more...
The Story: Scott Downs and LaTroy Hawkins were both injured in yesterday's game, but will travel with the team.
The Monkey Says: No word yet on the severity of Downs' injury, but the fact that he is going on the road trip suggests that the injury is not thought to be major.  However, LaTroy tweeted that he has a fractured pinkie.  The recovery time is unknown, but a DL stint seems likely... which is great, because the bullpen can totally handle that major hit to their depth.  It will be interesting to see who closes today, should the need arise since Ernesto Frieri has pitched two days in a row.  I doubt they will rush Walden back into the role, so it could default to Jason Isringhausen.  Let's hope for a big margin of victory today.
The Story: Tony LaRussa believes that the pressure of a new team and contract is a major distraction to Albert Pujols.
The Monkey Says: Nobody knows Pujols better than LaRussa, plus the two still talk regularly, so I think we can put a lot of stock in this statement, but it might all be moot now that Albert has finally broken the home run jinx.
The Story: Kevin Jepsen was optioned to the minors to make room on the active roster for Ernesto Frieri.
The Monkey Says: This is probably the last we've seen of Jepsen, barring an unexpected rash of injuries, like if two guys got hurt in the same inning... crap.
The Story: The Angels are expected to make a run at signing All-Star catcher Miguel Montero this off-season.
The Monkey Says: That may not happen if Iannetta earns everyone's trust and is willing to sign a team-friendly deal, but I like the idea.  Montero is a great defender and swings a left-handed stick, giving the Halos more balance, potentially.  Don't expect this rumor to go away anytime soon.
The Story: An unbiased look at the prospects the Angels traded for Ernestro Frieri.
The Monkey Says: It is all about Roach.  Odds are he would've been a top 10 Angel prospect by the end of this season, which is a handsome price to pay for a reliever, though Frieri could end up as closer within weeks, not to mention is still under team control for four years after this season.  I say it was worth the price.
The Story: Relievers who leave Petco aren't necessarily destined for failure.
The Monkey Says: Well, that's great news!
The Story: Jordan Walden is progressing since his demotion.
The Monkey Says: Let's hope he has, because with Hawkins hurt, the Angels are going to need someone to step up, and Waldo would be the ideal candidate, though I doubt Mike Scioscia is quite ready to put him back in a high leverage situation, which is why David Carpenter got the call in a big situation yesterday.
The Story: The Angels traded minor league prospect Loek Van Mil to Cleveland for future considerations.
The Monkey Says: Van Mil looked like he was making progress late last season, but he's been a trainwreck this year.  This is the Angels just plain dumping him as those "future considerations" will likely amount to nothing but a small cash payment, if that.
The Story: Peter Bourjos is expected to play a fair amount in the coming series in Minnesota.
The Monkey Says: Yeah, I'll believe it when I see it.
The Story: Former Angel outfielder Chad Curtis has been arrested for inappropriately touching some high school students.
The Monkey Says: Ugh.  
[follow]
Original Story:
http://www.monkeywithahalo.com/2012-a...
THE BACKYARD
BEST OF MAXIM
RELATED ARTICLES
Albert Pujols has hit his first regular-season home run since joining the Los Angeles Angels, ending the longest drought of his 12-year career after 33 games and 139 at-bats. Pujols' two-run shot into the left-field bullpen Sunday came in the fifth inning against Toronto's Drew Hutchison. Pujols was playing his 28th game for the Angels since leaving St. Louis and signing...
The Angels finally had enough yesterday and decided to insert Mark Trumbo in at first base in place of the slumping Albert Pujols. I'm sure it's only temporary. The general idea is to give the world-class slugger a day or two away from it all to clear his head. Luckily for the Angels, they have plenty of bats to insert in his place while he figures things out. The...
Booed and benched in the previous two games, first baseman Albert Pujols finally broke out with his first home run as an Angel on Sunday. Pujols was booed as he went hitless in Friday's shutout by the Blue Jays. Angels fans were frustrated with the sub-.200, 0-homer start by their $246 million man. After the game, Pujols said he deserved it but promised there would be...
The Albert Pujols sideshow finally ended on May 6, 2012, in the 111th AB of what has so far been a season of well-paid misery for the former King of St Louis.  It ended with that long-awaited first official home run (although he hit seven in Spring Training) as an Angel; a wait that was so excruciatingly long and drawn-out, it reminded me of the similarly long...
Struggling Angels slugger Albert Pujols predicts he'll bounce back, shrugs off boos.
@Los Angeles Angels of Anaheim (2-2) @ Minnesota Twins (7-20)Pitching Probables: LAA – Jered Weaver (12-17, 1.61 ERA)  MIN – Francisco Liriano (0-4, 9.97 ERA)Game Info: 5:10 PM PT; TV - Fox Sports West; Radio - KLAA 830 First thing I want to address, this is something that's been itching in the back of my mind for some time, but HOLY HELL WHY IN THE WORLD DOES EVERYONE...
Photo Credit: Marianne O'Leary Although baseball is well underway and the season is chugging along as usual, there are a number of absolute studs that have been seriously underperforming. Obviously everybody and their mother knows of Albert Pujols' struggles, but Jose Bautista and Robinson Cano are also putting up duds on the regular nowadays. Moving down the totem pole a...
With so many massive signings, the Los Angeles Angels were the talk of baseball. Similar in tune to the Boston Red Sox of 2011, who made huge splashes with 1B Adrian Gonzalez and LF Carl Crawford. Like those Red Sox, the Los Angeles Angels are sputtering in a monumentally disappointing fashion. The problems start with their two free agent signings. A major concern was...
I had a dream.  In this dream, I negotiated a contract where I would be paid beyond my useful years for doing absolutely nothing at all.  Once any talent I had was completely gone, instead of living off my pension or social security, I would get paid a ridiculously large sum of money for my "personal services," but only if I chose to accept it. I mean, you never know.  It's...
@ Toronto Blue Jays (16-12) @ Los Angeles Angels of Anaheim (11-17) Pitching Probables: TOR – Drew Hutchison (1-0, 6.61 ERA)  LAA – Jerome Williams (2-1, 3.55 ERA) Game Info: 12:35 PM PT; TV - Fox Sports West; Radio - KLAA 830 Let's just go ahead and just treat this like a new beginning for Albert Pujols.  Fresh off receiving his first ever famous Scioscia Mental Day...
Albert Pujols, Prince Fielder, Mark Teixeira, Jose Bautista, Ryan Howard, Miguel Cabrera, Dan Uggla, Adrian Gonzalez, Paul Konerko. Nice group, yeah? Those are 9 of the 10 leaders in HR from 2009-2011. Pujols, Fielder, Teixeira, Howard, Cabrera, Uggla. Listed there are 6 of the 7 players to hit at least 30 HR in every season from 2009 through 2011. The player not mentioned in both...
MLB News

Delivered to your inbox

You'll also receive Yardbarker's daily Top 10, featuring the best sports stories from around the web. Customize your newsletter to get articles on your favorite sports and teams. And the best part? It's free!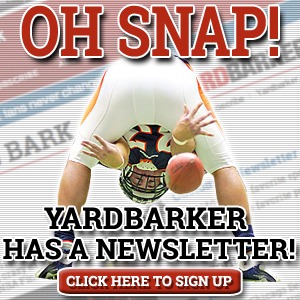 Latest Rumors
Best of Yardbarker

Today's Best Stuff

For Bloggers

Join the Yardbarker Network for more promotion, traffic, and money.

Company Info

Help

What is Yardbarker?

Yardbarker is the largest network of sports blogs and pro athlete blogs on the web. This site is the hub of the Yardbarker Network, where our editors and algorithms curate the best sports content from our network and beyond.