Found July 18, 2012 on Monkey with a Halo:
The July 18th, 2012 edition of daily news for the Los Angeles Angels of Anaheim including looking at what package the Angels could offer for Greinke, Trumbo moves to the cleanup spot full-time, Haren dealt with insomnia after going on the DL and much more... The Story: Ken Rosenthal speculates on the kind of package the Angels would need to get Zack Greinke from the Brewers. The Monkey Says: The idea of getting Manny Parra in the deal is nice, but it will only make it more expensive.  The real issue the Halos have is that they have a enough B-/C+ prospects to make a big deal, but not enough to have anything left in the system after making such a deal.  What really kills them though is the lack of A-grade prospects, which other contenders, especially Texas have which would allow them to trump the Angels if they include them. The Story: Mike Scioscia finally promotes Mark Trumbo to the clean-up spot full-time. The Monkey Says: I'm surprised because he has been so stubborn historically, but this season he has been more open to change.  Hmm, I wonder if Jerry Dipoto had anything to do with that?  Anyway, this really isn't as big a deal as it sounds like since flip-flopping Trumbo and Morales will only make a marginal, at best, improvement in the offense.  It will, however, lead to a massive reduction in complains from fans and beat reporters. The Story: Dan Haren said he developed a brief case of insomnia after he went on the disabled list. The Monkey Says: Haren also found time to complain about the minor league facilities during his one rehab start.  Suffice it to say, Dan is not a guy who enjoys idle time. The Story: Kendrys Morales is frustrated with his continued absence of power. The Monkey Says: We knew this could happen and he sounds like he knew this would happen, but that doesn't make it any less frustrating.  At least he is trying to keep his head up and look for solutions. The Story: Vernon Wells is one of the highest-paid players in all of professional sports. The Monkey Says: But that fact is "hidden" by the title and presented in a slideshow to top it off.  Basically, this is just Landon Hall deciding that he wants to troll Angel fans for some reason.  Thanks, Landon! The Story: An aggregate look at the top 50 mid-season prospect lists, in which Jean Segura averages out as 58th best. The Monkey Says: Remember what I was saying about no A-level prospects.  Yeah, no A-level prospects. The Story: Donate canned food, get Angels tickets. The Monkey Says: Damn!  Why do I have to live in Seattle?  I am never going to get rid of all the canned beets. [follow]
Original Story:
http://www.monkeywithahalo.com/2012-a...
THE BACKYARD
BEST OF MAXIM
RELATED ARTICLES
The Milwaukee Brewers announced Zack Greinke won't start Wednesday's game as scheduled but did not offer additional explanation. Greinke can become a free agent at the end of the season and has reportedly spurned the team's overtures to extend his deal, including an offer similar to the five-year, $100 million contract proposal made to CC Sabathia in 2008. Sabathia...
By George Alfano - Special to The Internet Home for Angels Fans, AngelsWin.com Haren rehab start with Inland Empire 66ers SAN BERNARDINO, CA -- For the first time since spring training, Dan Haren isn't worried about a stiff back hindering his pitching. Haren threw five innings Monday night during a rehabilitation start, throwing 67 pitches and allowing seven hits...
Dan Haren allowed two runs on seven hits through five innings in a rehabilitation start at Class-A Inland Empire Monday evening and expressed optimism regarding his impending return from a lower back injury that clouded his effectiveness over a disappointing first half of the 2012 season. Haren, 6-8 with a 4.86 ERA and having surrendered 16 homeruns in 17 major league starts, threw...
Milwaukee Brewers right-hander Zack Greinke, the subject of many trade rumors in recent weeks, will have to wait awhile before getting to show scouts what he can do again. The Brewers announced Monday that Greinke is being scratched from his next scheduled start Wednesday against St. Louis to give him more rest. Manager Ron Roenicke said Greinke would miss an entire start and return...
MILWAUKEE (AP) -- Milwaukee Brewers starter Zack Greinke has been scratched from his scheduled start against the St. Louis Cardinals on Wednesday. The 2009 American League Cy Young award winner has been the subject of trade speculation, but there was no immediate indication that he had been traded or sustained any significant injury. Brewers manager Ron Roenicke is expected to...
Maybe the best news the Angels got Wednesday night came from Dan Haren. He's feeling good and ready to pitch. On a night when left-hander CJ Wilson endured his worst performance of the season, Haren made it clear he's ready to come off the disabled list and help the Angels win the American League West. Not that it's going to be easy. Wilson, who had given up as many...
The future of right handed pitcher Zack Greinke is still unknown. The Brewers apparently would like to keep him long-term, but according to Jon Paul Morosi of FOXSports, "it doesn't appear there has been much dialogue between the Brewers and representatives for Greinke since spring training." He says that the team haven't made a formal offer to Greinke yet. This means...
Zack Greinke remains in limbo. Greinke could leave the Milwaukee Brewers as a free agent after this season. He could sign a long-term contract extension with the team. He could be traded before the July 31 non-waiver trade deadline. At this point, all of those outcomes remain possible. It doesn't appear there has been much dialogue between the Brewers and representatives for Greinke...
When the season started, the Los Angeles Angels thought they might have the makings of a dynamic duo in their lineup -- free agent signee Albert Pujols and comeback player Kendrys Morales, returning after a nearly two-year recovery from a fractured ankle. They do indeed have one of the best 1-2 combinations in the American League, but it is rookie Mike Trout and young slugger Mark...
The Milwaukee Brewers announced Zack Greinke won't start Wednesday's game as scheduled but did not offer additional explanation. FOX Sports reported general manager Doug Melvin denied a trade was in the works and said Greinke was "recharging his batteries." Greinke has yielded 14 runs in 14 innings this month. He was scheduled to start Wednesday against the...
The July 17th, 2012 edition of daily news for the Los Angeles ...
MLB News

Delivered to your inbox

You'll also receive Yardbarker's daily Top 10, featuring the best sports stories from around the web. Customize your newsletter to get articles on your favorite sports and teams. And the best part? It's free!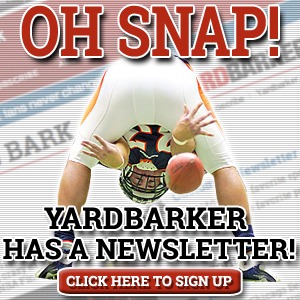 Latest Rumors
Best of Yardbarker

Today's Best Stuff

For Bloggers

Join the Yardbarker Network for more promotion, traffic, and money.

Company Info

Help

What is Yardbarker?

Yardbarker is the largest network of sports blogs and pro athlete blogs on the web. This site is the hub of the Yardbarker Network, where our editors and algorithms curate the best sports content from our network and beyond.