Found January 06, 2012 on Monkey with a Halo:
PLAYERS:
Jerry Dipoto
,
Ryan Madson
,
Albert Pujols
,
Howie Kendrick
,
Erick Aybar
,
Mark Trumbo
,
Scott Servais
,
Jordan Walden
,
Tim Salmon
,
LaTroy Hawkins
TEAMS:
Philadelphia Phillies
,
Los Angeles Angels
The January 6th, 2012 edition of daily news for the Los Angeles Angels of Anaheim including Morales undergoing medical tests, Dipoto says signing Madson is "very unlikely," Angels open extension talks with Aybar and Kendrick and much more...
The Story: Kendrys Morales is off to undergo tests on his leg with a specialist in Colorado.
The Monkey Says: This sounds scary, but it really shouldn't be.  Given how long this whole process has taken for Morales, it is silly to think that he wasn't ever going to see a doctor again and that it is a specialist shouldn't be cause for alarm, just a sign that the Angels are making sure Morales gets the best care.  Actually, the tone of the organization sounds pretty optimistic for Kendrys right now.  However, if these tests don't go well, at least it is early enough for them to make other plans to replace his potential production unlike last year when Morales wasn't shutdown until mid-March.  Also, a very special note, there is a guy on Twitter that I won't name because I don't want him getting any more publicity, but he is COMPLETELY FULL OF CRAP, but he is getting some run around the rumor mill right now because he tweeted that Morales might retire if these tests don't go well.  Do not believe these reports.
The Story: Jerry Dipoto says it is "very unlikely" that the Angels will sign Ryan Madson.
The Monkey Says: This is the same GM that also repeatedly called the chances of the Angels pursuing Albert Pujols not very good, so, take this statement as seriously as you want.
The Story: The Angels have opened contract extension talks with Howie Kendrick and Erick Aybar.
The Monkey Says: This sounds exciting, but it is really just standard procedure for arbitration eligible players.  They might sign both, one or neither.  It really depends on how badly they want to keep each player and how badly each player wants to stay in Anaheim versus testing the free market to determine their true value.
The Story: Mark Trumbo is considered an asset not a trade chip right now.
The Monkey Says: This is pure GM speak.  First off, you can't say you want to trade a player because it automatically reduces his value by alienating the player.  Second, with Trumbo not healthy, the Angels' hands are tied when it comes to shopping him since teams will be hesitant to acquire a guy who doesn't have a clean bill of health.
The Story: Mike LaCassa has been hired as the Angels' new manager of minor league operations.
The Monkey Says: This is another guy they are poaching from the Rangers front office, so this is clearly a move where Scott Servais wielded great influence.
The Story: More details on Albert Pujols' contract emerge, including his post-retirement services deal and luxury suite perks.
The Monkey Says: Essentially, only $240 million is guaranteed, but that is misleading because many of his incentives are highly certain to be met.  One could also argue that his ten years of one million dollar salaries for "personal services" after his playing contract expires is basically the equivalent of deferred payments.
The Story: Does Jordan Walden deserve another shot at closing?
The Monkey Says: This is wondering about his mindset after his meltdowns late in the season, which is actually a fair concern, unlike those worried about his ten blown saves (because, you know, saves is a BS statistic).  I think Waldo will be just fine, but it is one of those things we probably won't feel truly comfortable about until we see Jordan locking down saves in big games during the regular season.
The Story: Earl Bloom will not be voting for Tim Salmon in the Hall of Fame, but he feels bad about it.
The Monkey Says: Well, that sucks, but it also is probably the right thing to do.  Salmon was pretty good, but he isn't Cooperstown material.  My only real hope for him with this voting is that he can at least get the necessary 5% to stay on the ballot for one more year.  However, out of the 93+ ballots that have been revealed thus far, nobody has voted for him.  And if a guy from the OC Register isn't going to give him a vote, then the quest for 5% seems pretty hopeless.
The Story: LaTroy Hawkins is ready to stabilize the bullpen.
The Monkey Says: My gut tells me that Hawkins will be more valuable as a veteran presence in the bullpen than as a reliever on the mound.  No offense to him, but the less high leverage situations he pitches in, the better off the Angels are likely to be.
[follow]
Original Story:
http://www.monkeywithahalo.com/2012-a...
THE BACKYARD
BEST OF MAXIM
RELATED ARTICLES
The Angels made another move in what has been a monumental offseason, agreeing to a four-year extension with second baseman Howie Kendrick, according to sources. The deal for Kendrick, which according to sources is pending a physical, would cover Kendrick's final year of arbitration and his first three free-agent years. Kendrick, 28, played in 140 games last season, hitting...
HBT: The Angels were speculated to want Ryan Madson, but the GM says they probably are done signing top players.
Howie Kendrick and the free spending Los Angeles Angels agree to a 4 year contract extension.The Los Angeles Angels of Anaheim have shown that they can spend money to bring in players from outside the organization this offseason, but now they have also shown they are committed to the players they have by locking up second basement Howie Kendrick with a four year extension.Kendrick...
Angels GM Jerry Dipoto told Mike DiGiovanna of the LA Times that he's "very, very unlikely" to sign Ryan Madson or another closer. Despite rumors and speculation linking Los Angeles to Madson, Dipoto says the club has already made its most significant offseason additions.  "We're trying to add depth, and in a perfect world, we'd like to find another guy...
PHILADELPHIA - The thought of Ryan Madson ever accepting arbitration and returning to Philadelphia on a one-year...
Lack of batting titles aside, Howie Kendrick has developed into a solid homegrown star for the Halos.  The 28-year-old is coming off the finest of his six Major League seasons (a career-high 18 homers and a .285/.338/.464 slash line) and with free agency just a season away, the Angels are looking to lock Kendrick up to a multiyear extension.  The Angels have certainly not hesitated...
(source feed provided no summary content for this entry)
The Angels opened extension talks with the agents for second baseman Howie Kendrick and shortstop Erick Aybar, GM Jerry Dipoto told Mike DiGiovanna of the LA Times. Both infielders are entering their final year of arbitration, but Dipoto has interest in keeping them in Anaheim beyond 2012. "At this point, it's something we've begun to explore and will continue to explore...
Those daydreams about free-agent reliever Ryan Madson joining the Angels' bullpen? Put them to rest, general manager Jerry Dipoto said.
The Los Angeles Angels have locked up second basemen Howie Kendrick to a four-year deal, Ken Rosenthal of FOXSports reports. The deal will cover Kendrick's last year of arbitration and his first three years of free agency. Bob Nightengale of USA Today reports that the deal is worth $33.5mm.
Kendrys Morales has begun running on his own body weight and was cleared Friday to "ramp up" some baseball activities, according to a person familiar with the slugger's rehabilitation from a broken left ankle but unauthorized to speak publicly about it. Morales, who has not played since fracturing the ankle while jumping into home plate in celebration of a walk-off...
MLB News

Delivered to your inbox

You'll also receive Yardbarker's daily Top 10, featuring the best sports stories from around the web. Customize your newsletter to get articles on your favorite sports and teams. And the best part? It's free!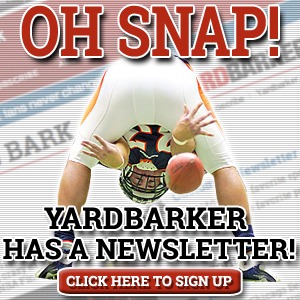 Latest Rumors
Best of Yardbarker

Today's Best Stuff

For Bloggers

Join the Yardbarker Network for more promotion, traffic, and money.

Company Info

Help

What is Yardbarker?

Yardbarker is the largest network of sports blogs and pro athlete blogs on the web. This site is the hub of the Yardbarker Network, where our editors and algorithms curate the best sports content from our network and beyond.