Found January 14, 2013 on Monkey with a Halo:
PLAYERS:
Mike Trout
,
Albert Pujols
,
Kyle Lohse
,
Peter Bourjos
,
Kaleb Cowart
,
Fernando Cabrera
,
Josh Hamilton
,
Miguel Cabrera
,
Dontrelle Willis
TEAMS:
Los Angeles Angels
,
St. Louis Cardinals
,
Detroit Tigers
,
Chicago Cubs
The January 14th, 2013 edition of daily news for the Los Angeles Angels of Anaheim including Trout out, Pujols in for the World Baseball Classic, Angels not interested in Lohse, Langston replaces Mota on radio broadcasts and much more... The Story: Mike Trout will not play in the World Baseball Classic. The Monkey Says: Trout says he just wants a normal spring training preparation, which actually makes sense as he has never had one.  Last season he got the flu and suffered a shoulder injury, so he missed much of camp.  He'll have plenty of other chances to suit up for team USA, but he'd be wise to make sure that he doesn't do so until he has a lucrative long-term contract in place first since the WBC is considered a bit of an injury risk. The Story: Albert Pujols intends to play for the Domincan Republic in the WBC, assuming his knee is ready. The Monkey Says: It is a little concerning that he doesn't know if his knee is ready, but he is a guy who doesn't really need a "normal" training camp like Trout does, so this shouldn't be too much of a risk for him unless his knee really isn't ready and he pushes himself too hard. The Story: The Angels are not expected to pursue Kyle Lohse. The Monkey Says: That is actually too bad.  I was very against pursuing Lohse when it looked like he was going to get a rich four-year deal, but now that his market is pretty much non-existent, it seems like he could be had for a bargain at two years and $22 million.  One reason teams are scared of Lohse is that it will cost them a first round pick, but the Angels already forfeited theirs for Hamilton, so it will only cost them a second-rounder, which is more tolerable.  The only reason I don't really see it happening is because the Angels would then have to bump Hanson, Vargas or Blanton to the bullpen and they didn't pay up for those guys to turn one of them into a long reliever.  Payroll is probably a concern too, but I'll believe the Angels have a salary ceiling once Moreno or Dipoto actually comes out and flatly announces what it is. The Story: Mark Langston will replace Jose Mota on Angels radio broadcasts. The Monkey Says: Jose will now stutter and pause full-time on the Spanish radio broadcasts while still working the Angels pre- and post-game shows on TV.  I have never been impressed with Langston in the appearances he has made on radio and TV in the past, but I'm sure he can improve once he starts doing it on a daily basis.  My only hope is that this does not spell an end to Not Jose Mota on the Prodcast. The Story: MLB Network named Mike Trout a top five center fielder even though he is a left fielder now. The Monkey Says: That sounds funny, but it shouldn't matter.  Trout will always be a natural center fielder and a stellar one at that.  If anything, this should tell you how good Peter Bourjos is defensively. The Story: Kaleb Cowart has also received an invite to spring training. The Monkey Says: He joins Grichuk in getting a "tip of the cap" invite for being such a good prospect.  Cowart is probably the team's best prospect right now, so fans will be excited to see him play, but don't get carried away because no matter what he does, he isn't going to make the big league roster out of camp.  I know the anti-Callaspo crowd is going to be sad to hear that, but it is true. The Story: The Angels signed reliever Fernando Cabrera to a minor league contract and invited him to training camp. The Monkey Says: Cabrera is a journeyman who has spent parts of seven seasons in the pros with three different teams.  He misses a lot bats but issues a ton of walks.  He is probably just going to be Triple-A roster filler. The Story: The AL West uniforms in soccer jersey form. The Monkey Says: I know soccer sucks, but these mock-ups are probably some of the coolest things I have ever seen.  I don't totally love the Angels' jersey, but the Astros one is fantastic as is the Pirates jersey in a separate post on the same site. The Story: Josh Hamilton is one of the top five players to be wary of in 2013. The Monkey Says: Oh, thanks, nobody has mentioned that yet.  Good looking out. The Story: The Angels are hiring a media relations intern. The Monkey Says: You college kids should probably apply for this, especially if you are already in the Tempe area.  I really can't think of a better way to spend your spring. The Story: Remembering the trade that never happened, the Angels trading for Miguel Cabrera. The Monkey Says: Nobody knew that Brandon Wood was going to be a complete bust, so this made sense at the time.  I also don't know that the Halos had the same spending power back then to be able to acquire Cabrera, give him a fat new contract and absorb the rest of Dontrelle Willis' deal. [follow]
Original Story:
http://www.monkeywithahalo.com/2013-a...
THE BACKYARD
BEST OF MAXIM
RELATED ARTICLES
THAT'S A HUGE FISH!
Over the weekend we noticed that Mike Trout, his family, and most importantly his girlfriend Jessica Cox were heading to Key West for a little vacation. They seem like a rather tame bunch so we weren't expecting much, especially with the whole family joining them. We checked his Twitter account this morning anyways, just doing our due dilligence, and what we saw was even better...
Baseball fans have been waiting for the day when Mike Trout would come back from an ocean expedition with a giant aquatic animal at the end of a pole. It would be a day for wordplay and wittiness, of puns and potshots. What else can you ask for when you have a great outfielder named Trout? But alas, Trout has caught his first fish, and it's so big that we can only tip our hats...
Angels center fielder Mike Trout has informed tournament organizers that he will not play for Team USA in the World Baseball Classic in March, Trouts agent, Craig Landis, said Saturday. Trout, no doubt, would have been a huge coup for the WBC -- the 21-year-old was a unanimous selection for the American League rookie of the year and finished second in the MVP vote after hitting...
Players and teams have a difficult choice when the World Baseball Classic rolls around.  Should superstars play in the tournament held just before the Major League season starts, or should they be with their respective teams preparing for the season?  It's a difficult decision especially when injury concerns are factored in, but it seems the decision has been made in Albert...
Former St. Louis Cardinals star first baseman Albert Pujols has been involved in many ventures with his wife Deidre. The two started and continue to operate The Pujols Foundation in the St. Louis area. Now, Albert and Deidre have started their own cookware line, available via their website Pujols Kitchen. The 10 piece cookware set can be purchased for $279.99 and to nobody'...
I saw this picture on BustedCoverage the other day. Mike Trout just living the life man. The guy is the best player in professional baseball and now he's taking the fishing world on by storm. Trout better be careful about reeling in 550 lb fish – he'll be rumors of steroids before the sun comes up.
There was plenty of clamor over the fact that Angels OF Mike Trout did not win the AL MVP this season. Personally, I thought that Miguel Cabrera deserved the award, not just because he won the triple crown, but the fact that he had as good, if not a better season. To me it was that simple. Nothing against Trout; he had an MVP type season, but Cabrera was more deserving of the award...
The January 15th, 2013 edition of daily news for the Los Angeles Angels of Anaheim including Angels announce spring training invitees, Trout catches 550-pound fish and much more... The Story: The Angels released their full list of non-roster invitees for training camp. The Monkey Says: Most of them were already known, none of them are very exciting.  Luis Rodriguez and Brendan...
Mike DiGiovanna of the Los Angeles times reports that reigning American League Rookie of the Year and MVP runner-up Mike Trout will not accept an invitation from the United States officials to play in the World Baseball Classic.  Even more telling, the source was his agent: [Trout's Agent Craig] Landis said that Trout "just wanted a regular spring-training preparation,"...
Former St. Louis Cardinals starting pitcher Kyle Lohse has yet to receive an official offer from a club this winter after a career year in 2012. The 34-year-old is by the far the best arm available but still has yet to field an offer most likely because he has a compensation pick tied to him since he turned down the Cardinals qualifying offer. MLB.com's Ian Browne...
Former St. Louis Cardinals starting pitcher Kyle Lohse is still looking for a new home.  It has been a long winter for the free agent, who was planning on cashing in big after a second consecutive spectacular season. Unfortunately, Lohse has been unable to land anywhere, which is strange considering his former teammate Kyle McClellan, who is coming off of shoulder surgery, found...
The quartet of four free agents that denied qualifying offers this winter is now down to two, after Rafael Soriano signed with the Nationals on Tuesday, following in the footsteps of Adam LaRoche. That leaves just Kyle Lohse and Michael Bourn both unsigned, and with Soriano and LaRoche falling off the market this month, one would expect Lohse and Bourn to eventually find new employers...
MLB News

Delivered to your inbox

You'll also receive Yardbarker's daily Top 10, featuring the best sports stories from around the web. Customize your newsletter to get articles on your favorite sports and teams. And the best part? It's free!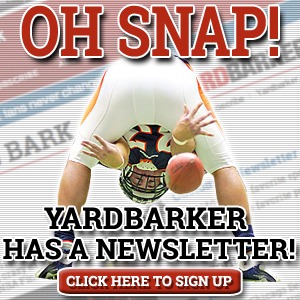 Latest Rumors
The Backyard

Today's Best Stuff

For Bloggers

Join the Yardbarker Network for more promotion, traffic, and money.

Company Info

Help

What is Yardbarker?

Yardbarker is the largest network of sports blogs and pro athlete blogs on the web. This site is the hub of the Yardbarker Network, where our editors and algorithms curate the best sports content from our network and beyond.