Found March 07, 2013 on Monkey with a Halo:
The March 7th, 2013 edition of daily news for the Los Angeles Angels including Trout's agent asked for $1 million, Weaver trying to recover his old arm angle and much more... The Story: Ken Rosenthal reports that Mike Trout's agent asked the Angels for $1 million for his 2013 contract. The Monkey Says: As the article states, that would've been the highest payday ever for a second-year player. Trout probably deserves it, but it takes balls to ask for that much. There is also conflicting reports claiming the Angels offered him more than $510,000 but pulled the offer when Landis refused to accept or, if you believe the side that clearly came from his agent, the Angels never offered more than $510,000. The Story: Jered Weaver is hoping to recover his old arm angle. The Monkey Says: He claims he got away from it in recent years because of the tendinitis issues in his arm, so that would suggest he must be over that discomfort if he is reverting back to the 3/4-angle. The Story: A look at how each Tommy John recovery is different. The Monkey Says: This has everything you ever wanted to know about hamstring tendons. The Story: The biggest sunk costs in baseball. The Monkey Says: You'll never guess who made the list. The Story: Mark Trumbo is ready for the challenge of becoming a full-time designated hitter. The Monkey Says: I still don't get why it is such a big challenge, but it sounds like Trumbo is doing his homework so that he isn't afflicted by whatever issues come with no longer having to embarrass yourself in the field. The Story: The Angels pitchers won't spend much time working on hitting and bunting practice this season. The Monkey Says: Thanks, crappy new interleague schedule. I wonder if that practice really helps anyway, even for NL pitchers who have to hit regularly. I can't imagine they expend that much effort in batting practice anyway, at least not enough to make a significant difference. The Story: Jose Bautista said in an AMA on Reddit that he believes that Jered Weaver is the toughest right-hander to face in MLB. The Monkey Says: That's some mighty high praise. It also explains why Joey Bats is 0-for-6 with a walk and four strikeouts against Weaver in his career. The Story: A look back at the history of the PCL LA Angels. The Monkey Says: So you are saying it was over half a century ago the last time the Angels had a good minor league team? [follow]
Original Story:
http://www.monkeywithahalo.com/2013-a...
THE BACKYARD
BEST OF MAXIM
RELATED ARTICLES
Some may say it is only preseason and there is no need to go all out, but that seems to be the only way that L.A. Angels outfielder Mike Trout does it. Your browser does not support iframes. I have a feeling that the Angels are going to be sorry that they stiffed him on his contract. Last season's American League Rookie of the Year and runner up MVP only made about...
It's well-documented. Mike Trout had one of the greatest individual seasons ever in 2012. Mike Trout is your new favorite Angels player. He is the Phenom of all Phenoms. Naturally, Angels fans young and old want him to stick around, and to be perhaps the first player to enter the hallowed halls of Cooperstown with the Halo'd insignia gracing his plaque.   So when Trout's...
After a season of back problems and lost velocity, can Jered Weaver bounce back and show that he is still the Cy Young contender the Angels need? 2012 Stats: 188.2 IP, 20-5, 2.81 ERA. 3.75 FIP, 147 H, 45 BB, 20 HR, 142 SO, 0.84 GB/FB, 3.0 fWAR 2013 ZiPS Projections: 203.0 IP, 16-9, 3.01 ERA. 3.35 FIP, 171 H, 49 BB, 20 HR, 176 SO, 4.4 fWAR 2013 Bill James Projections:...
A bit of spring training humor occurred recently involving Los Angeles of Angels of Anaheim pitcher Jared Weaver and his evident — albeit perhaps only temporarily –  unfamiliarity with the common practice of a catcher making a warmup throw of his own to the second base bag  following a pitcher's warmup tosses. Anyone who has ever played baseball, even all the way back to...
I think we can all agree that last season, the Los Angeles Angels Mike Trout put on quite a show. But disagree if you must, the Angels did nothing wrong giving Trout that second-year salary.
Jered Weaver struck out five in three innings and top prospect Kaleb Cowart drove in three runs as the Los Angeles Angels beat Team Italy 12-6 Wednesday. Weaver allowed one run in his second spring start. The three-time All-Star went 20-5 last season and will start on opening day next month. Cowart had two hits. Italy's team in the World Baseball Classic was led by Seattle...
Tonight on the AngelsWin.com Internet Podcast, hosts Adam Dodge and Geoff Stoddart welcome AngelsWin.com Founder, Chuck Richter, and Director of Marketing, Brian Ilten. Tonight's topics of discussion included … * Angels horrible Spring Training start. Something the fans should worry about? * Mike Trout's new contract. Was he jobbed, or was it a good move by the team...
The March 6th, 2013 edition of daily news for the Los Angeles Angels including Pujols makes a surprise appearance in the lineup, how Trout provides value on the bases and much more... The Story: Albert Pujols made a surprise return to the Angels lineup yesterday. The Monkey Says: This came out of left field, but it can only be a good thing. Albert went 0-for-3 and pretty...
The voting process for all of Major League Baseball's major awards have been long under criticism. However, few awards in any sport have taken as much flak as the Rawlings Gold Gloves. The Gold Gloves are voted on by fans and coaches, and the argument against that process has been twofold: Not only do the voters strongly tend to play to long-established favorites and bigger names...
I look out side and see snow on the ground and find it hard to believe that it is actually baseball season already. Then I look on the internet and see the box scores, I check my email and see the fantasy league invites, I got the store and see the Spring seasonal beers on the shelf... Yeah. Baseball is back baby! We've already seen some great plays out of the likes of...
They were called old-timers or purists, those who blanched last fall at the thought that Detroit slugger Miguel Cabrera might be passed over for the MVP award after achieving the Triple Crown, leading the American League in batting average, homers and RBIs. On the other side of baseball's dividing line stood new-school thought, people who argued just as vehemently that advanced...
MLB News

Delivered to your inbox

You'll also receive Yardbarker's daily Top 10, featuring the best sports stories from around the web. Customize your newsletter to get articles on your favorite sports and teams. And the best part? It's free!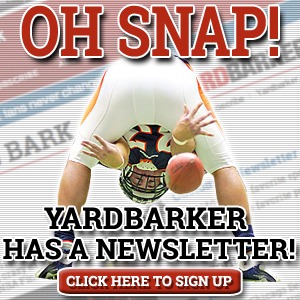 Latest Rumors
Best of Yardbarker

Today's Best Stuff

For Bloggers

Join the Yardbarker Network for more promotion, traffic, and money.

Company Info

Help

What is Yardbarker?

Yardbarker is the largest network of sports blogs and pro athlete blogs on the web. This site is the hub of the Yardbarker Network, where our editors and algorithms curate the best sports content from our network and beyond.