Found October 10, 2012 on Fox Sports:
Josh Hamilton's bat sat on his shoulder for the first strike. He fouled the second one off. He swung at the third delivery but missed, and in doing so unleashed pent-up boos from the Texas Rangers fans who once adored him. And so ended what had been a great baseball love story. This strikeout in the wild-card loss to Baltimore was his last at-bat as a Ranger. My man, Randy Galloway, reports in the Fort Worth Star-Telegram that Texas does not want him back "even if he plays here for free." This was a few days ago, and now we have teams like the Red Sox, Dodgers and Cubs watching the playoffs from home, reeking of envy and drunkenly making their offseason wish lists. This is why, despite all the warning signs, one of them is going to throw stupid cash and years at Hamilton, ignoring that he falls under one of the best breakup lines of all time: "Somewhere, somebody is sick of her stuff, too." Nobody will want to admit this, but Hamilton had quickly become the T.O. of the Rangers, a talented player whose production no longer justifies the headache. The Rangers have decided he is no longer worth it, which is why on Tuesday in their post-mortem wrapup, they said Hamilton will be allowed to "test the market," the same phrasing used about now-Angels pitcher CJ Wilson. That is code for we have no intention of Hamilton being a Ranger going forward . How did it come to this? How did a guy the Rangers once thought they would grow old with suddenly find his stuff in a box on the porch? To figure out how, we have to remember how it started. When Hamilton arrived in Texas via trade in 2007, he already had been baseball's No. 1 pick, battled drug and alcohol addiction, been a menace to both his baseball and nuclear families, had what he called a showdown with the devil, a Biblical conversion while praying with his grandmother and a second chance. It goes without saying that Texas was the perfect place for him and his tale of redemption. There is nothing we love more down here than the white, Judeo-Christian athlete who has fallen on hard times and selling a tale of redemption. It also did not hurt that he could hit the snot out of the baseball and helped lead the Rangers to their first and second World Series berths. It was the perfect love story. Somewhere along the way, though, Hamilton became one of those it's-always-something guys, again and again testing the patience of his loyal flock. There were the Deadspin photos from Surprise, Ariz., from before spring training, showing him very inebriated and enjoying whip cream served on the chest of recent female acquaintances; the shoulder injury he sustained during a home plate collision last season and his subsequent blame of the third base coach for sending him; his "blue-eyed" explanation for day-game hitting woes; another relapse this offseason in Dallas (with alcohol) in which he inexplicably and unfairly dragged teammate Ian Kinsler into his mess; his statement that once he became a free agent, he would take the biggest pile of cash, eschewing any loyalty to a franchise that had given him this second chance and an accountability partner in coach Johnny Narron; his deal to make his life into a Hollywood movie and his in-season flight to LA for appear on Jimmy Kimmel's show; his fuzzy talk of his lack of obedience during a prolonged slump and then his astonishment that many people thought he had relapsed, and his begging out of games because of blurry vision caused by too much caffeine.* * If "caffeine eye" were a real affliction, America would be blind. This is not a bad guy but rather a personality for whom heightened expectations are not a good fit. And he has heaped added expectations upon himself -- to be this amazing baseball player and this perfect example of Christ's redeeming power. He bought into this idea that he had conquered his demons when really demon slaying is an exhausting, lifelong battle. You have to wonder if he enjoys it still, if he really believes leaving the Rangers and a fresh start is what will cure what ails him. But a bigger deal in a new town is only going to bring more expectations and a higher platform from which he could fall. In the beginning, it will be like it was here. He will tell his story of being lost and then found, of God's grace, of being saved, and people will love him for it. They will wonder how the Rangers could have let a guy like this go, how they could have been so stupid. What they will learn is grace is messy, and with Hamilton there is always something.
Original Story:
http://msn.foxsports.com/mlb/story/ml...
THE BACKYARD
BEST OF MAXIM
RELATED ARTICLES
TAKE A DIP
Rangers head honcho Nolan Ryan questioned Josh Hamilton's decision to quit smokeless tobacco during the season, saying the timing "couldn't have been worse."
Many things are known about Josh Hamilton -- far more details of the man's personal life have been made public information than just about any other athlete. We know he's a recovering alcoholic, we know he's devoutly religious, we know he's injury prone, we know he's trying to quit caffeine and we know, when he's on the field, he's one of the best, most...
Texas Rangers outfielder Josh Hamilton appears destined to become a free agent. The team won't make any offers to the slugger during the team's exclusive negotiating window, meaning he will hit the open market. Rangers' general manager Jon Daniels told ESPN.com that the team agreed with Hamilton's agents that the outfielder would field offers. "The realities...
Josh Hamilton said in June that he was attempting to stop his use of chewing tobacco. The process wasn't an easy one for the 2010 A.L. MVP and it probably affected his play. The Texas Rangers power-hitting outfielder also tried to kick the habit during the 2011 season. But was the timing right? According to a recent radio interview, Rangers president Nolan Ryan said it was...
The Texas Rangers are prepared to let Josh Hamilton test the market, Jon Heyman of CBS Sports reports. The Rangers at this point in time are not ready to offer the number of years or type of money Hamilton is looking for. The Rangers in essence are hoping teams around the league will develop the market for Hamilton and they will be able to come in at the end  and potentially reach...
Now that the season for the Texas Rangers has been over for almost a week and a lot longer in some peoples minds its time to hand out the report cards for the players. My grading system is simple. As go to those who had excellent seasons, Bs to those who were above average, Cs to those who were average, Ds to those below average and Fs to those either need to give back the money...
Rangers manager Ron Washington wishes he gave his everyday players more rest during the season. Four days after Texas was eliminated by Baltimore in the AL wild-card playoff, Washington said Tuesday he thinks his team would still be playing if it had been fresher. After going to the last two World Series, Texas failed to win even one game this October. They lost 10 of their last...
Given Josh Hamilton's production during his time with the Texas Rangers, critics would have been hard pressed to compare the outfielder to anyone else in the game.Thankfully, FOXSports.com's Jen Floyd Engel has some suggestions.Nobody will want to admit this, but Hamilton had quickly become the T.O. of the Rangers, a talented player whose production no longer justifies...
MLB legend, Rangers president says that kicking tobacco habit may have led to struggles.
(Photo Credit: Nathan Hunsinger/Dallas Morning News) I expect it to be a busy winter for Jon Daniels, Nolan Ryan, Ron Washington and the Rangers' front office, after the disappointment of losing the second largest division lead in MLB history has left the Rangers out of contention for their third straight World Series appearance. First, they'll [...]Related posts:Could the Rangers...
If this were a year that Texas Rangers have come to expect, they would have been preparing for Game 2 of the American League Division Series Monday at Rangers Ballpark.Instead, the Rangers are watching the game if they want and still licking their wounds after a season that started with so much promise went so wrong.But the Rangers won't be able to sulk for long as they have...
MLB News

Delivered to your inbox

You'll also receive Yardbarker's daily Top 10, featuring the best sports stories from around the web. Customize your newsletter to get articles on your favorite sports and teams. And the best part? It's free!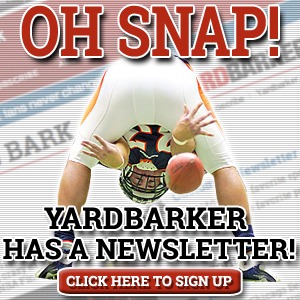 Latest Rumors
The Backyard

Today's Best Stuff

For Bloggers

Join the Yardbarker Network for more promotion, traffic, and money.

Company Info

Help

What is Yardbarker?

Yardbarker is the largest network of sports blogs and pro athlete blogs on the web. This site is the hub of the Yardbarker Network, where our editors and algorithms curate the best sports content from our network and beyond.