Found February 16, 2013 on Fox Sports North:
By CRAIG HANDEL Special to FOXSportsNorth.com FORT MYERS, Fla. Stephen Strasburg. Mike Trout. Aaron Crow. They not only were 2009 first-round draft picks, but they are all major league all-stars. A fan recently reminded Minnesota Twins pitcher Kyle Gibson of those players because he, too, was picked in that first round. In 2009, the Twins chose Gibson with the 22nd overall pick and gave him a reported 1.8 million signing bonus. "That was a fun class to be part of," Gibson said. "There's maybe one or two players in the top 10 who haven't made it to the big leagues, and if you look at the next 10 guys, it may be just one or two who haven't made it. "I wouldn't say there's a responsibility that comes with it, but there's an expectation. I understand that." With Twins general manager Terry Ryan saying, "We got a lot of jobs open," on the pitching staff, Gibson is in the running to earn a roster spot this spring. The right-hander has had no setbacks since having Tommy John surgery in September 2011. The procedure repaired an elbow ligament that was 70 percent torn. "He's healthy, so he can decide his own fate," Ryan said. "He does not have many professional innings in his life, so we have to get him through that. "Now he's put himself in a position with a chance to make this club. He's a good worker, he's a student of the game, is a good teammate. There's a lot of good things about this kid." Stu Cliburn, the pitching coach for the Twins' Double-A New Britain Rock Cats affiliate, has worked with Gibson and knows he has a high upside. Cliburn likes the 25-year-old's attitude, work ethic and personality. "He's one of the nicest guys you ever want to meet," Cliburn said. He also likes the other side Gibson shows when he gets on a mound. "He has that extra chip, that meanness factor, that edge," Cliburn said. "He's a go-getter and will challenge the strike zone." Cliburn and Gibson are encouraged because most pitchers who return from Tommy John surgery see dramatic improvement once fully healthy. "They come back throwing the ball harder," Cliburn said. The 6-foot-6, 210-pound Gibson says his arm continues to get stronger. He's consistently reaching 93 mph and notices his slider is breaking more. In the past, he had reached 95 mph, and Ryan says it will be difficult to truly gauge Gibson's speed and movement until he reaches about 100 innings. "His slider is plenty good, his fastball is plenty good, his changeup is plenty good," Ryan said. "He has good delivery, good arm action, good mechanics. He just needs to play, and we just need to keep him in the lineup." Gibson quickly advanced through the Twins' minor league system in 2010, going 11-6 with a 2.96 ERA for Fort Myers (High A), New Britain and Rochester (Triple-A). He struck out 126, walked 39 and gave up 136 hits in 152 innings. Starting with Rochester in 2011, he admittedly struggled and went 3-8 with a 4.81 ERA. He noticed problems with his elbow after a June 20 start. After alternating between feeling good and bad, the club shut him down about a month later. "The next day, it would get worse, then get better in between starts," he said. "It was a little roller coaster." But Gibson doesn't want to say the injury is the reason he's not in the majors right now. "I wasn't pitching well, so I wasn't going to get called up unless I was throwing well in July and August," he said. "In the month of June, I was terrible, honestly. I pitched a lot better in 2012." In 28 13 innings of work last season, Gibson made 11 starts and pitched in 13 games, mostly in rookie and A-ball. He walked six and struck out 33. He then was hit hard in his only two starts for Rochester. "He had a fairly successful year once he got healthy last year," Ryan said. "We weren't so concerned about statistics as about getting him his innings." As he works though spring training, Gibson knows there's a fine line between pacing himself and proving himself when he's on the mound. "It'll be tough for me," he said. "I understand to make the club, I have to earn a spot and work hard and go after it. To pull the reins back is a little hard at this point. "But the one thing the doctors and trainers and coaches have told me is to take it easy. I'm not going to make camp in the first week. I have to make sure I calm myself down, try to get better and not focus on getting a strikeout every time." As Cliburn said, "You want to win now, but you also want to win for the future." Gibson said the time away from pitching gave him more of an appreciation for the game and helped him understand that every day he gets to go out there is a blessing. "So every time I take the mound, I want to go out and play hard and have fun," he said. "I don't want to waste an opportunity. I want to take advantage of it. I don't want to keep waiting to see how it'll turn out and wish I had it back."
Original Story:
http://www.foxsportsnorth.com/02/16/1...
THE BACKYARD
BEST OF MAXIM
RELATED ARTICLES
Minnesota Twins first baseman/designated hitter Justin Morneau told reporters, including Rhett Bollinger of MLB.com, that he hasn't been approached by the team about a contract extension. Morneau added that he doesn't want negotiations to be a distraction during the regular season. His representation also hasn't approached the Twins about a long-term extension at...
14-year veteran starting pitcher Carl Pavano was looking to land with a major league team this offseason but his focus is currently on bigger things in his life. Pavano suffered a freak accident this winter while shoveling snow. He slipped on ice and jammed the handle of his snow shovel into his abdomen, rupturing his spleen. Pavano told the Minneapolis Star-Tribune that he feels...
Despite a career which has been filled with multiple injuries, Minnesota Twins first baseman Justin Morneau, entering into his final year of his contract with the Minnesota Twins, tells reporters that he is simply focuses on winning this year. Morneau has been in the majors for twn seasons and always as a member of the Twins organization. Heading into the last year of his $80 million...
Free agent pitcher Carl Pavano suffered a freak snow shoveling incident in mid-January that forced him to have his spleen removed. And he recently revealed that the accident almost proved to be fatal."I'm just lucky to be alive," said the veteran right-hander.He reportedly spent time at three different hospitals before a doctor finally determined that a splenic embolization...
When the pitchers and catchers reported, I had 5 questions for those guys. Now with the rest of the team reporting, I have a few queries for them too. Just like last time, I am going to split this into two groups. Three questions for the infielders, two for the outfielders. INFIELD Did anyone remember to bring bats? OK, we know that Justin Morneau and Trevor Plouffe have a little...
In 2012 the White Sox had the Twins number, going 14-4 against them on the season. I wish we could erase the 19-8 loss in September (you know, the game where Hawk just left the broadcast) and call it 14-3, but alas, we cannot. Considering the Twins finished in the AL cellar (for the second year in a row) and lost 96-games, the fact that we lost to them at all is baffling …...
MLB News

Delivered to your inbox

You'll also receive Yardbarker's daily Top 10, featuring the best sports stories from around the web. Customize your newsletter to get articles on your favorite sports and teams. And the best part? It's free!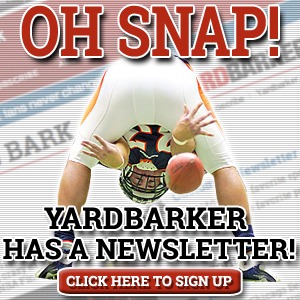 Latest Rumors
The Backyard

Today's Best Stuff

For Bloggers

Join the Yardbarker Network for more promotion, traffic, and money.

Company Info

Help

What is Yardbarker?

Yardbarker is the largest network of sports blogs and pro athlete blogs on the web. This site is the hub of the Yardbarker Network, where our editors and algorithms curate the best sports content from our network and beyond.