Found August 15, 2012 on Fox Sports Wisconsin:
DENVER Two hours before the Milwaukee Brewers are set to take on the Colorado Rockies in their last game at Coors Field this season, the reliever who was never supposed to be here smiles wide, holding a hand of playing cards close to his chest. Jim Henderson never could have imagined this card game three weeks ago, when he was still just a 10-year veteran of the minor leagues, desperately hoping that he'd get the chance so many others wouldn't at his age. But he's not the only one at this table who's been in that position. Just to his right, former closer John Axford lays down a card, only a few years removed from taking on a series of odd jobs to pay the bills. Across from Henderson sits Mike McClendon, another reliever whose road to the big leagues has been marred by setbacks and roster moves. In fact, it's a trend that extends across much of the Milwaukee clubhouse, as the Brewers bullpen is comprised of an eclectic group of one-time hyped prospects, out-of-nowhere comeback stories and former starters whose careers seemed to, at one point, be over. "When you hear the stories of some of these guys, it gives people confidence," said reliever Manny Parra, a former starter who's time in the Brewer's rotation was filled with command issues and injuries. "Just because you're down and out doesn't mean you'll always be, unless you let that define you." For Henderson, the road he took to the big leagues will always be a part of him just as it will be for most of the Brewers' relievers, many of whom admitted to fleeting thoughts that their baseball careers would never take them to a major league clubhouse. Henderson has had plenty of those moments, like in 2008 when a torn labrum, torn rotator cuff and bone spur resulted in his being cut by the Cubs a team he thought he was on the brink of making it with. And when only the Brewers called about his services after sitting out the entire season, Henderson was forced to go from Triple-A to Single-A and build his entire career back up again. Axford knows those moments all too well. With a winding back story that involves side jobs as a bartender and cell phone salesman, he questioned his future regularly as he slowly climbed his way up the ranks. After 2003 Tommy John surgery forced him to reinvent his pitching motion, adding a hitch a process that was taxing mentally and physically, Axford says the reliever bounced from different colleges to the Western Major Baseball League and finally into the Yankees' minor league system. But in December 2007, Axford was cut by the Yankees and running out of options. "You let those thoughts (of quitting) creep in sometimes, but you always try to shove them out just as fast," Axford said. "Sometimes it gets difficult. In the case of Henderson, I can't imagine how difficult it was with the rehab he went through, the different organizations, signing on and being released, spending a few years thinking it's going to work out, it's difficult. Those thoughts creep in." The Brewers' bullpen reclamation projects don't end with Henderson and Axford. After failing to establish himself as a long reliever in the Rangers' bullpen in 2008, fellow Brewers reliever Kameron Loe signed with the Fukuoka SoftBank Hawks of the Nippon Professional League in Japan and spent a year there. Livan Hernandez, the Brewers' newest reliever, was a long-time starter in the majors who doesn't have the stuff to be a starter anymore despite his impressive longevity. Jose Veras was toiling in obscurity, on and off the rosters of four teams, before settling in with the Brewers this season. In fact, Francisco Rodriguez represents the only outlier a reliever who has remained in the major leagues for more than a decade with little question of his status. But even Rodriguez understands what he has. Through the worst struggles of his career this season, he's grown to understand to not take things for granted. It's a lesson most of the Brewers' relievers have understood from the beginning as they've fought for their baseball lives to get to this point. "More than anything, when the opportunity comes to anybody they make sure not to let it go," Rodriguez said. "Sometimes we take it for granted, what we do, and we forget how easy we have it when you've got guys doing everything possible to be in the spot you're in. You have to appreciate it and hold it tight. "The bullpen, it's the best thing for somebody coming in and trying to start themselves here late in the career. It's the best place for a comeback story." Henderson's comeback story is unlike any of the others in this bullpen, though. A decade is a long time to spend in the minor leagues for someone who had felt how close he was on so many other occasions. If not for the Brewers' struggles in relief this season, there's no telling whether the 29-year-old would have ever made it to the majors. But now that he's made it, Brewers manager Ron Roenicke doesn't understand why it took so long. "I don't get it. I have no idea," Roenicke said. "You can't have that stuff and not do well enough in the minor leagues to come up." With a mid-90s fastball and much-improved breaking pitches in tow, Henderson has risen up the Brewers relief order as fast as anyone could have imagined. And although Roenicke has never definitively called him the closer, his role however temporary it may be is obvious. After so many years of waiting, Henderson hasn't had to wait very long for an opportunity to take the Brewers' bullpen by storm. It's a story not so uncommon throughout bullpens all over baseball, as reinvention and comeback stories are at the narrative base of what's made baseball so inherently American for more than a century: Work as hard as you can, even through the moments that seem futile, and it'll pay off. For Henderson and the rest of the bullpen, that dream has been realized. Whether it'll remain that way is up to them. "I guess this is what it takes," Henderson said. "With a guy at my age, you have to put together something pretty spectacular. So this is my only chance." As Henderson lays down his cards in the clubhouse, ready to continue the dream that he realized less than three weeks ago, he looks at Axford and smiles both of them very understanding of what it took to get here. Follow Ryan Kartje on Twitter.
Original Story:
http://www.foxsportswisconsin.com/08/...
THE BACKYARD
BEST OF MAXIM
RELATED ARTICLES
Two days removed from the birth of his first child, Mark Rogers wasactivated from the paternity listto start Wednesdays game against the Rockies. To make room for him on the active roster, the Brewers sent shortstop Jeff Bianchi to Triple-A Nashville. Occupying the fifth spot in the rotation while Shaun Marcum recovers from elbow tightness that has sidelined him for two months...
DENVER Mired in one of the worst stretches at the plate of his career, Milwaukee Brewers star outfielder Ryan Braun will get the day offWednesday, as his Brewers try to salvage at least one win out of their trip to Colorado. The day off has nothing to do with any lingering injuries, Brewers manager Ron Roenicke said. But with little options left to spark Braun at the plate, Roenicke...
Mark Rogers of the Milwaukee Brewers is not a very lucky fellow. And that is unfortunate because he is from this great state of Maine and Maine is not exactly brimming with baseball success stories. And so it was pretty darned exciting when a kid who went to Mount Ararat High School in Topsham, Maine was the fifth overall selection in the first round of the 2004 draft. He had big...
Milwaukee's Mark Rogers welcomed his first child to the world Monday. He's hoping he doesn't have to wait much longer for his first major league win. Rogers takes the ball Wednesday for the sputtering Brewers in a matchup with a Colorado Rockies team seeking its first home sweep in 2 12 months. After dropping Monday's opener 9-6, Milwaukee (52-63) fell to 1-13...
MILWAUKEE With just 40 games left in the 2012 season, we're about at the time where fingers are pointed, scapegoats are made, and blame is passed as fans question what could have been. What if the bullpen hadn't struggled so much? What if the Brewers had uncovered Mike Fiers earlier? What if injuries hadn't ravaged the clubhouse in May? Then there's an even bigger...
By ANDREW GRUMAN FOXSportsWisconsin.com MILWAUKEE At 3:30 in the afternoon when the Milwaukee Brewers have an evening game, Ryan Braun usually starts his pregame routine of stretching and working out before taking the a roundof batting practice later in the evening.But at that same time Thursday, Braun broke his routine and took early batting practice for only the second time...
Corey Hart's grand slam with two outs in the eighth inning prevented Philadelphia's Cliff Lee from getting a rare win as the Milwaukee Brewers beat the Phillies 7-4 on Thursday night. Livan Hernandez (4-1) pitched a scoreless eighth for the victory. Jim Henderson recorded the final two outs for his third save in four chances, getting Erik Kratz to ground out with the bases...
The Brewers joined in with the Cards a few weeks ago to roll back their uniforms as well. I'm a big fan of the No Name On Back here: Tweet
Cliff Lee came so close to that third win tonight. So close.  Cliff Lee struck out the side in the bottom of the first inning. You know, a strikeout, another strikeout, two solo home runs, and another strikeout. The solo homers went to Ryan Braun and Aramis Ramirez, the Phillies killers from the previous Brewers-Phillies series at home. In the top of the third, Ryan Howard reached...
Photo: Tony Farlow/MiLB.com   I'm going to be blunt here: The Brewers' bullpen has had a really terrible season. So many things have gone wrong, both for each individual pitcher and the unit as a whole, that you feel like you're witnessing something historic each time the staff surrenders a hard-earned lead – all 23 times, if you want to go by blown saves. The sheer combined...
MLB News

Delivered to your inbox

You'll also receive Yardbarker's daily Top 10, featuring the best sports stories from around the web. Customize your newsletter to get articles on your favorite sports and teams. And the best part? It's free!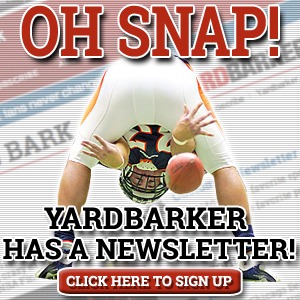 Latest Rumors
The Backyard

Today's Best Stuff

For Bloggers

Join the Yardbarker Network for more promotion, traffic, and money.

Company Info

Help

What is Yardbarker?

Yardbarker is the largest network of sports blogs and pro athlete blogs on the web. This site is the hub of the Yardbarker Network, where our editors and algorithms curate the best sports content from our network and beyond.