Found May 23, 2012 on Fox Sports Wisconsin:
When Travis Ishikawa first met the woman who turned out to be his future wife, she apparently didn't notice that he looked like Rocky Balboa after going 15 rounds with Apollo Creed. "She says she doesn't remember me having a swollen face," Ishikawa said. "My cheek was all swollen and she says she doesn't remember any of that." It is true, then, that love must be blind, because Ishikawa's face was about twice its usual size after he got in the face with a fastball in the first game he played with the Giants' Class A affiliate in San Jose, in 2004. Ishikawa started that season with San Francisco's low-A team in Hagerstown, Maryland, hit well, and was called up to San Jose. "I flew cross-country all day," Ishikawa recalled. "I got into the San Jose airport around 2:30 or 3, just in time to go straight to the field for batting practice." Because the club had several players injured, Ishikawa was inserted into the lineup that night. The game was unremarkable until Ishikawa's final at-bat, when he felt the need to prove himself against a left-handed reliever. "My big problem was pulling out early against lefties,"" he noted. "I wanted to try to keep that front side in and try to take that ball the other way." So Travis stood his ground as the opposing southpaw unwound. "It was a pitch that kind of started at me and I was telling myself to stay in for the curve ball. When I realized it was a fastball, it was too late. I couldn't get out of the way." Ishikawa remembers the pitch coming at his face and hitting him, knocking him into the dirt. "I kinda realized where I was and I felt a bunch of broken pieces in my mouth and my first thought was, my gosh, I just blew out all of my teeth. Luckily, it was a cough drop. I had been battling a cold and I thought thank goodness it was that." The San Jose trainer and manager rushed out to the batter's box, where a valiant Ishikawa insisted on staying in the game. "I knew we were hurting for players," Ishikawa said. "I told them, 'we've got an inning left. I'll get treatment afterwards. I can still play.'" But while his brave mouth said he could, his battered mug told a different story. "At the time, you've got your adrenaline going and don't feel it as much and because it was a head thing, they decided to take me out. I was glad they did because once the adrenaline died out I was hurting pretty bad." Ishikawa was checked out by the team's medical staff and was held out of action for the next day as a precaution. But the trainer insisted he go to the dentist to make sure his teeth were all intact. "I walked into the office and saw the assistant there was pretty cute," said the slugger. "I was definitely attracted to her." But the man who was courageous enough to stay in the box with a blazing fastball headed for his chin, couldn't get up the nerve to break the ice. "I was way too scared to talk to her then. It wasn't until I went back for my two-week checkup that I started talking to her." The assistant came to the game that night and watched with great interest as Ishikawa scored some major "man points" by hitting a home run with her looking on. But she left before the game was over and Ishikawa was disappointed that he didn't get a chance to talk with her after the contest. But the disappointment lifted soon enough. "The next morning the trainer called me and woke me up," he said. "She didn't have my number but she had the trainer's number, since she worked with the team." "She said she wanted me to call her so she could congratulate me on my home run. So the trainer gave me her number, I called and she asked if I had ever seen San Jose and said 'I can show you around.' So she asked me out on our first date. ... "... And we've been together ever since." Travis and Rochelle married shortly thereafter. She quit her job at the dental office and is now a full-time mom looking after the couple's three children. He still can't believe she fell for him after what he felt was a dubious first impression. "Not only was my face swollen the first time I went to her office,," Ishikawa said. "but the airlines had actually lost my luggage the day before. My baseball stuff made it but my personal bag didn't make it, so, when I went in there, I was wearing the same shirt I had worn the day before and I had flown all day in it." "And from sliding I had cuts on my elbows and blood on my shirt a little bit. But she says she doesn't remember any of that. She found me attractive, I found her attractive and it worked out." Ishikawa says his children, ages 10, 3 and 1, haven't been told how mom and dad first met. "I don't think they really care yet," he said. "They might when they get older. It's a good story, that's for sure. I wouldn't want it any other way."
Original Story:
http://www.foxsportswisconsin.com/05/...
THE BACKYARD
BEST OF MAXIM
RELATED ARTICLES
MILWAUKEE Next to his locker in the Brewers clubhouse last week, Milwaukee center fielder Nyjer Morgan said what many were thinking when it came to the Brewers' disappointing 18-26 start this season. It's not early anymore, he admitted. And it's true. With May quickly coming to a close, the Brewers can no longer excuse their slow start by pointing to a calendar. ...
Brewers starting pitcher Marco Estrada has been placed on the 15-day disabled list after straining his right quad running the bases on Wednesday night against the Giants, the team announced in a statement on Thursday afternoon. Right-handed reliever Mike McClendon will be called up from Triple-A Nashville to replace him. According to reports citing general manager Doug Melvin, Estrada...
MILWAUKEE It was May 21, 2010 a little over two years ago now that Jonathan Lucroy crouched behind the plate at Target Field in Minneapolis, completely and utterly overwhelmed. The young Brewers catcher wasn't supposed to be in the major leagues already. He had played just 21 games at the Triple-A level, but injuries and departures had blazed the path for his extraordinarily...
COULDA TURNED TWO, RICKIE
Your browser does not support iframes. DERP! It's not bad enough that Milwaukee Brewers second baseman Rickie Weeks is in the throes of a season-long slump at the plate (.155 BA, 54 strikeouts in 148 at-bats, only 4 homers while knocking in an abysmal 7 RBI), he's also experiencing brain farts out while playing defense [...]
MILWAUKEE With the Brewers reeling seven games back in the NL Central and wild-card race and the season no longer in its early stages, Brewers manager Ron Roenicke met with general manager Doug Melvin and assistant general manager Gord Ash on Wednesday to discuss possible options to turn the season around. One of those options is to execute some kind of trade, giving the team...
If Brewers closer John Axford wants to repeat as winner of the American Mustache Institute's Robert Goulet Memorial Mustached American of the Year Award, he's going to have a difficult time doing so, now that Axford has shaved off the glorious mustache that nabbed him the prestigious award in the first place. Axford tweeted a photo of his follicle remains last night with no words...
The Arizona Diamondbacks placed utility infielder Cody Ransom on waivers earlier this week. On Thursday, the Milwaukee Brewers claimed Ransom and added him to their active roster. A commonplace transaction, repeated hundreds of times throughout the baseball season. Oh, but when it comes to Cody Ransom, nothing is commonplace. When Ransom plays in his first game for the Brewers, he...
While the San Francisco Giants appear to be heating up, the Milwaukee Brewers continue to struggle. The Giants look to complete their second series sweep in three years of the Brewers at Miller Park on Wednesday. Buster Posey and Joaquin Arias each hit two-run homers as San Francisco (23-20) won for the eighth time in 11 games, 6-4 over Milwaukee on Tuesday. The Giants, who have...
LIKE A CANNON, THAT ARM
Here is a video of an amazing throw by San Francisco Giants left fielder Melky Cabrera to gun down Norichika Aoki at home plate. This happened last night in Milwaukee where the Giants defeated the Brewers 6-4.The ball hit by Nyjer Morgan to medium left field seemed deep enough to score the speedy Aoki from third base but Aoki and the Brewers underestimated Cabrera's strong arm...
As previously noted on this website, MLB players sometimes lose track of the outs situation and have had some memorable blunders. Check out Brewers second baseman Rickie Weeks in last Tuesday's game against the San Francisco Giants as he forgets that there is only one out and doesn't turn a double play that would end the inning: Your browser does not support iframes.
The Milwaukee Brewers have claimed infielder Cody Ransom off waivers from the Arizona Diamondbacks according to Tom Haudricourt of the Journal Sentinel. The Brewers were looking for an upgrade at shortstop since they lost Alex Gonzalez due to a knee injury adds Haudricourt. Ransom was hitting .269/.345/.577 with 4 HR's, 13 RBI's and a 145 OPS+ in 52 AB's with the Diamondbacks...
Photo: Christian Peterson/Getty ImagesThe Brewers played another round of musical shortstops today, claiming infielder Cody Ransom off waivers from the Diamondbacks and optioning Edwin Maysonet to Nashville. The 36-year old Ransom has split time between Arizona and AAA Reno this year.Considering the current state of the Brewers infield, Ransom will probably get some playing time...
Brewers News

Delivered to your inbox

You'll also receive Yardbarker's daily Top 10, featuring the best sports stories from around the web. Customize your newsletter to get articles on your favorite sports and teams. And the best part? It's free!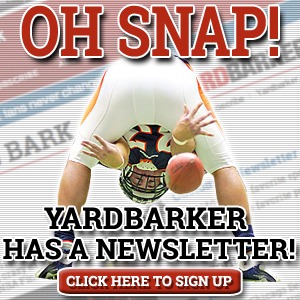 Latest Rumors
The Backyard

Today's Best Stuff

For Bloggers

Join the Yardbarker Network for more promotion, traffic, and money.

Company Info

Help

What is Yardbarker?

Yardbarker is the largest network of sports blogs and pro athlete blogs on the web. This site is the hub of the Yardbarker Network, where our editors and algorithms curate the best sports content from our network and beyond.