Found March 01, 2012 on isportsweb.com:
The 2011 version of the Houston Astros finished dead last. Not just in the NL Central, but in all of baseball. Their 56-106 record was 7 full wins less than the next worst team (Minnesota). To say that there is reason for optimism in 2012 would be misleading.
Jose Altuve
If nothing else, the Astros did give fans a peak at the future. Brian Bogusevic, J.D. Martinez, Jose Altuve, Jimmy Paredes, and Jordan Lyles all spent a bunch of time with the big club and showed plenty of upside. They'll get a full year to show what they can do this time around.
The Astros made a potentially nice move in the offseason. They shipped closer Mark Melancon back to Boston for Jed Lowrie, who is slated to play every day at shortstop. And don't forget that they also brought Jordan Schafer over from the Braves in the Michael Bourn deal late last year to see if he can regenerate his once promising career.
When a team is down and out it's always nice to check in on the farm system to see what's coming. And then you realize that system is ranked 27th and you quickly throw in the towel on any hope for 2012.
3 Up                                                                     
Best Case Scenario for 2012
The only real hope here is that the five 2nd-year players are legit and can eventually transition the Astros out of the MLB basement. The likely scenario is that Houston will once again be baseball's worst team. Carlos Lee is the only "star" (former?) on the roster, unless Wandy Rodriguez falls into that category. And when the aging Lee is the best thing going, that is about as big of a preseason death blow as you can get.
Most Important Astros
Wandy Rodriguez has the ability to dominate the opposition. This year, more than ever, the Astros need him to do that. He quietly put together a good season in 2011. Going 11-11 on a 56-win team is no easy task. The 3.49 ERA that he posted was the 2nd-best number of his career. The reason he is so important is because the Astros need him at maximum value when the trade deadline rolls around. Dealing Rodriguez now is critical. At 33, he is not getting any younger and Houston will need to get some good prospects into the system asap. Trading Rodriguez in 2012 is a must. The same argument can be made for Carlos Lee. If he can show in the season's first 4 months that he can still crush a baseball, Houston should be able to ship him off to an AL team for some usable parts. At this point in the rebuilding process for Houston, it's all about the prospects.
Potential Breakout Players
Really any of the 5 rookies from last year could bust out but I am really intrigued by Jose Altuve. At 5'5'' and 155 pounds, he is one of the smallest players in baseball, but he can flat-out rake. He hit .276 in 221 at-bats for the Astros last year and will parlay that into the starting 2nd base gig in 2012. In parts of 5 minor league seasons, he was a virtual on-base machine. He left the minors with a .387 overall on-base %, and it wasn't because the little guy was drawing an insane amount of walks either. He hit .327 in his minor league career and even belted 15 homers in 2010, the same year that he swiped 42 bases. Also look for Jordan Lyles to take the next step in his development. He came up as a 20-year old last year and started 15 games with mixed results. At 6'4'', 210 lbs, he has the body to be a front-of-the-rotation starter. In the minors, he was nearly a strikeout/inning pitcher. Lyles has big upside.
3 Down
Worst Case Scenario
J.A. Happ
To go down from a 56-win season would be extremely difficult but I suppose it's possible. Last place in the NL Central seems very likely. No one should be surprised if that happens again. But a true worst-case scenario would be if they can't trade Lee and Rodriguez and the 2nd year players take backward steps.
Areas of Concern
The starting rotation was already weak and then Manager Brad Mills yanked Brett Myers out to become the closer. So now, instead of getting 200 innings from a true veteran, they'll get about 60 innings and 25 saves. For a team that gave up nearly 800 runs in 2011 (most in the NL), this particular move seems a bit reckless. The Astros will go to the hill with Rodriguez, Bud Norris, J.A. Happ, Lyles, and perhaps Kyle Weiland. There is some potential there but the road promises to be a rocky one.
Who Needs to Bounce Back From a Down 2011
Jed Lowrie had an up and down run with Boston that included sporadic playing time and injury issues. The Astros are counting on him to be a centerpiece of their team moving forward. Lowrie seemingly has the ability to hit 15-20 homers and carry an average in the neighborhood of .300. If he can do that, Houston will have officially ripped off the Red Sox, a team without a shortstop. J.A. Happ was a massive disappointment in 2011 after showing so much promise in '10 after coming over from Philly. In 13 starts with the Astros in 2010 he was 5-4 with a 3.75 ERA and 1.32 WHIP. In '11, he went 6-15 with a 5.35 ERA and 1.54 WHIP. One more year like that and he'll be fast-tracking his way right out of the big leagues. Houston needs reliable innings from Happ in a bad way for 2012 to not be a total meltdown.
Follow me on Twitter @isportsJoe
Original Story:
http://isportsweb.com/2012/03/01/hous...
THE BACKYARD
BEST OF MAXIM
RELATED ARTICLES
One of the early encouraging signs of the new Astros administration (owner Jim Crane, CEO George Postolos and GM Jeff Luhnow) is that when it comes to the club's place in the Houston landscape, they get it. Since 2005, attendance at Minute Maid Park has declined 26 percent from a 34,744 average to 25,519 in 2011. And with the Texans now a playoff team, the Astros no longer...
KISSIMMEE, Fla. (AP) -- Livan Hernandez, baseball's active leader in games started and innings pitched, looks a little out of place in the spring training locker room of the young Houston Astros. It is nothing unusual for the 37-year-old Hernandez, who will be pitching in his 17th season for his eighth different team. "I played in Arizona with a young team. Washington...
By Mark Mitchell FOXSportsHouston.com Brett Wallace discovered last year how humbling baseball can be. The opening day starting first baseman was demoted to the minor leagues in July and now finds himself at a new position. With Carlos Lee moving from the outfield to first base, Wallace will compete with Chris Johnson and Jimmy Paredes for playing time at third base. Johnson started...
By Mark Mitchell Special to FOXSportsHouston.com Spring training is about renewal and hope, or at least that is what Zach Duke is seeking. Signed to a minor league contract, the former All-Star is looking to regain his prior form and experience another unlikly playoff run. Spring dreaming? Yes, but it could happen. Really, it has before. True, the Astros finished 40 games out of...
By Mark Mitchell FOXSportsHouston.com Jack Cust wants to be a complete baseball player. After spending the last five years as a designated hitter in the American League, he looks forward to "throwing leather" and running around with his teammates. "It is exciting for me to play both sides of the ball," said Cust. "Sometimes when you are just hitting, you...
Jordan Schafer understands the opportunity he has in Houston. It's a young team that's rebuilding and provides fertile ground for young players like Schafer to show what they can do.
Astros right-hander Jordan Lyles has been tinkering with a new grip on his curveball and has been thrilled with the results so far, both during his bullpen sessions early in camp and his two live batting practice appearances.
Maybe we should add QR Codes to our articles.  Then, when information changes and what we've already written is no longer accurate, fans could scan the QR Code and get the latest information! REDNECK: Brett Myers, Astros closer On Tuesday, the Houston Astros announced that their closer will not be $5.5 million man Brandon Lyon, but veteran starter Brett Myers.  Myers is no stranger...
Astros left-handed relief pitcher Sergio Escalona, who injured his elbow swinging a bat early in camp, was examined by team doctors Thursday and was scheduled to undergo an MRI, manager Brad Mills said.
Hey there, hardball fans. Welcome to another edition of the Roster Report. With most of the off-season roster movement finished, it's time to take a long look at a few recent decisions (and an injury) that will affect roster composition for a few squads. If you're the fan of the Athletics, the Astros, or the Yankees, you may want to keep reading. The Houston Astros name SP/RP...
It's possible the Astros could begin the regular season with three left-handers in their starting rotation. Wandy Rodriguez is a lock to be in the rotation if he's not traded, and J.A. Happ has an inside track for another rotation spot. Non-roster invitee Zach Duke will be used in relief and a starter this spring and could crack the rotation.
The Astros have yet to name an Opening Day starter, but all signs point towards veteran left-hander Wandy Rodriguez being on the mound when Houston faces the Colorado Rockies on April 6 at Minute Maid Park. Houston hasn't had a lefty start on Opening Day since Dave Roberts in 1974.
Astros News

Delivered to your inbox

You'll also receive Yardbarker's daily Top 10, featuring the best sports stories from around the web. Customize your newsletter to get articles on your favorite sports and teams. And the best part? It's free!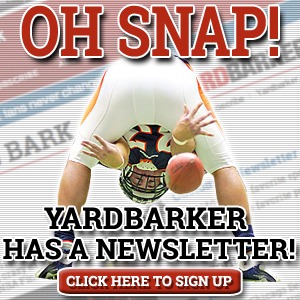 Latest Rumors
The Backyard

Today's Best Stuff

For Bloggers

Join the Yardbarker Network for more promotion, traffic, and money.

Company Info

Help

What is Yardbarker?

Yardbarker is the largest network of sports blogs and pro athlete blogs on the web. This site is the hub of the Yardbarker Network, where our editors and algorithms curate the best sports content from our network and beyond.