Found October 28, 2012 on hardballchat.com:
PLAYERS:
Brian Sabean
,
Matt Cain
,
Tim Lincecum
,
Madison Bumgarner
,
Buster Posey
,
Barry Zito
,
Aaron Rowand
,
Melky Cabrera
,
Jonathan Sanchez
,
Angel Pagan
,
Andres Torres
,
Ramon Ramirez
,
Marco Scutaro
,
Hunter Pence
,
Nate Schierholtz
TEAMS:
San Francisco Giants
,
New York Mets
,
Philadelphia Phillies
This is one of those columns that is destined to get some fan response. Sure, the timing may seem a bit weird as the Giants are on the verge of winning their second World Series championship in three years. This might seem like the worst possible time to question the general manager, but I think it is the best possible time. After all, it is easy to question someone when they are down. It takes a little more chutzpah to question someone when they are on top. To understand the logic here, you need to follow me through the following story. I was sitting at a blackjack table in Bioloxi, Mississippi. The person next to me proceeded to double down on 12, split fives, and stand on 13 when the dealer had a ten showing. Yet, through all of this they ended up winning and they had the tallest stack of chips at the table. So, were they the best poker player or were they the luckiest poker player? Similarly, when looking at baseball teams and baseball executives we have to ask whether the team that wins was always the smartest throughout the season. The temptation is to assume that they are one in the same. After all, if you win two World Series titles in three years you must be doing something right. Truth is that you are, but you aren't necessarily the best poker player on the board. Sometimes you are just dealt a better hand. Sabean has been there long enough to where everything the team has done has his stamp on it. So, he deserves credit for developing Matt Cain, Tim Lincecum, and Madison Bumgarner. He deserves credit for drafting  Buster Posey. Yet, he was the same general manager that signed Barry Zito to a ridiculous contract. Zito came up big in two post season starts this year, but does that erase the entirety of the bad deal? You could throw in Aaron Rowand and others in the equation on the negative side. Yet, let's take a look at what was done this year. The trade that will be his signature move will be the Melky Cabrera for Jonathan Sanchez trade. Sanchez fell apart in Kansas City and Colorado while Cabrera was an MVP candidate through the first four months of the season. The key to evaluating trades to evaluate them at the time of the trade. Cabrera was a good player in Kansas City, but he would be moving to a bigger ballpark and would be moving to a position (left field) where more offense would be expected. Of course, it is fair to question how much he would have accomplished without the benefit of illegal substances. I'm not putting that one on Sabean. However, it was the kind of deal that could have gone either way and it happened to go the Giants way. The second major deal was the acquisition of Angel Pagan for Andres Torres and Ramon Ramirez. It's easy to assume that this one was a slam dunk for the Giants, but it's important to remember that the Mets were getting a center fielder that performed better than Pagan in 2011 and a top flight middle reliever. The final deals were done before the deadline. First, Sabean traded a organizational top ten prospect for Marco Scutaro. Scutaro had an OPS around .600 at sea level, but the Giants felt he could solidify their second base position. All trends and indications said that they should have stuck with the combination they had. All Scutaro did was finish the season hot and won the NLCS MVP. The Hunter Pence deal was lauded at the time, but he had only a .784 OPS at the time of the trade and they traded three prospects to get him. Heck, Nate Schierholtz by himself was a superior player. In this case, the deal really didn't work out for them, but he still collected a key hit or two down the stretch. So, the question remains, is Brian Sabean really that competent or is he just living a really charmed life? I guess it pays to be lucky rather than good.   The post How Much Credit Does Brian Sabean Deserve? appeared first on Hardball Chat Baseball Blog.
Original Story:
http://www.hardballchat.com/2012/10/h...
THE BACKYARD
BEST OF MAXIM
RELATED ARTICLES
Timothy Burke, the video and screen-grab genius over at Deadspin, somehow caught this gem of a screenshot. The image features CSN Bay Area interviewing Matt Cain following the San Francisco Giants World Series sweep, while Ryan Theriot is in the background using the urinal to relieve himself.  Not much else needs to be said here. via Mocksession Article found on: Cosby Sweaters
The Giants' championship formula is a familiar one, just with new faces two years later. Stellar starting pitching was backed by a shut-down bullpen, a late-season surge and a manager making all the right moves. San Francisco captured its second World Series title in three seasons with a stunning sweep of the Tigers, and only catcher Buster Posey was in the lineup for the Game...
Giants catcher Buster Posey had a two run home run down the left field line at Comerica Park during Game 4 of World Series.  This lucky fan was right in the line of the hit and unfortunately for his face, misjudged the path of the ball. I'm sure next time this guy will remember to bring his glove.
The MVP - Most Valuable Panda - sat in the interview room and smiled. A trophy, another World Series ring and the best nickname in baseball all were his. Pablo Sandoval, the Kung Fu Panda, was voted World Series MVP following the San Francisco Giants' sweep of Detroit. He hit .500 with three home runs, a double and four RBIs in 16 Series at-bats. ''I was ready for...
It's over, and it's done. The 2012 MLB season is in the books, and the San Francisco Giants are World Champions. -Giants 4, Tigers 3 (ten innings) Well, where do we go from here? The offseason is now officially upon us, and before we go fully into offseason mode, we're going to reflect on the Giants World Series victory, with five observations from the series...
Thank God we didn't have to play the Giants. It would have taken them two games to sweep us in four. We wouldn't have gotten a hit - not one - and the Giants would still be batting in game two. The lead would be something like 104 to 0, and Nick Swisher would be pitching for us. Girardi would still be keeping A-Rod on the bench - resting him for the critical moment - and...
NBC Sports Baseball Analyst Darryl Hamilton joins Fox Sports Tonight to recap the San Francisco Giants World Series victory.
Tiger Hitters, Not Looking Spry 10) If you are not a Tiger or Giant fan, and are still watching this series, you are, well, me9) This game has 2 runs and 12 hits, and since both of them happened in the second inning, so if didn't tune in early, you really didn't need to tune in at all8) As the Tigers are the first AL team since 1919 to suffer back to back World Series shutouts...
The Giants may have won the World Series last night, but this Tigers fan stunner took home Yump of the Game honors. You may have recalled seeing her and thinking to yourself, "Yep, I would" or "Uh, yump". You also may have thought she had hair similar to a lioness like some idiots I know. But, the bottom line is this lil yump has a cute as hell face and I would have loved...
It became official in the second game of the series: Angel Pagan stole a base, thereby requiring Taco Bell to make good on its promise to give everyone in America a taco, which was the basis for its "Steal a Base, Steal a Taco" campaign. Today's the day: if you would like to brave the madhouse for your $0.89 value, show up at a participating location between 2 p.m. and 6 p...
MLB News

Delivered to your inbox

You'll also receive Yardbarker's daily Top 10, featuring the best sports stories from around the web. Customize your newsletter to get articles on your favorite sports and teams. And the best part? It's free!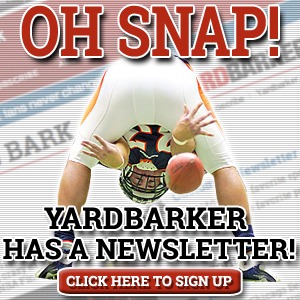 Latest Rumors
Best of Yardbarker

Today's Best Stuff

For Bloggers

Join the Yardbarker Network for more promotion, traffic, and money.

Company Info

Help

What is Yardbarker?

Yardbarker is the largest network of sports blogs and pro athlete blogs on the web. This site is the hub of the Yardbarker Network, where our editors and algorithms curate the best sports content from our network and beyond.