Found March 02, 2013 on World Series Dreaming:
For as long as I have been following the game of baseball, and likely for decades before that, the fans of the Chicago Cubs have made many comments for how stupid the team has been. Whether they accuse the team of being stupid for trading away one of their scrappy young stars, or failing to sign or re-sign one of the better hitters that are on the market, the fans wrath never ceases and strikes a blow year in and year out. However, this is not why the Cubs are stupid; if you want to call them stupid for doing something, do not use either of these ideas. If you actually would listen to what Tom Rickets, Theo Epstein and Jed Hoyer have been saying since day one, you would know that is not in the plans; at least not at the beginning. Those will enter the plans in the next few years, but not today and may not next year. If you want to know why the Cubs have been stupid, let's go back to the 1940s. Did you know that the Cubs were almost the very first team in baseball to install lights? They had the lights purchased and were ready to install them. However, they decided to do their country a service and donate the lights to the war effort. This does not make them stupid, not even close. What does make them stupid though, was waiting around 40 years to once again devise the plan to install lights at Wrigley Field. Part of this, was due to the Wrigley family being cheap, which they have been known to be. They could have added lights any time they wanted to once the war ended, but they decided against the idea to save money. They did not see a reason to add lights, and did not care enough to look at the other teams adding lights and to learn from them. Because they waited so long, they now have to kiss the ring of the politicians in Chicago to get more night games. If they had of installed lights when they first wanted to, chances are day games at Wrigley would be few and far between. The neighborhood would have been used to the multitude of night games, and would have no leg to stand on when trying to keep the amount of night games at a reasonable and low level. The area surrounding Wrigley Field would have been built knowing full well that there will be far more night games than day games, instead of the other way around. As things stand, and have been since before the Cubs finally installed lights in 1988, the neighborhood was built up with the understanding that the team only plays day games. There was no thought of the team playing night games at all since the team did not have any lights. That is why Ricketts and the Cubs have such a hard time upping the amount of night games played at Wrigley. Alderman Tom Tunney is making the Cubs jump through hoops, demanding they pay for various things he feels the city needs in order to accommodate the Cubs request for the increased number of night games they wish to have. Even asking for a later start time on Friday afternoons is meeting resistance from Tunney and the decision makers of Chicago. Even though fans are now used to, prefer and enjoy the vast number of day games the Cubs play when they are at home, if the Cubs had of installed lights when they originally planned to, they would all be used to the number of night games the team plays. They would likely find day games a nuisance as night games is what they are used to. Players always say they enjoy the night games because the schedule allows them to spend more time at home and have dinner with the family. However, they have also said that playing in the heat more often than not tends to wear down the body. Add into the mix that playing a string of night games while on the road, then coming home to play a string of day games tends to mess up your body clock. Add that up to over a six month season, and players can have some issues. I know what you are thinking, and stop. Just stop thinking what you are thinking. Just because they are professionals and get paid millions of dollars does not make them super human. They do not have the powers to "man up and deal with the situation" as fans so often demand out of their athletes; at least not in all cases. Getting into a routine is very important for ball players, and jumping around from day games to night games does not help that routine. Who knows, if the Cubs actually had lights back in 1969 perhaps the Cubs would not have faded down the stretch. Perhaps they would have been able to hold on to their lead over the New York Mets. I freely admit that part of the reason the Cubs do want more night games is to help increase revenue, this is no secret. However, the added bonus of keeping their start players body clocks from going crazy with the different start times makes the adding of more night games all the more important. Allowing players to get into a normal routine can make all the difference in the world!
Original Story:
http://worldseriesdreaming.com/2013/0...
THE BACKYARD
BEST OF MAXIM
RELATED ARTICLES
Jeff Samardzija will be the opening-day starter for the Chicago Cubs, who said Matt Garza will start the season on the disabled list because of an injured muscle in his side that is preventing the right-hander from throwing. Cubs manager Dale Sveum said Sunday that Samardzija will start at Pittsburgh on April 1. He was 9-13 with a 3.81 ERA last season, when he had a 2.39 ERA in...
The injury bug seems to love biting the Chicago Cubs. Shortstop Starlin Castro came out of his team's Spring Training game on Wednesday, February 27, after straining his left hamstring while running out a ground ball. When Castro still felt some stiffness on Friday morning, the Cubs sent him for an MRI. The results came in Saturday. The MRI showed minor inflammation...
Matt Garza will start the season on the disabled list because of an injured muscle in his side that is preventing the right-hander from throwing, and Jeff Samardzija will be the Opening Day starter for the Chicago Cubs. Garza's batting-practice session was cut short on Feb. 17 because of the injured latissimus dorsi muscle. He rested 10 days and was in the second day of a throwing...
Being a Cubs fan is never easy, and the pain has begun already: starting pitcher Matt Garza has been shut down, and will likely miss the entire month of April. On Thursday, the news broke that Garza might start the year on the DL while battling a strained lat. Now, the news has grown even worse with Garza being shut down and missing more than just a start or two to kick the year...
Today, the Chicago Cubs will be facing the San Fransisco Giants in a Spring Training game at 2:05 CST and yes, you can listen to the Game on WGN Radio. Here is today's lineup for your Chicago Cubs: David DeJesus CF Darwin Barney 2B Nate Schierholtz DH Alfonso Soriano LF Brian Bogusevic RF Dioner Navarro C Steve Clevenger 1B Edwin Maysonet SS Christian Villanueva 3B Carlos Villanueva...
Those in charge of the Chicago Cubs are contemplating a re-branding effort that would change some of the most iconic features of the team's logo and uniforms.
Some of the questions about Chicago Cubs' starting pitcher Matt Garza's health have been answered. The Cubs have decided to shut Garza down until possibly the beginning of May. This would mean that Garza will miss the rest of Spring Training and the first month of the regular season. Garza strained the lat on his left side on February 17 while throwing batting practice...
Thanks to the intrepid Carrie Muskat, we know that Matt Garza and Scott Baker are getting back into game shape, though both are likely to start the 2013 season on the disabled list.  Starlin Castro is also out nursing his hamstring, but is expected to come back sooner, possibly within a few days. #Cubs Castro hit in cage Sat, will do that again today. Says if this was reg season...
Cubs right-hander Jeff Samardzija pitched out of enough trouble to get through three innings with the lead in Chicago's 6-2 loss to the Arizona Diamondbacks on Friday. Samardzija - a candidate to start opening day at Pittsburgh on April 1 - walked three, including two when he loaded the bases with none out in the second inning, was making his second spring start and became the...
Taylor Green singled, doubled, drove-in a run, and scored another, Carlos Gomez crushed a tape-measure home run, and Marco Estrada tossed four innings of one-hit shutout ball and combined with five relievers to throw a two-hitter, as the Milwaukee Brewers edged a Cubs split squad 4-3 in Cactus League action this afternoon at Dwight Patterson Field at HoHoKam Park in Mesa, AZ ...
MLB News

Delivered to your inbox

You'll also receive Yardbarker's daily Top 10, featuring the best sports stories from around the web. Customize your newsletter to get articles on your favorite sports and teams. And the best part? It's free!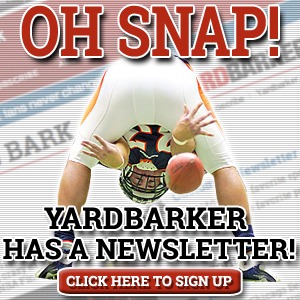 Latest Rumors
Best of Yardbarker

Today's Best Stuff

For Bloggers

Join the Yardbarker Network for more promotion, traffic, and money.

Company Info

Help

What is Yardbarker?

Yardbarker is the largest network of sports blogs and pro athlete blogs on the web. This site is the hub of the Yardbarker Network, where our editors and algorithms curate the best sports content from our network and beyond.