Found October 26, 2012 on Fox Sports:
PLAYERS:
Jim Leyland
,
Ryan Vogelsong
,
Matt Cain
,
Quintin Berry
,
Andy Dirks
,
Miguel Cabrera
,
Prince Fielder
,
Doug Fister
,
Drew Smyly
,
Phil Coke
,
Jose Valverde
,
Joaquin Benoit
,
Anibal Sanchez
,
Max Scherzer
,
Justin Verlander
TEAMS:
Detroit Tigers
,
San Francisco Giants
,
New York Yankees
The Detroit Tigers in the World Series look like the New York Yankees in the ALCS. But all that is about to change. It should change, anyway. The Tigers are home, they're facing right-handed pitching and they no longer can use their five-day layoff as an excuse. The simple way to look at this, as manager Jim Leyland said Friday, is that the Tigers are two games back with five to play, and playing the team they need to catch. Sounds simple, and it is -- if the Tigers follow this four-step program: 1. Start hitting. Well, duh. The supposedly mighty Tigers are averaging 3.55 runs per game in the postseason, nearly a full run below their regular-season average. Such a dropoff is not unusual in the playoffs, but the Tigers rely on their offense -- specifically, their power -- more than most clubs. The good news is, the Tigers will gain two advantages now that the Series has moved to Detroit: The designated hitter will return in the American League park, and the Giants' next two starting pitchers are right-handed. Those two pitchers -- Ryan Vogelsong and Matt Cain -- are probably the Giants' best. But the Tigers now will incorporate outfielders Quintin Berry, a speedster who generally bats second against righties, and Andy Dirks, a contact type who hits sixth behind Delmon Young. Plus, Young will be out of left field and in his more familiar role as a DH, improving the defense. The Tigers are batting .167 with a .481 OPS in the Series, .255 with a .679 OPS in the postseason. Vogelsong presents a huge challenge, but Miguel Cabrera, Prince Fielder and Co. have hit righties better than lefties all season. They need to continue that trend. 2. Seize the moment at home. Duh, again (sorry, folks, this isn't rocket science). The Tigers are 4-0 at Comerica Park in the postseason, and they were 50-31 at home during the regular season, tied for second best in the majors behind the Yankees, who were 51-30. Comerica will be cold and maybe rainy -- conditions that are far more common in the AL Central than the NL West, though not completely unfamiliar to a team from San Francisco. In any case, the home-field advantage goes only so far. "Well, I think you always feel more comfortable in your own bed -- I don't think there's any question about that," Leyland said. "But to me, it's the ability to be able to concentrate and relax. You have to have that combination in situations like this." 3. Avoid the bullpen. Triple-duh, but this one will be easier said than done. Tigers starter Doug Fister worked six terrific innings in Game 2, only to be replaced with one on in the seventh by rookie lefty Drew Smyly. Why Smyly? Because Leyland did not want to use veteran Phil Coke in that spot, not when Coke essentially has replaced Jose Valverde as the team's closer. Valverde and fellow righty Joaquin Benoit have combined to allow 11 runs in seven innings this postseason, compared to two runs in 19 2/3 innings by the rest of the Tigers' relievers. Problem is, Valverde and Benoit previously occupied such prominent roles, the overall effect is something akin to a house of cards. Thus, the Tigers likely will need right-hander Anibal Sanchez to pitch deep into Game 3 in his first postseason start. Sanchez is 3-1 with a 1.98 ERA in five career starts against the Giants, and those numbers would be better if not for one hiccup this season. The Tigers' Game 4 starter, righty Max Scherzer, seemingly is recovered from a right deltoid strain that bothered him at the end of the regular season. A lengthy start, however, might be too much to ask of him. Scherzer, who led the majors with 11.08 strikeouts per nine innings in the regular season, has been even better in the postseason, striking out 18 in 11 innings. Alas, his bursts of brilliance were brief -- he did not complete six innings in either start. 4. Get the ball to Justin Verlander. Meaning, win one of the next two games to ensure that the best pitcher on the planet starts Game 5 at home with a chance to force the series back to San Francisco. That isn't too much to ask, is it? No, and neither is a rebound performance from Verlander after his clunker in Game 1. Seriously, would anyone be surprised if Verlander pitched a no-hitter if he got another start? Force the series back to San Francisco, and anything can happen for the Tigers. Force the series back to San Francisco, and they will stand a chance of doing something special, rather than making like the World Series version of the Yankees.
Original Story:
http://msn.foxsports.com/mlb/story/de...
THE BACKYARD
BEST OF MAXIM
RELATED ARTICLES
I'LL BE BACK
Jim Leyland has been described as a cranky old man on more than one occasion, but he says only half of that statement is true.
Jim Leyland's career in professional baseball has come full circle. The Detroit Tigers put Leyland back in the dugout six years ago after employing him as a light-hitting catcher in the minors and a manager in their farm system. It has been a win-win reunion. Leyland led the Tigers to the World Series in 2006, giving the franchise a chance to win its first title since 1984...
The absence of a certified closer hurt Detroit for the first time in the postseason Thursday night, and it's something Jim Leyland is going to have to deal with if the Tigers are to get out of their 0-2 hole to San Francisco and win the World Series. Some people will recall that Leyland dealt with not having a bona fide closer with his quality Pittsburgh Pirates teams of the...
Jim Leyland feels no need to make a rah-rah speech to the Tigers, who trail the Giants three games to none in the World Series. "You don't have to tell them anything," the Detroit manager said of his players. "They can count. We're down 3-0. There's no secret formula or message to them. We have to come out and win a game. You don't think about four...
Tigers manager Jim Leyland said it best, and he wasn't just being gracious. "I don't think they're getting any breaks," Leyland said of the Giants. "I think they've earned everything they got." Leyland exaggerated slightly, but surely it is no accident that the Giants lead the World Series, two games to none. The Giants are playing exquisite...
Now that he has followed Jim Leyland's advice, Mike Redmond believes he's ready to manage in the major leagues. The former catcher had his first interview for a big-league job this week when he met with Miami Marlins officials in New York City. Redmond spent the past two years managing Class A teams in the Toronto Blue Jays' system. Redmond says Leyland once told him...
Detroit Tigers pitcher Doug Fister was hit in the head with a line drive during Game 2 of the World Series. San Francisco left fielder Gregor Blanco lined the ball off of Fister's head. Fister is incredibly lucky that he wasn't seriously injured.
MIAMI (AP) -- Now that he has followed Jim Leyland's advice, Mike Redmond believes he's ready to manage in the major leagues. The former catcher had his first interview for a big-league job this week when he met with Miami Marlins officials in New York City. Redmond spent the past two years managing Class A teams in the Toronto Blue Jays' system. Redmond says Leyland...
Episode 94: Bless You Giants is out! In the ninety-fourth episode, Thomas and Danny talk with Al Beaton of Bless You Boys, the SB Nation Tigers blog, about the first two games of the World Series, Verlander's meltdown, Valverde's ineffectiveness, Jim Leyland and Bruce Bochy's similarities, and what to expect from the rest of the Fall Classic. Click on the image below to...
The Tigers aren't making this more complicated than it needs to be. "They won at home, and now we need to win at home," Game 3 starter Anibal Sanchez said Friday afternoon. "We've got a long way to go." They've heard the stats -- only one team in five manages to win the World Series after falling behind 2-0 -- but that's not what they are talking...
If you've got aging bananas in the fruit bowl, make banana bread. That just about sums up what manager Jim Leyland did Wednesday night as his Detroit Tigers were getting drubbed, 8-3, at San Francisco in the opening game of the World Series. Leyland tried to give all of his hitters an at-bat in an effort to get them up to speed, and he also went through some of his bullpen...
People are saying the Giants are getting all the breaks. In this World Series, I have to disagree.  Big time. So far, the Giants have outplayed and outperformed the Tigers.  And it's not even close. Game 2 fell because of two coaching decisions on the Detroit side, and only one was really a Jim Leyland call.  You know what they are. Prince Fielder Going Home This will be the...
MLB News

Delivered to your inbox

You'll also receive Yardbarker's daily Top 10, featuring the best sports stories from around the web. Customize your newsletter to get articles on your favorite sports and teams. And the best part? It's free!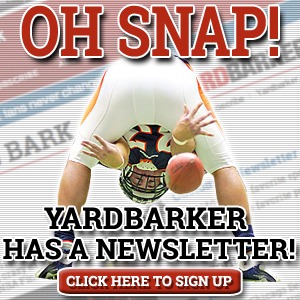 Latest Rumors
The Backyard

Today's Best Stuff

For Bloggers

Join the Yardbarker Network for more promotion, traffic, and money.

Company Info

Help

What is Yardbarker?

Yardbarker is the largest network of sports blogs and pro athlete blogs on the web. This site is the hub of the Yardbarker Network, where our editors and algorithms curate the best sports content from our network and beyond.