Found December 16, 2012 on The Rhino and Compass:
PLAYERS:
Maicer Izturis
,
Melky Cabrera
,
Esmil Rogers
,
Josh Johnson
,
Mark Buehrle
,
Jose Reyes
,
John Buck
,
RA Dickey
,
Josh Thole
,
Kelly Johnson
,
Jose Bautista
TEAMS:
Toronto Blue Jays
,
New York Mets
,
Boston Red Sox
The Toronto Blue Jays have set out to completely remake their team this offseason. They have added Maicer Izturis and Melky Cabrera through free agency. They have acquired Esmil Rogers via trade from the Indians. They executed a much bigger trade with the Marlins, as I am sure you have heard, adding Josh Johnson and Mark Buehrle, infielders Jose Reyes (an all star) and Emlio Bonifacio as well as catcher John Buck. They are turning Buck and more into R.A Dickey and Josh Thole from the Mets. The Red Sox and Yankees are down, and this certainly is the time to make a move if a move is easily made in the AL East so I can't fault the Jays for trying. I do question if they are as good as everyone expects, however. Let me specifically note the questions I have. - For a team that has been run so affordably, will the influx in payroll be a major concern for ownership? This isn't a huge question for me, to be honest, though I can understand why it would be for so many. If the moves have been made, you have to believe that the payroll was approved. The question then becomes "how long will the Blue Jays keep this roster together?" On the one hand, it's tough to maintain a payroll this large for more than one season outside of New York and Los Angeles. On the other hand, if they want to win this season, what does 2014 matter? - As for the players, my biggest concern is with the supposedly elite rotation. Since joining the National League, R.A. Dickey has been a legitimate force. He came on late in his career though, after a troubled, journeyman career in the American League. True, he developed the knuckler after he turned 30, but there are so many red flags around him, I can't believe the price (including Travis D'Arnaud, an elite catching prospect) was so high. First, there is the question of how his stuff will translate to an AL East known for its offense. Then there are the statistical anomalies of the past season. 80% strand rate? A K rate that jumped more than 3/game last year? Certainly, Dickey is better than he was, but I don't think he is worth top prospects. Mark Buehrle is on the wrong side of 30 as well. His soft stuff worked in the AL Central, where there was no offense, and went to the National League last year. Can he be effective in a tougher AL East? Will Josh Johnson stay healthy?  It's a lot of money for a lot of question marks. It was a lot of prospect depth for a a lot of question marks. - The offense is better with Reyes at the top of the order, and Bonifacio or Izturis in the lineup instead of Kelly Johnson, but the offense wasn't much of a problem last year. Keeping Jose Bautista healthy seems like the eminent concern. Again, was the money and prospect talent sacrificed worth it? - And say nothing of Melky Cabrera. He's not a great fielder, so most of his value comes from his bat, which came alive over the past two seasons. His power jumped, which is possibly explained by his PED usage, which assumably will not be continuing anymore, since he was caught. His leap in batting average is almost directly tied to an outrageous BABIP, which was .379 last year. That's nuts. Two years ago, it was .288, which lined up more accurately with his career average (to that point) If you took that BABIP and applied it to his average last year, instead of .346, Cabrera would have hit .243. Is that really worth the risk? He is probably a better player than that now, but how can you be sure that a clean Melky Cabrera is much better than that? The Blue Jays, obviously, look to be a better this year. If the Dickey trade goes through, though, I'm still not convinced that they are as good as people think.
Original Story:
http://ryanhenning.com/?p=5029
THE BACKYARD
BEST OF MAXIM
RELATED ARTICLES
The pending trade between the New York Mets and Toronto Blue Jays has people buzzing. Opinions have been bandied about everywhere. While one more voice on the subject might get lost in the cacophony, here is the Fan's take on the deal as it stands in the rumor mill. The deal, if completed, makes the Blue Jays a mighty tough team in the American League East and an instant darling...
The Toronto Blue Jays look like the probable landing place for the reigning National League Cy Young award winner.  The Blue Jays have been interested in R.A. Dickey all offseason, and it seems they may step up to the plate and offer the New York Mets what they want in order deal Dickey. According to Jon Heyman of CBS Sports, the Mets will likely receive Travis D'Arnaud...
The Toronto Blue Jays and New York Mets have tenatively agreed to a trade that would send RA Dickey from New York to Toronto, continuing a transformation of a Blue Jays team that won just 73 games this past season. Adding Dickey would complete a full-blown turnover of the Jays rotation, with Brandon Morrow, JA Happ, and Ricky Romero as the only holdovers from last year. Aside from...
The New York Mets and Toronto Blue Jays have agreed to the parameters of a seven or eight player deal that would send reigning National League Cy Young award winner R.A. Dickey to the Toronto Blue Jays for a package of players. Details have emerged as to which prospects would be included in the deal. The Mets would trade Dickey, catcher Josh Thole and an unnamed "non-elite" prospect...
A week ago, I was one of many who criticized the Royals decision to trade a package of young talent — including Wil Myers, one of the best offensive prospects in the game — for James Shields, even though I'm a big fan of his and I think he's likely to provide a significant upgrade to Kansas City's rotation. The argument against making the trade essentially went something...
It sounds more and more likely that this Travis d'Arnaud for R.A. Dickey trade is going to happen.d'Arnaud: power and a strong armTravis d'Arnaud is a top quality prospect, and the Mets fans should be pleased to land him, provided they don't have to give up much more than Dickey to get him.Before tearing his posterior cruciate ligament this past June, Travis d'...
As the Toronto Blue Jays continue their makeover from cellar dweller to top tier contender, the next target appears to be R.A. Dickey, who is the reigning National League Cy Young winner the New York Mets are expected to trade. After failing to come close enough to being able to reach an agreement on a two year contract extension, the Mets may be forced to trade Dickey, with the...
There has been a lot of back and forth the last few days between the New York Mets and Toronto Blue Jays and many days of names being tossed around in the media. The main piece in the deal is 2012 Cy Young Award winner R. A. Dickey. A couple...
The Toronto Blue Jays have struck a deal with National League Cy Young Award winner R.A. Dickey on a two-year, $25 million contract extension that paves the way an anticipated six-player trade with the New York Mets to be finalized. The money in the deal, which will run through the 2015 season, will be comparable to the two-year, $26 million extension he sought from the Mets before...
So, it seems as if the Toronto Blue Jays might have gotten their man in R.A. Dickey. The Jays gave up a very prized prospect in catcher Travis d'Arnaud to land Dickey in the Great White North, but was it worth it? The Jays appear to have mortgaged their future for right now and in [...]
MLB News

Delivered to your inbox

You'll also receive Yardbarker's daily Top 10, featuring the best sports stories from around the web. Customize your newsletter to get articles on your favorite sports and teams. And the best part? It's free!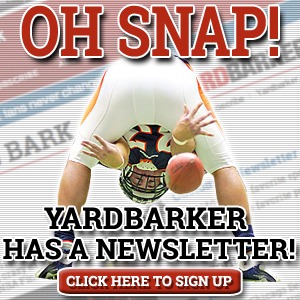 Latest Rumors
Best of Yardbarker

Today's Best Stuff

For Bloggers

Join the Yardbarker Network for more promotion, traffic, and money.

Company Info

Help

What is Yardbarker?

Yardbarker is the largest network of sports blogs and pro athlete blogs on the web. This site is the hub of the Yardbarker Network, where our editors and algorithms curate the best sports content from our network and beyond.