Found October 10, 2012 on IT IS HIGH, IT IS FAR, IT IS caught:
In 2001, the Yankees accomplished the impossible. On successive nights, Tino Martinez and Scott Brosius belted two-out, bottom-of-the-ninth home runs off an unstoppable Arizona closer to stave off Word Series elimination. After the second night, which Joe Torre described as "Groundhog Day," everybody in the free world - everybody who had ever watched a Doris Day movie or visited Disneyland - knew what was going to happen next: The Yankees would lift New York City and America out of its post 9/11 doldrums... the Yankees would win.After moments like that, you don't lose. But... they did. (And Arizona, to its eternal shame, mocked God by playing "New York, New York" on its public address system, while the team celebrated on the field. HEY, DIAMONDBACKS, THINK THERE'S A REASON YOU HAVEN'T BEEN BACK? THINK MAYBE THE JUJU GODS REMEMBER?)Two nights ago, Ichiro Suzuki did something I've never seen. It was his instant Twister game, four-point landing at ...
Original Story:
http://johnsterling.blogspot.com/2012...
THE BACKYARD
BEST OF MAXIM
RELATED ARTICLES
From Mark Hale:There is a major question about Derek Jeter's health right now. In the third inning of the Yankees' 3-2, 12-inning victory over the Orioles last night, Jeter, who has been battling a late season, left-ankle bone bruise, fouled a ball off his left foot. Jeter was badly limping and hobbling during the game, an alarming development. It became more alarming for...
For one night, Raul Ibanez was the greatest hitter of all time. Pinch-hitting for Alex Rodriguez -- who many predicted would someday hold that title -- in the bottom of the ninth, Ibanez launched a home run into the right-field stands at Yankee Stadium to tie the game. Then, improbably, impossibly, he hit another in the 12th inning, sending New York into a frenzy and the Yankees...
In the aftermath of a spellbinding October night that recalled Reggie, Tino and Brosius, the Yankees' clubhouse hummed with electricity like the B train's third rail. While the victors tried to make sense of what had transpired -- " EXCITEMENT OVERLOAD! " Nick Swisher shouted from the next room -- the man of the hour moved about quietly. Raul Ibanez, who on Wednesday...
Alex Rodriguez carried the New York Yankees to the 2009 World Series title with an amazing power display. His more recent postseason memories all too often involve ending with a swing and a miss. A-Rod struck out to end the Yankees' 3-2 loss to the Baltimore Orioles in Game 2 of their division series Monday night, and calls to drop him from the No. 3 spot in the lineup and give...
In the first two games against Baltimore, Alex Rodriguez is 1 for 9 with a walk and five strikeouts. last night, he came to the plate five times and made five outs, though his first inning double play was a line drive that could have easily been a base hit had it gone a foot further to the left. Still, with his game-ending strikeout that followed a seventh inning whiff with the...
NEW YORK -- The manager known for robotically following his "binder" full of stats took one of the biggest gambles in postseason history because, he would say later, it was a "gut feeling." That gut feeling, as well as the guts to follow through on it by New York Yankees manager Joe Girardi, helped his team pull off a wild 3-2, 12-inning victory over the Baltimore...
Derek Jeter hit an RBI triple just past bubble-blowing center fielder Adam Jones, moving the New York Yankees into a 1-all tie with the Baltimore Orioles after three innings Wednesday night in Game 3 of their AL division series. The best-of-five series was tied at 1 game apiece, with all remaining games in the Bronx. With Russell Martin on third following a one-out double off Miguel...
As Alex Rodriguez struggles through the playoffs, it makes you wonder, what kind of legacy will Alex Rodriguez leave? One of great accomplishments, or one marred by failure and deceit?The post What Legacy Will Alex Rodriguez Leave? appeared first on The Sports Fan Journal.
Jerry Girardi, the father of New York Yankees manager Joe, passed away at the age of 81.Jerry had been battling Alzheimer's disease. It was reported that he passed away on Saturday but the younger Girardi kept it secret until today.Joe Girardi does plan on managing in tonight's Game 4 of the ALDS against the Baltimore Orioles at Yankee Stadium, according to Joel Sherman...
NEW YORK -- Joe Girardi didn't drop struggling slugger Alex Rodriguez in the order, as New York Yankees fans had hoped. Instead, he took a much bigger gamble and it paid off, as the Yankees used another ninth-inning rally on Wednesday to top the Baltimore Orioles and take the lead in the American League Division Series. Raul Ibanez pinch-hit for Rodriguez in the ninth and tied...
Nine years ago Thursday, the bad blood boiled over. During Game 3 of the American League Championship Series between the Yankees and Red Sox, starter Pedro Martinez triggered fireworks when he drilled New York outfielder Karim Garcia. Shortly thereafter, Yankees starter Roger Clemens tossed a fastball that soared around Manny Ramirez's head. At that point,...
Yankees News

Delivered to your inbox

You'll also receive Yardbarker's daily Top 10, featuring the best sports stories from around the web. Customize your newsletter to get articles on your favorite sports and teams. And the best part? It's free!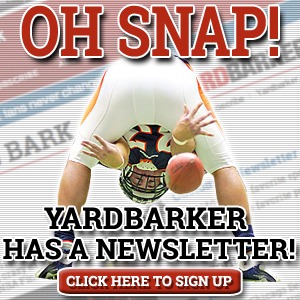 Latest Rumors
Best of Yardbarker

Today's Best Stuff

For Bloggers

Join the Yardbarker Network for more promotion, traffic, and money.

Company Info

Help

What is Yardbarker?

Yardbarker is the largest network of sports blogs and pro athlete blogs on the web. This site is the hub of the Yardbarker Network, where our editors and algorithms curate the best sports content from our network and beyond.