Found March 14, 2012 on Fox Sports Arizona:
PLAYERS:
Patrick Corbin
,
Trevor Bauer
,
Tyler Skaggs
,
Kevin Towers
,
Josh Collmenter
,
Wade Miley
,
Jarrod Parker
,
Bryan Shaw
,
Kirk Gibson
,
Charles Brewer
,
Ian Kennedy
,
Daniel Hudson
,
Trevor Cahill
,
Craig Breslow
,
Miguel Montero
,
Stephen Drew
,
Hank Conger
,
Travis d`Arnaud
,
Sebastian Valle
,
Tony Sanchez
,
Jesus Montero
,
JP Arencibia
,
Gerardo Parra
TEAMS:
Arizona Diamondbacks
,
Oakland Athletics
,
Los Angeles Angels
,
Toronto Blue Jays
,
Seattle Mariners
SCOTTSDALE, Ariz. The Diamondbacks made a point to send their top pitching prospects against major league hitters this spring, and again Wednesday, the kids did not flinch. Patrick Corbin, Trevor Bauer and Tyler Skaggs have thrown a combined seven shutout innings over the last two days, supplying further evidence in support of their high national profiles and the teams deep depth. Corbin threw three scoreless innings in his first spring start against San Diego on Wednesday, striking out three while limiting the Padres to three singles. Tireless Trevor Bauer followed with three strikeouts in two shutout innings -- that after throwing 75 or so pitches in the bullpen before he entered. A day earlier, Skaggs threw two innings of shutout relief against the Los Angeles Angels. You could almost see the future salivate. Bauer is ranked the No. 9 minor league prospect by Baseball America. Skaggs is ranked No. 13. Corbin is ranked as the 30th best left-handed pitching prospect. Were excited about the young pitching, general manager Kevin Towers said. The exercise in immersion not only gave the D-backs a chance to evaluate their prospects against top competition, it also enabled them to judge their stuff and composure and perhaps even establish an early pecking order in the event that a major league opening develops at some point during the regular season. Despite making strong impressions, none are expected to break camp with the D-backs, although that hardly means they will not pitch in the majors this year. The D-backs promoted nine pitchers from minor last season, including now No. 5 starter Josh Collmenter, down-the-stretch starter Wade Miley, Jarrod Parker, Bryan Shaw and Ryan Cook. Collmenter, Parker and Shaw were on the playoff roster. The way I look at it, as we get down the road in spring training, thinking about (opening day) April 6, were going to have to make decisions, manager Kirk Gibson said. Using Bauer in relief Wednesday was part of the learning process. The D-backs plan for Bauer to be a starter this season. But what happens if a relief opening occurs in midseason? If we want to bring one of our kids up and we need some length in the bullpen, would Pat Corbin be a guy, or Tyler Skaggs, or Trevor Bauer, if they absolutely have the best stuff?" Gibson said. "I think you want to leave your options open. We want to win a World Series this year, so this might be the beginning of how we see how he might do a modified way he gets ready.Im very encouraged by them. We liked them when they came in. We still like them. The D-backs length in young pitching does not stop with Bauer, Skaggs and Corbin. Archie Bradley, like Bauer a high first-round pick last season, is ranked No. 23 overall by Baseball America. A high school player last season, he is farther away. David Holmberg is the No. 13 left-hander, Miley is ranked No. 19 and Charles Brewer has drawn positive words. It is a deep group, so deep that it is possible not all will spend the majority of their major league careers in a D-backs uniform. It has to do with need, and with dealing from strength. General manager Kevin Towers expects to open exploratory talks on long-term contracts with top two starters Ian Kennedy and Daniel Hudson. Both have said they are at least willing to listen. Trevor Cahill is under contract for three more years. If all goes well, the top three rotation spots could be locked in soon. Towers used top prospect Parker he is ranked No. 26 by Baseball America and will open the season in Oaklands rotation to acquire Cahill and reliever Craig Breslow. The other factor is the Miguel Montero situation. The sides failed to reach an agreement on a long-term contract after Montero agreed to a one-year, 5.9 million deal to avoid arbitration, and it is possible Montero will price himself out of the D-backs salary range with a similar year to 2011, when he was one of the best hitting catchers in the majors. The sides never were believed close in their talks, and if the D-backs succeed in locking up Kennedy andor Hudson, it would shrink the bank account. The D-backs are thin in catching, and middle infield if Stephen Drew is slow to recover from his injury, a trade might be the best option. They are scouting both positions, and they have inquired about Angels catcher Hank Conger, although scouts say Conger must rebuild his game after a nagging injury limited his major league playing time last season. The top catching prospects include Torontos Travis DArnaud, Philadelphias Sebastian Valle and Pittsburghs Tony Sanchez. The Giants have three young prospects on Baseball Americas preseason list. Boston has two, and so do the Yankees, even after trading Jesus Montero to Seattle last winter. DArnaud is blocked by J.P. Arencibia in Toronto and could be a target. He is ranked as the No. 17 prospect after winning the Class AA Eastern League MVP last season. It would cost a lot to get a top catcher, but Towers will match his evaluation against anyone. Teams have asked the D-backs about Gerardo Parra, but Towers said he has engaged in no talks. Teams have not asked about the D-backs top pitchers, Towers said, because they do not believe the D-backs will part with one. Towers has never been afraid togive a prospect to get one.Follow Jack Magruder on Twitter
Original Story:
http://www.foxsportsarizona.com/03/14...
THE BACKYARD
BEST OF MAXIM
RELATED ARTICLES
SCOTTSDALE The Diamondbacks have yet to say it and might never, but Stephen Drew came close to admitting Tuesday that he will not be ready for the start of the regular season April 6. The opener is 23 days away, and Drew has not slid, run the bases hard or faced much live pitching. For me, you have to run bases, and you have to feel really comfortable doing those type of things...
SCOTTSDALE, Ariz. -- The Diamondbacks made first cuts of the spring Thursday, sending 12 players out of major league camp. D-backs manager Kirk Gibson mentioned Sunday that some cuts were coming and was torn between sending out relievers and young starting pitchers. It appears he went with relievers, as six relievers were optioned or reassigned. Among the more notable cuts were...
With Spring Training well underway, it's time for one of our favorite things in all the world: Season Previews. Five years ago, they began as a semi-serious analysis and ended up as half-assed haiku. We're just gonna go with what we know. Continuing our preview of the National League West, here is our version of the 2012 Arizona Diamondbacks. Kubel in left now Justin...
After dismal 65-win campaign that led to an in-season managerial change and an overhaul in the front office, the D-Backs won the National League West in 2011 and earned a first-round series with the Brewers on the heels of a 94-win season. While improvement was expected, the division title was a surprise to many as few improvements were made by new general manager Kevin Towers. Plenty...
MESA, Ariz. -- It's not unusual for a major league baseball team to make calculated moves in building a bench. It is, however, unusual that the end result has an average age of just under 35. With Henry Blanco (40), John McDonald (37), Lyle Overbay (35), Geoff Blum (38) and Willie Bloomquist (34) -- who will likely start early in the season as Stephen Drew rehabs a broken ankle...
After dismal 65-win campaign that led to an in-season managerial change and an overhaul in the front office, the D-Backs won the National League West in 2011 and earned a first-round series with the Brewers on the heels of a 94-win season. While improvement was expected, the division title was a surprise to many as few improvements were made by new general manager Kevin Towers. Plenty...
Paul Goldschmidt blasted a grand slam home run, Henry Blanco and Alfredo Marte slugged solo shots, and Ian Kennedy threw four shutout innings, as the Arizona Diamondbacks coasted to an 12-2 victory over a split squad of Cubs in Cactus League action at Dwight Patterson Field at HoHoKam Park in warm & sunny Mesa, AZ, this afternoon. Ryan Dempster got the start for the Cubs...
At this time last year there wasn't a lot of buzz at Arizona Diamondbacks Spring Training about a charge to an NL West division title. A year and 94 wins later, the D-Backs are the defending division champs looking to get back to the playoffs once again. Will they be able to fight off their competition and regression from just 88 pythagorean wins in 2011?
The Arizona Diamondbacks announced a dozen roster moves today as they begin to pare down the roster in big league spring training camp.
From the Waterloo Bucks Waterloo, IA - The Waterloo Bucks, a member of the Northwoods League, have announced the signing of outfielder Benny Roberts to their roster for the 2012 season. Roberts, a freshman at Washington State University, is the 20th player to be named to Waterloo's roster for the team's 18th season. The left-handed hitting center fielder was a seventh...
MESA, Ariz. -- With so much of the baseball world buzzing about Diamondbacks pitching prospect Trevor Bauer, not even an analytics conference put on by the Society for American Baseball Research is safe from Bauer mania. Moderating a panel on advanced analytics, FOXSports.com senior baseball writer Ken Rosenthal used Bauer as an example in asking a panel of general managers if new...
MLB News

Delivered to your inbox

You'll also receive Yardbarker's daily Top 10, featuring the best sports stories from around the web. Customize your newsletter to get articles on your favorite sports and teams. And the best part? It's free!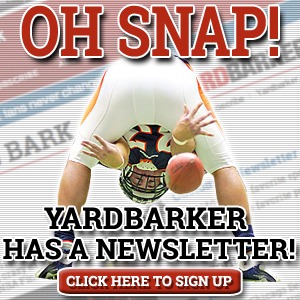 Latest Rumors
The Backyard

Today's Best Stuff

For Bloggers

Join the Yardbarker Network for more promotion, traffic, and money.

Company Info

Help

What is Yardbarker?

Yardbarker is the largest network of sports blogs and pro athlete blogs on the web. This site is the hub of the Yardbarker Network, where our editors and algorithms curate the best sports content from our network and beyond.