Found August 06, 2012 on Death, Taxes, and Rebuilding:
PLAYERS:
CC Sabathia
,
Cliff Lee
,
Shin-Soo Choo
,
Victor Martinez
,
Justin Masterson
,
Carlos Santana
,
Jason Kipnis
,
Matt LaPorta
,
Drew Pomeranz
,
Ubaldo Jimenez
,
Michael Brantley
,
Chris Perez
,
Manny Acta
TEAMS:
New York Yankees
,
Philadelphia Phillies
,
Cleveland Indians
,
Detroit Tigers
,
Colorado Rockies
,
Chicago White Sox
,
Boston Red Sox
Follow @ClevelandDTR
I'm frustrated.  Really frustrated.  Quite possibly the most frustrated I've ever been with the Indians.  That's saying a lot considering how many disappointing years Indians fans have had to deal with, especially in the last five years.
In 2008, the Indians looked like legitimate World Series contenders coming off of a 2007 season where they were only one game away from the World Series.  But that team fell flat on its face and C.C. Sabathia was traded in July.  Then, the Indians still had high expectations in 2009 due to the emergence of Cliff Lee and Shin-Soo Choo, but that team also fizzled and Lee and Victor Martinez were also traded off, which signified a complete attempt to "rebuild."  The second half of 2009 and all of 2010 were rough to watch, but we were sold on the idea that the Indians had amassed a lot of young talent that would be ready to contend in 2012 and 2013.  Outside of a first fluky 45 games in 2011, that team was average at best.  Which finally leads us to 2012.
For the last 3 years, Indians endured pretty bad baseball, but we endured it because 2012 was supposed to be our coming of age.  A young, talented team of Justin Masterson, Shin Soo Choo, Carlos Santana, Jason Kipnis, Matt Laporta, Alex White, Drew Pomeranz, Ubaldo Jimenez, Michael Brantley, Lonnie Chissenhall, and Chris Perez was supposed to make us playoff worthy for the next two years, and maybe into 2014.  But this season has been a disaster.  The Indians failed to take advantage of a gift-wrapped first half of the season, as they were blessed with arguably the worst division in baseball and another slow start by the much more talented Tigers.  But the Tribe failed to ever really capitalize on the opportunity.  Rather they played around .500 ball, had a few nice series wins, but really never put it all together.  Heading into the All-Star Break, things looked shaky.  The Indians had fallen a few games out of first, the White Sox were playing better than expected and bolstered their lineup with the addition of Kevin Youklis, and the division favorite Tigers finally seemed to be coming on.  But I don't think anyone could have predicted that the wheels would fall off this quickly.  Since the All-Star Break, the Indians are 6-17, have lost their last 9 games, and have been outscored 74-28 during the losing streak.  What's even more embarrassing is that this was the easy part of their 2nd half schedule.  The Indians didn't play one team that was a shoe-in for the playoffs.  Six of their next eight series are against the Red Sox, Yankees, Rangers, Angels, and the red-hot Oakland A's, so expect more tough losses.
Overall, this was just one of the most frustrating years I've ever endured as an Indians fan.  It wasn't just that we had legitimate playoff expectations and failed to come anywhere near that, it wasn't just that we had one of the most embarrasing 10-game stretches that I can remember to essentially bury any hopes we had for salvaging the season, and it wasn't just that so many guys underperformed (Masterson, Jimenez, Santana, etc.), it's that for the last 3+ seasons we were sold on the idea that it was okay that we sucked at the time because the plan was for us to compete in 2012-2013.  But that hasn't happened.  Not even close.  Now we are left with only one more year where we have the core of this team in tact.  But the problem isn't just that we have only one more shot at this thing, it's that given this years performances by the same core guys, it looks like that shot is now a long one.
***********************************
This season has been frustrating enough that I am legitimately questioning my Indians fandom (at least for this regime).  I've been a die hard Tribe fan and have supported them through all of the bad years. I defended the Dolans and Mark Shapiro and Chris Antonetti when my friends told me the Dolans were too cheap for us to win, or that Shapiro and Antonetti are awful GMs that traded away two cy young winners for what's turned out to be peanuts.  But now, I think I'm at a breaking point.  The Dolan/Shapiro/Antonetti regime has now only produced one playoff team in 10 years, and after suffering another disappointing year, I think we're at the point where we can legitimately wonder whether or not this regmie knows what it's doing.
What I decided to do is write a 5-part series (this intro being part 1) where I look at all parts of the organization to try and see just where things went wrong, not just for the 2012 season, but for this entire era.  The breakdown will be as follows:
Tuesday: Part 2/5, Manny Acta and the players
Wednesday: Part 3/5 Player Development, John Mirabelli and Brad Grant
Thursday: Part 4/5 GMs Mark Shapiro and Chris Antonetti
Friday: Part 5/5 Owners, the Dolans
Follow @ClevelandDTR
Original Story:
http://www.ClevelandDTR.com/2012/08/0...
THE BACKYARD
BEST OF MAXIM
RELATED ARTICLES
Following the likes of Johnny Damon and Derek Lowe, veteran infielder — and one-time clean-up hitter — Jose Lopez has been designated for assignment by the Cleveland Indians. Lopez was hitting .249 with 13 doubles, four home runs and 28 runs batted in during 66 games with the Indians. He was designated for assignment earlier in the season, but cleared waivers and was later assigned...
It's that time of year again when the Cleveland Indians completely fall apart and this fan wonders WHAT IF? Cleveland-area comedian and ultimate sports fan Mike Polk Jr. mocks the Indians WHAT IF marketing campaign by asking some very relevant questions. To sum up Mike's thoughts, what if everything about the Indians didn't suck? Make [...]
Indians general manager Chris Antonetti expressed support for manager Manny Acta and his coaching staff following the least successful trip in the franchise's 112-year history. Cleveland went 0-9 at Minnesota, Kansas City and Detroit, ending the trip with a 10-8 loss to the Tigers on Sunday when All-Star closer Chris Perez gave up five runs with two outs in the 10th inning....
Through most of their roller coaster season, the Cleveland Indians have been able to count on two areas of the team to perform consistently: the defense and the back of the bullpen. Both areas collapsed Tuesday night, and Cleveland lost its 11th game in a row. Shortstop Asdrubal Cabrera, second baseman Jason Kipnis and first baseman Casey Kotchman all made errors in the last three...
Infielder Jose Lopez was designated for assignment by the Indians after batting .249 with four home runs and 29 RBI in 66 games this season. Right-handed pitcher Frank Herrmann was recalled from Class AAA Columbus, where he had a 2-2 record with seven saves in nine chances and a 4.28 ERA in 39 appearances. Herrmann had allowed 23 earned runs in 48 1/3 innings pitched.
Roster Update: The Indians added Frank Herrmann to their overworked bullpen. To make room for him, they designated Jose Lopez for assignment. Player of the Game Shelley Duncan did not have any errors as tongiht's DH, so he is today's Player of the Game. Not only was Duncan error-less, but he also hit a 2 run home run in the second inning, giving him a score of 4.40...
Austin Jackson continued his amazing season Sunday afternoon compiling four hits in a 10-8 extra innings win over the Cleveland Indians. WATCH JACKSON'S FOUR HIT DAY Jackson finished the day going 4 for 6 with three runs scored and one RBI raising his average to an impressive .322 on the season. Not only that Jackson has 19 doubles and 7 triples on the season and an OBP of .409...
The Monday Takeaway The Indians must have been relieved when they sent the Twins down in order, then loaded the bases with nobody out in the bottom of the first inning, after returning home from a brutal, 0-9 road trip. Cleveland had fallen to 50-58 on the season, a likely insurmountable 9 ½ games behind the first-place White Sox, but at least the pain of Sunday afternoon's...
The losing streak has reached nine, though this one had some serious style points. The Indians against all odds prevented a leadoff triple from ending the game in the bottom of the ninth by intentionally walking Miguel Cabrera and Prince Fielder to load the bases following a strikeout of Omar Infante by Josh Tomlin. A 3-2-3 double play sent the game into extras, where Travis Hafner...
Domonic Brown was the untouchable.  The Phillies would not trade him.  Not for Cliff Lee.  Not for Roy Halladay.  He debuted to a standing ovation in 2010 as the Phillies entered an offensive funk down the stretch.  But soon the magic died. Brown hit just .210 in his late season call-up in 2010, and Spring Training 2011 before there ever was a Hunter Pence Brown broke his...
I hate deadbeat owners. No, I don't hate owners who always finish towards the bottom of the standings because they don't have the time or knowledge to compete. If you give your best efforts, you're okay with me and should be okay with anyone. No, the kind of owners I hate are the ones who leave injured players in active spots, or often leave starting pitchers...
MLB News

Delivered to your inbox

You'll also receive Yardbarker's daily Top 10, featuring the best sports stories from around the web. Customize your newsletter to get articles on your favorite sports and teams. And the best part? It's free!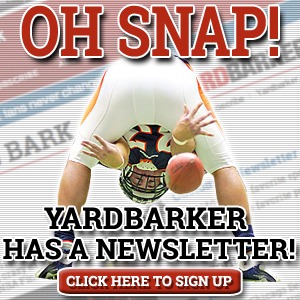 Latest Rumors
The Backyard

Today's Best Stuff

For Bloggers

Join the Yardbarker Network for more promotion, traffic, and money.

Company Info

Help

What is Yardbarker?

Yardbarker is the largest network of sports blogs and pro athlete blogs on the web. This site is the hub of the Yardbarker Network, where our editors and algorithms curate the best sports content from our network and beyond.