Found August 07, 2012 on Death, Taxes, and Rebuilding:
PLAYERS:
Manny Acta
,
Derek Lowe
,
Josh Tomlin
,
Jeanmar Gomez
,
Shin-Soo Choo
,
Asdrubal Cabrera
,
Jason Kipnis
,
Zach McAllister
,
Vinnie Pestano
,
Esmil Rogers
,
Chris Perez
,
Michael Brantley
,
Travis Hafner
,
Casey Kotchman
,
Shelley Duncan
,
Jose Lopez
,
Joe Smith
,
Scott Barnes
,
Jeremy Accardo
,
Dan Wheeler
,
Jack Hannahan
,
Aaron Cunningham
,
Justin Masterson
,
Carlos Santana
,
Ubaldo Jimenez
,
Johnny Damon
,
Tony Sipp
,
Cody Allen
TEAMS:
Cleveland Indians
Follow @ClevelandDTR
By: Eric Grinnell
If you missed the post yesterday, this series is all about examining the Indians current regime to determine what has gone wrong over the past decade.
I wanted to take a bottom-up approach for this series—meaning, I wanted to start at the bottom of the organization (players, manager) and work my way up the organization.  I also thought I'd give a "blame score," based on a 1-10 scale (1 being no blame, 10 being all blame).  This series is meant to look at the failure of both the Indians '12 season, as well as the past decade.  But today's piece will be limited to the 2012 season, as I'm only looking at Manny Acta (who's only been here since 2010) and the 2012 players.  Let's get to it!
MANAGER – MANNY ACTA 
Blame Score – 3/10
Simply put, I don't think Manny Acta is the problem.  Consider that for this entire season, he's had only 2 reliable bullpen arms (Pestano and Perez), only 4 guys in the lineup that would fit onto a legitimate playoff team's lineup (Choo, Kipnis, Asdrubal, and Brantley), and the 3rd worst starting rotation in the AL (Indians are only ahead of the Royals and Twins in terms of starter's ERAs).  He hasn't exactly been dealt a great hand.
If I had one criticism of Acta it'd be that he's been a little slow to pull the trigger on making moves to the rotation.  Derek Lowe, Josh Tomlin, and Jeanmar Gomez all could have been demoted/DFA'd a few starts before they were.  But it's hard to really fault Acta for this, because 1) I'm not sure that Acta has 100% authority to be making these moves (probably has to check with Antonetti and/or Shapiro), and 2) the Indians rotation was so bad at times that it would've been difficult to make moves without completely depleting our depth.
But overall, I really like Acta.  I think he is a good mix of player's coach (a coach/manager that all the players like) and candor/sternness (to keep the players from getting too comfortable).  I also think he's made a lot of the right baseball moves to try and get the most out of this team.  Moving Shin-Soo Choo to the leadoff spot has looked brilliant, Asdrubal Cabrera has turned into an All-Star shortstop under him, he's done a good job with the bullpen despite only having two reliable guys all year, and he's done a good job of mixing in Lou Marson.  I think Acta deserves the least amount of blame for anyone in the organization and I really hope he doesn't become the scapegoat for this year.
THE PLAYERS
Blame Score – 6.5/10
This was a tough score to grade.  I think you could argue that the players deserve more of the blame, because they are ultimately the ones who play the game and they were considered an average to above-average talented team.  But I think you could also argue that the players deserve less of the blame, as the team still had gaping holes coming into the year (first base, left field especially).  Ultimately, I ended up somewhere close to the middle—I think the players deserve a good amount of the blame as a lot of key guys vastly underperformed, but this still wasn't an uber-talented team without any warts.
In just about any sport, I think you can categorize players performances into three categories: exceeded expectations, met expectations, and fell below expectations.  As of right now, I think the following Indians players would fall into these categories:
Exceeded Expectations
Jason Kipnis, Zach McAllister, Vinnie Pestano, Shin-Soo Choo, Esmil Rogers
This is a tough category.  I think Kipnis, McAllister, and Pestano are really the only three that belong in this category no questions asked, but I put Choo and Rogers in as well.
Jason Kipnis has cooled off since the All-Star break (.200/.286/.275/.561), but he was arguably the Indians first half MVP.  I think it was a shame that Kipnis didn't make the All-Star team because he definitely put up All-Star numbers.  Pre-ASB, Kipnis had a line of .277/.345/.419/.764 with 20 steals and 11 homers.  I was hoping for a decent year from Kipnis, something along the lines of 10-15 homers and a .750ish OPS, and Kipnis shattered those in the first half.  Kip also played better defense than expected and was a lot more active on the basepaths.  Yes, he has slowed down considerably, but hitting a wall isn't anything new for a guy in his first year in the bigs.  His struggles are just more magnified right now because the Indians are really struggling.
Zach McAllister has done his part to help the Indians win some games this year.  McAllister didn't start the year with the Tribe, and really was just considered starting pitching depth.  But McAllister has been the best Indians starter for the year.  Before Monday's game, he's 4-3 with a 3.42 ERA and has been one of the few pleasant surprises of the year.
Vinnie Pestano has been the third no doubter that has exceeded expectations.  Pestano was coming off of a breakout '11 year and was looking to solidify himself as a legit set-up man.  But Pestano has gone above and beyond that, and has established himself as one of the best set-up men in the league.  He's got a 1.31 ERA, 0.92 WHIP, and a 10.69 K/9.  He's just been awesome.
I had trouble deciding if Shin-Soo Choo should be in this category or not.  If we're comparing '12 Choo to '08-'10 Choo then he probably has just played at expectations.  But if we're comparing him to '11 Choo, he's far exceeded them.  Regardless, Choo is having a great year.  Choo has a .852 OPS, 13 homers, 12 steals, and has a .310 batting average as the leadoff man.  He's been one of the few offensive standouts.
Lastly, I think it's fair to put Esmil Rogers in this group.  The Indians obtained Rogers in June to help the bullpen, but he was viewed as a guy with major control problems.  But Rogers has been solid, posting a 2.63 ERA and 9.88 K/9 with the Tribe.  He's done more than what was expected of him.
Met Expectations
Asdrubal Cabrera, Chris Perez, Michael Brantley, Travis Hafner, Casey Kotchman/Jack Hanahan/Shelley Duncan/Jose Lopez/Aaron Cunnigham, Joe Smith, Scott Barnes/Jeremy Accardo/Jairo Ascenio/Dan Wheeler
You could easily make a case that these first three guys deserve to be in the "exceeded expectations" category.  But I don't think it's clear cut, and ultimately I think they just met expectations.  The first guy is Asdrubal Cabrera.  Asdrubal has had another All-Star year, with a .278 BA, .776 OPS, and 12 homers.  He's also been one of the few consistent players in the Indians lineup.  But I have him in this category because I think he's really only done what we expected him to do.  His OPS is actually down from last year (.792 in '11) and it doesn't look like he'll approach the same power numbers (25 homers in '11).  So overall, while Asdrubal has been good, I don't think he's really exceeded expectations.
Chris Perez is the second guy that probably could have gone into the first category.  For the most part Chris Perez has been dynamite.  He's saved 29/32 games, has a great K/9 of 10.13, and a solid ERA of 3.83.  But Perez has blown 3 really important games (opening day, game before All-Star break against the Rays, and Sunday's brutal loss to the Tigers).  He also had high expectations coming into the year, as he was an All-Star in 2011.  So ultimately, I think he's just met expectations of being one of the better closers in the AL.
Michael Brantley is the third guy that probably could have gone into the exceeding expectations category, but I ultimately choose to put him here.  I've always liked Brantley, mainly because he always gives a quality at-bat, but I think he might be a bit overrated by Indians fans right now.  Brantley has had some "sexy numbers"–a team high .293 batting average, a 22-game hitting streak, a few highlight catches in centerfield–but if you look at the numbers a little deeper, Brantley hasn't been amazing.  Brantley has a .767 OPS, which is good for a center fielder, but by no means amazing (.750 is considered an average OPS), he only has 4 homers, only has 11 steals, and his defense in center has been pretty average for the most part.  So yes, I really like Brantley, but I think too many people see a high batting average and long hitting streak and think he's having a better year than he really has.  Ultimately, I think he's just lived up to expectations—he's a average to above-average player that puts up great at-bats, makes solid contact, and can steal a few bases.
Ugh, Travis Hafner.  Okay, he's been okay this year (.808 OPS, 11 homers), but he is still ridiculously overpaid, can't play any defense, doesn't hit lefties well (.214 BAA), and has been awful in the clutch (.143 BA with RISP).  Overall, I think he's about lived up to what we expected him to be coming into this year—an overpaid, semi-effective, DH.
I'm going to group Casey Kotchman, Jack Hannahan, Shelley Duncan, Jose Lopez, and Aaron Cunningham all together.  All of these guys are what they are.  MLB guys that have bounced around over the years that will never be cogs in any lineup.  Lopez and Hannahan had some nice stretches early in the year, but both have been average at best since.  So yes, these guys haven't played well, but this is all about expectations.  Can you really say that any of these guys underperformed or failed to live up to expectations?  I can't.
Likewise, I'm going to group the bullpen arms of Joe Smith, Scott Barnes, Jeremy Accardo, Jairo Ascenio, and Dan Wheeler together.  Smith is sort of the misfit here, as he had higher expectations that he has met.  But even though he's pitched well, I don't think you can really say that he exceeded expectations.  Barnes/Accardo/Ascenio/Wheeler are like the offensive guys listed above—they're fringe MLB vets that shouldn't be considered the core of any team.  So again, yes, they were bad, but can you really say they didn't meet expectations?
Fell Below Expectations
Justin Masterson, Carlos Santana, Ubaldo Jimenez, Derek Lowe, Josh Tomlin, Johnny Damon, Tony Sipp
If any one player deserves the most blame for the '12 season, I think it's Justin Masterson.  Masterson came into this season off of a great '11, and people were beginning to call him a legitimate "ace."  But Masterson has really regressed, and has looked more like a #3 pitcher at best.  Masterson has a 4.78 ERA, 1.44 WHIP, and is 7-10.  He's also had some long stretches were he's been awful (5.40 ERA in April, 5.55 ERA in July).  These are not "ace" numbers.  These aren't even #2 or #3 numbers.  These are "watch your back because you're in jeopardy of getting demoted numbers."  But Masterson really hasn't caught that much flack because he's still been better than Ubaldo Jimenez, Josh Tomlin, and Derek Lowe.  But ultimately, I think Masterson is the largest to blame, as he was supposed to be the guy the Indians counted on to give them a W every 5 games.
Carlos Santana also deserves a lot of blame.  Santana was supposed to be the Indians big bat in the middle of the order, and one of the better up and coming hitters in the league.  But Santana has had a really disappointing year.  Pre-ASB Santana had a .221 BA, .675 OPS, and only 5 homers.  Those numbers aren't even close to what were expected of him.  Santana has gotten it going of late, but the Indians season is now at a loss.  2013 will be a big year for him—it will be his third full year in the bigs, and he really hasn't put together a complete year yet.
Ubaldo Jimenez is probably the third person that deserves most of the blame for the year.  The Indians sold the farm last year to get Jimenez, who was supposed to come in and give the Indians one of the best 1-2 punches in the AL with Justin Masterson.  But Jimenez tenure with the Indians has been awful.  For the year, Jimenez has a 5.29 ERA and a 1.61 WHIP.  When you're #1 and #2 starters have ERAs of 4.78 and 5.29, you are in trouble.
I should edit that last sentence to read "when you're #1, #2, and #3 starters have ERAs of 4.78, 5.29, and 5.52, you are in trouble" because that's what #3 starter Derek Lowe gave them.  Lowe had some luck on his side to start the year, but his luck evened out and Lowe finished with some of the worst months that I can remember from an Indians starter (6.49 ERA in June, 10.03 ERA in July).  Lowe was supposed to be a back-of-the-rotation innings eater, but for 2+ months he was just the worst starting pitcher in all of baseball.
I kind of struggled with Josh Tomlin.  I was skeptical about Tomlin coming into the year, but figured he could be a #5 pitcher.  But Tomlin didn't even live up to that expectation, as he has a 5.75 ERA and was recently demoted to the bullpen.  He's another guy that just failed to solidify the rotation.**
When it was announced in April that the Indians signed Johnny Damon, I think everyone scratched their head.  Yes, the Indians still needed help in left field, but no team had taken a chance on Damon in the off-season, and everyone wondered why the Indians would wait until the season actually started to make the move.  Apparently, the Indians thought Damon could provide them with something, but it turned out Damon really was pretty much at the end of his line.  Damon was awful in the early going, and only got a little better in late June and July.  Overall, he really didn't provide the Indians with anything, and it's still odd that the Indians pulled the trigger on this move.
Lastly, Tony Sipp.  I don't think Sipp deserves a ton of blame, but he certainly performed below expectations.  Sipp was supposed to be one of the Indians set-up men, as he did well in that role in '11.  But Sipp has been really inconsistent and has a 4.86 ERA on the year.
So after breaking the Indians down this way, I came up with a 6.5 blame score.  Few guys exceeded expectations and a lot of guys played at expectations.  But the problem was that the guys that the Indians needed to meet expectations (Masteron, Jimenez, Santana, Lowe, Tomlin), didn't do so.
*NOTE: It's a little too early to say anything on Cody Allen.  Yes, he's definitely exceeded expectations thus far, but the kid still has less than 10.0 IP for his career.  I'd wait awhile to put him in that category.
** Please note that the Indians projected #1-#4 starters (Masterson, Jimenez, Lowe, Tomlin) had ERAs of 4.78, 5.29, 5.52, and 5.75.  Wow.  In looking at that, it is a miracle this team was around .500 for the majority of the year.
Follow @ClevelandDTR
Original Story:
http://www.ClevelandDTR.com/2012/08/0...
THE BACKYARD
BEST OF MAXIM
RELATED ARTICLES
Following the likes of Johnny Damon and Derek Lowe, veteran infielder — and one-time clean-up hitter — Jose Lopez has been designated for assignment by the Cleveland Indians. Lopez was hitting .249 with 13 doubles, four home runs and 28 runs batted in during 66 games with the Indians. He was designated for assignment earlier in the season, but cleared waivers and was later assigned...
I realized something during the 14-3 shellacking laid on the Indians Monday night. I've written about this team since the beginning of the 2008 season—not quite five full seasons. This is the third losing streak of at least ten games that I've covered. This seems like a lot, right? I mean, three losing streaks of at least 10 games in less than five seasons? I don't know....
Follow @ClevelandDTR By: Eric Grinnell For the third-part of this series, I wanted to look at the Indians scouting department and player development.  If you missed the first two pieces of this series, this series attempts to analyze who deserves most of the blame for the Indians disappointing '12 season and the disappointment of the last decade in general (yesterday I looked...
Indians general manager Chris Antonetti expressed support for manager Manny Acta and his coaching staff following the least successful trip in the franchise's 112-year history. Cleveland went 0-9 at Minnesota, Kansas City and Detroit, ending the trip with a 10-8 loss to the Tigers on Sunday when All-Star closer Chris Perez gave up five runs with two outs in the 10th inning....
Through most of their roller coaster season, the Cleveland Indians have been able to count on two areas of the team to perform consistently: the defense and the back of the bullpen. Both areas collapsed Tuesday night, and Cleveland lost its 11th game in a row. Shortstop Asdrubal Cabrera, second baseman Jason Kipnis and first baseman Casey Kotchman all made errors in the last three...
Infielder Jose Lopez was designated for assignment by the Indians after batting .249 with four home runs and 29 RBI in 66 games this season. Right-handed pitcher Frank Herrmann was recalled from Class AAA Columbus, where he had a 2-2 record with seven saves in nine chances and a 4.28 ERA in 39 appearances. Herrmann had allowed 23 earned runs in 48 1/3 innings pitched.
Follow @ClevelandDTR I'm frustrated.  Really frustrated.  Quite possibly the most frustrated I've ever been with the Indians.  That's saying a lot considering how many disappointing years Indians fans have had to deal with, especially in the last five years. In 2008, the Indians looked like legitimate World Series contenders coming off of a 2007 season where they were only...
It is absolutely incredible what is going on with my beloved Indians right now. Even if you hired a Hollywood screen writer to tell the story of the now 11-game losing streak, he or she couldn't come up with the storyline of these last three games. Sunday's implosion was one for the ages, as the Indians scored three times in the tenth inning, only to watch the Detroit Tigers...
Manager Manny Acta found it difficult to explain the Cleveland Indians' dismal losing streak, which finally ended one defeat short of tying the franchise record. The Boston Red Sox are also searching for answers. The Red Sox look to avoid a third straight loss Thursday night as they open a crucial 10-game road trip with the first of four in Cleveland. The Indians (51-60) fell...
Roster Update: The Indians added Frank Herrmann to their overworked bullpen. To make room for him, they designated Jose Lopez for assignment. Player of the Game Shelley Duncan did not have any errors as tongiht's DH, so he is today's Player of the Game. Not only was Duncan error-less, but he also hit a 2 run home run in the second inning, giving him a score of 4.40...
Austin Jackson continued his amazing season Sunday afternoon compiling four hits in a 10-8 extra innings win over the Cleveland Indians. WATCH JACKSON'S FOUR HIT DAY Jackson finished the day going 4 for 6 with three runs scored and one RBI raising his average to an impressive .322 on the season. Not only that Jackson has 19 doubles and 7 triples on the season and an OBP of .409...
The Monday Takeaway The Indians must have been relieved when they sent the Twins down in order, then loaded the bases with nobody out in the bottom of the first inning, after returning home from a brutal, 0-9 road trip. Cleveland had fallen to 50-58 on the season, a likely insurmountable 9 ½ games behind the first-place White Sox, but at least the pain of Sunday afternoon's...
Indians News

Delivered to your inbox

You'll also receive Yardbarker's daily Top 10, featuring the best sports stories from around the web. Customize your newsletter to get articles on your favorite sports and teams. And the best part? It's free!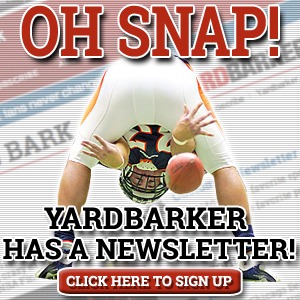 Latest Rumors
The Backyard

Today's Best Stuff

For Bloggers

Join the Yardbarker Network for more promotion, traffic, and money.

Company Info

Help

What is Yardbarker?

Yardbarker is the largest network of sports blogs and pro athlete blogs on the web. This site is the hub of the Yardbarker Network, where our editors and algorithms curate the best sports content from our network and beyond.