Found July 16, 2012 on Waiting For Next Year:
PLAYERS:
Aaron Laffey
,
Justin Masterson
,
Ricky Romero
,
Manny Acta
,
Justin Verlander
,
Chris Sale
,
Ubaldo Jimenez
,
Derek Lowe
,
Carlos Santana
,
Kelly Johnson
,
Shin-Soo Choo
,
Asdrubal Cabrera
,
Jason Kipnis
,
Michael Brantley
,
Jack Hannahan
,
Lonnie Chisenhall
,
Jose Lopez
,
Travis Hafner
,
Johnny Damon
,
Shelley Duncan
,
Zach McAllister
,
Alex Cobb
TEAMS:
Chicago White Sox
,
Detroit Tigers
,
Toronto Blue Jays
,
Cleveland Indians
,
Tampa Bay Rays
The long All-Star break brought about some hard truths for our Wahoos. While they were just two and half games out of first, their margin of error was (and is) a lot slimmer than their rivals, the Chicago White Sox and the Detroit Tigers. The bats need to become more consistent one through nine. The starting rotation needs to get stronger. The bullpen needs to get some depth beyond the back end three.
It all started Friday night in Toronto. The Blue Jays are a tough team, but the Tribe's rotation was set the way they wanted it. Toronto is missing four of their five top starters and the Tribe would have their crack at a couple of fill ins in lefty Aaron Laffey and righty Carlos Villenueva.
Instead of taking advantage, the Tribe bats fell asleep in two out of the three games, particularly with runners on base. To make matter worse, in the one game the offense actually showed up, the pitching failed them. The Tribe would end up losing two of three and lost ground to both the Tigers and the first place White Sox, who each won Sunday and gained a game. The Tribe fell into third place. Its a three-team race in the AL Central, but with the Tigers so hot and the Sox not slowing down, the Indians cannot afford a slump.
As we do every Monday, lets take a look back at the weekend that was in Wahooland.
Masterson was Masterful, Ubaldo had a setback, and, Lowe was gold. It was an up and down weekend for the starting rotation. Friday night was a rematch between Justin Masterson and Ricky Romero, who dueled on Opening Day in Cleveland. On that day, Masterson went eight innings and struck out 10. Three months later, the same Tribe ace from that day showed up North of the border and was dominant. This time, he went seven innings, scattering five hits and a walk without allowing a run.
"An excellent pitching performance," Indians manager Manny Acta said. "Masterson was impressive. He established his fastball the whole game, was able to throw it to both sides of the plate. He did a magnificent job."
This is the kind of stuff we will need from J Mast the rest of the way. He needs to be that stopper because the Tigers have theirs in Justin Verlander, and the White Sox lefty Chris Sale is as good as it gets these days.
A day later, Ubaldo Jimenez took the mound for his first start of the second half. He has found himself since the beginning of June and has the Indians thinking big. Its been a while since "Bad Ubaldo" has appeared. When he stepped out of that dugout in the bottom of the first, the alarms should have gone off. I will let Ubaldo tell you the story:
"Slider. Split. Anything. Nothing felt OK," Jimenez said. "I think I was able to throw the slider a couple times for strikes, but that was pretty much it. Everything was wrong today. I couldn't get my pitches over the plate. I was falling behind in the count, and once I tried to get in, they took advantage of it. It was a really bad day."
He walked two in the first and two in the second, but managed to only allow two runs. However in the third, the Jays teed off. Ubaldo's fastball was flat and right over the plate. His curveball was hanging. 13 batters later, the Blue Jays hit two homers, four doubles, two singles, and walked three times on their way to a eight-run inning.
Ubaldo didn't make it out of the inning. But as a veteran, he knows what needs to be done.
"The only thing I can do is turn the page and get ready for my next start," he said. "There's nothing else I can do."
In the rubber match, the Tribe sent out Derek Lowe in hopes that he would regain his early season form. What we saw from him yesterday was very encouraging. Save for one bad inning – the third – Lowe was terrific. He allowed three runs on three hits in six innings, all of which came in that third inning. The walks did him in as well; three in the third didn't help his cause. Neither did Carlos Santana's bad throw to second on a steal attempt, which changed the course of the inning. Any throw near the bag and Kelly Johnson was a dead duck for the first out. Instead, the throw sailed into center and Johnson ended up on third.
Lowe, outside of that third inning, was as good as he has been since mid-May, an encouraging sign.
The offense…the offense….the offense. Seriously, what are we going to do with this group. Shin-Soo Choo, Asdrubal Cabrera, Jason Kipnis, and Michael Brantley deserve a pass based on their performances this season. The rest of the group is like the Down Jones industrial average. The ups and downs, the highs and lows, are incredible.
In Friday's 1-0 win, they went 0-6 with runners in scoring position and left eight men on base. In Sunday's 3-0 loss, they went 0-10 with runners in scoring position and left nine men on base.  Even in Saturday's 11-9 loss where the bats came back from a 10-2 deficit and had the tying runs aboard in the eighth, they were just 3-10 with runners in scoring position. If you are scoring at home, that's 3-26 (.115) while leaving 25 men on base.
Jack Hannahan was the toast of the town in April and May with his clutch at-bats. But you look up now, and he is in the midst of a  8-56 skid and now sits at .236. Lonnie Chisenhall isn't coming back any time soon and the Tribe has no choice but to ride it out with Jackie and Jose Lopez at third. Travis Hafner, while he hit a solo homer Friday night (the only run in the game), still hasn't found his swing. On the season, he sits at .231. Carlos Santana's struggles have been well documented and his average is a not so robust .222.
Then there's Johnny Damon, who I have officially reached the end of my rope with. His at-bats Sunday were just painful as he went 0-3. Johnny is hitting .219 with a .286 on-base percentage. If his name wasn't Johnny Damon, he would have been given up on by now. Its not like this is May 15th, its July 16th. The left field problem just never seems to go away. Shelley Duncan had a nice weekend (4-8, two HR, five RBI) and should get more ABs, but he is so streaky.
The offense, specifically the bottom of the order, needs to get going. This weekend was a step backwards.
On a positive note, Michael Brantley was an absolute stud in Toronto, going 8-11 with a homer, two RBIs, and two runs scored.  He just keeps getting better and better.
Up next for the Tribe is a trip to Tampa for a four game set with the Rays. Things get going tonight with Zach McAllister (3-1, 3.40 ERA) taking on the Rays right-hander Alex Cobb (4-5, 4.89 ERA).
 (AP Photo/The Canadian Press, Aaron Vincent Elkaim)
Original Story:
http://www.waitingfornextyear.com/201...
THE BACKYARD
BEST OF MAXIM
RELATED ARTICLES
In the shortest press release I've ever seen, the Indians today released AAA outfielder Trevor Crowe. "Columbus transaction: OF TREVOR CROWE was released." Crowe was the Indians 1st round pick in the 2005 draft. He was the 14th overall pick. Crowe played 205 games for the Indians (bet you could make some money off that stat) and had a lifetime .245 average with 3 home runs...
Justin Masterson was a guest on MLB Network's The Rundown yesterday. Here is the video from the show- Highlights- Justin Masterson on why the team can stay in the race this season: "What's great about this year is we haven't really been playing our best baseball, but we've been able to stay at least close to the top. We've been up and down, but we've been consistent...
This one was a doozy. The Cleveland Indians obviously should have lost by quite a bit more to Toronto Saturday afternoon, and that's all on Ubaldo Jimenez. The former Colorado Rockies ace had his worst outing of 2012, exiting after just 2.1 innings pitched. Against the 18 batters he faced, he allowed eight runs on seven hits (including two homers and four doubles), along with four...
The Indians got a much needed win Monday night, beating the Tampa Bay Rays 3-2 in a well-pitched game that also featured a new-look Cleveland lineup. Manager Manny Acta shook up the middle of his order, moving designated hitter Travis Hafner and catcher Carlos Santana down. Hafner and Santana have been struggling for much of the season, and in particular of late. One or the other...
The Indians faltered again today in a rubber match against the Blue Jays. Toronto scored three times against Derek Lowe in the third, and that was all the offense for the day. The bats were miserable again today, with the team mustering just five hits and five walks total. Yet again, there were several wasted opportunities and some truly awful at-bats by the bottom of the lineup...
The Cleveland Indians' Zach McAllister was in line for a third straight win earlier this month before running into trouble in his final inning against the Tampa Bay Rays. The rookie right-hander will try for a better outing in his second consecutive start against the Rays on Monday night, while Tampa Bay's Alex Cobb seeks to build off a win in Cleveland just before the All...
While Matt Moore entered 2012 with very high expectations, he wasn't able to find much consistency during the first half of the season. He could get off to a rough start to the second against a Cleveland Indians club that hit him hard just over a week ago. Moore tries to avenge one of his more disappointing outings as the Tampa Bay Rays continue a four-game set with the visiting...
Nick Hagadone had it made. He was a huge piece of the a trade that sent an Indians superstar (Victor Martinez) away and the Indians always over value the players brought back in such deals. He pitched well in a short time in 2011, and well enough this Spring to make him the first relief pitcher called up from AAA this year. In the pros he was good enough to earn the top left hander...
After a rough first game following the All-Star break, the Toronto Blue Jays showed they still have a lot of pop in their lineup. Right-hander Carlos Villanueva is trying to show he belongs in the rotation. Villanueva makes his third start of the season Sunday when Toronto concludes its season series with the Cleveland Indians. Held to five singles by Justin Masterson while getting...
ST. PETERSBURG, Fla. (AP) -- Zach McAllister took a line drive to the forearm and kept right on pitching. The Cleveland right-hander shrugged off the scary moment to finish six solid innings Monday night, and the Indians held on to beat the Tampa Bay Rays 3-2. McAllister (4-1) said he was not affected by being struck by Jeff Keppinger's RBI single in the fourth inning. Unfazed...
Player of the Game Tony Sipp pitched strong in relief today, which was enough to win him Player of the Game honors. Sipp came on with 2 outs in the 6 inning and continued to pitched through the 7th. He did not allow a single runner and struck one out, giving him a score of 1.82. After 90 games into the season, Sipp finally wins his first PoG. Feathers Up Tribe hitters took advantage...
Did World War II save Bob Feller's pitching career? At the conclusion of the 1941 campaign, the Cleveland Indians wunderkind, Bob Feller, had amassed a 107-54 record, 1448.33 IP, 1233 K, 815 BB, and 117 CG…. all before turning 23 years old! "The Heater from Van Meter" became the first MLB player to voluntarily enlist for combat service in WWII the day after the attack on...
MLB News

Delivered to your inbox

You'll also receive Yardbarker's daily Top 10, featuring the best sports stories from around the web. Customize your newsletter to get articles on your favorite sports and teams. And the best part? It's free!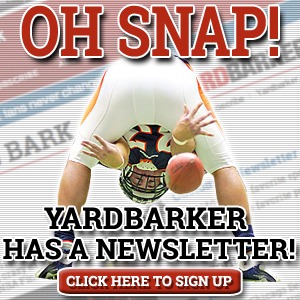 Latest Rumors
The Backyard

Today's Best Stuff

For Bloggers

Join the Yardbarker Network for more promotion, traffic, and money.

Company Info

Help

What is Yardbarker?

Yardbarker is the largest network of sports blogs and pro athlete blogs on the web. This site is the hub of the Yardbarker Network, where our editors and algorithms curate the best sports content from our network and beyond.