Found July 24, 2013 on The Detroit Sports Site:
Either way, the Jhonny Peralta-Biogenesis scenario will work itself out in the wash, but the shortstop should be providing answers to his organization. Currently, Jhonny Peralta is playing perhaps the biggest role since joining the Detroit Tigers in 2010. He's clubbing home runs, hitting the ball to every field and playing solid defense. All of that makes his potential elimination from Detroit's lineup incredibly hard to swallow, especially right now. Tuesday night, Peralta showed why once again, going 2-4 with another home run to help power the Tigers' dominating 6-2 victory over the Chicago White Sox. On pace to challenge his Detroit-best numbers where he clubbed 21 home runs and 86 RBI's while hitting .299 in 2011, Peralta currently doesn't know whether or not he'll be disciplined by Major League Baseball for possible involvement in the Biogenesis scandal, which claimed its first victim Monday, when former National League MVP Ryan Braun was suspended the remainder of the 2013 season for his role. Certainly, if Peralta used at any time in the past, he deserves to be punished. Peralta might not know whether he'll officially be disciplined or for how long, but he should definitely know his own levels of personal guilt within this case. Whether or not he wants to speak publicly on the issue (which, likely in order to avoid Braun levels of embarrassment, he doesn't) Peralta should either clear his name or own up within the organization first. That way, the Tigers will have a decent amount of time to formulate a quality contingency plan, which could be badly needed. Detroit likely has plenty of league sources letting them know the true story on Peralta already, but if the shortstop wants to maintain good face, he should be the one owning up himself to them. With only a week left until the trade deadline, the TIgers are the team with the most to lose minus their player saddled with potential Biogenesis baggage. They'd have to replace supreme levels of production from a player hitting near the bottom of the order enjoying a career year with regards to batting average. Without Peralta's impressive levels of production, the Tigers might not be the serious World Series contenders they look to be this July. Similar Tigers' teams, with lighter hitting shortstops, have wilted down the stretch, unable to produce enough runs top to bottom to win close games. Peralta has given Detroit's lineup additional thump and teeth where it has been needed the most this season, and minus that, nobody can say what will end up happening the rest of the year with regards to production. Certainly, if Peralta is guilty and disciplined, there are a few internal and external options available for replacement no matter how unattractive, including Chicago's Alexei Ramirez and Seattle's Brendan Ryan. The most attractive unattractive external option in that case would clearly be Ramirez, but the bidding has already begun for his services, with the St. Louis Cardinals reportedly recently inquiring. To get a leg up in possible trade negotiations, the Tigers need certainty on the issue of Peralta very quickly. Whether or not Peralta ever speaks publicly on the issue, either way, he owes a major explanation to his team and his franchise first. Providing this sooner rather than later could help provide them with more varied options to move on, which could be critical for keeping October championship hopes alive in August. Max DeMara is a senior editor at The Detroit Sports Site. You can find him on Twitter @SportsGuyTheMax
Original Story:
http://www.thedetroitsportssite.com/2...
THE BACKYARD
BEST OF MAXIM
RELATED ARTICLES
Your browser does not support iframes. Detroit Tigers slugger Miguel Cabrera sat out of Tuesday night's game against the Chicago White Sox due to a hip problem. However, that didn't stop Miggy from having fun in the dugout during his day off. Cabrera was seen trying to share a fig snack with teammate Brayan Pena during the second inning. When Pena politely refused...
SHAKE YOUR GROOVE THING
via MLB.com With a 6-0 Tigers lead in the bottom of the eighth Wednesday, Tigers closer Joaquin Benoit figured he wouldn't be needed.  So he did what any normal white guy would do when Young MC's "Bust a Move" comes on the radio. The only problem – you aren't white, Joaquin.  We're going to need more. Benoit was actually called upon to finish the game in a non-save...
Tigers slugger Miguel Cabrera is out of Detroit's lineup for a fourth straight game because of an injured left hip. Trainer Kevin Rand says the reigning Triple Crown winner is improving but needs a little more time to recover. The third baseman is hitting a major league-best .358 with 31 home runs and 96 RBIs. Outfielder Torii Hunter also was scratched from Detroit's lineup...
The Detroit Tigers were without third baseman Miguel Cabrera last night, and manager Jim Leyland told reporters -- including Joey Nowak of MLB.com -- that he doubts "very much" that the slugger will play today. In fact, there is a chance that Cabrera misses the remainder of the Tigers' series against the White Sox. Leyland said that he's not sure if Cabrera...
Max Scherzer outpitched Chris Sale in a marquee matchup of All-Star starters, and the Detroit Tigers overcame Miguel Cabrera's injury to beat the Chicago White Sox 7-3 on Monday night. With one out in the bottom of the fifth inning, Cabrera was replaced at third base by Don Kelly. The 2012 AL MVP, who appeared to be holding his left side as he walked off the field, was removed...
The Detroit Tigers could be without Miguel Cabrera for the next handful of games but all signs point to star avoiding the disabled list. Cabrera, 30, is having another fine season with 30 home runs and 96 RBI through 96 games. In the top of the fifth inning of Monday's game Cabrera injured his hip while running the bases. The Tigers could keep him out of action for a few days.
CHICAGO (AP) -- Detroit Tigers third baseman Miguel Cabrera is not in the lineup for the second straight night against the Chicago White Sox on Wednesday. Cabrera, the reigning AL MVP who was baseball's first Triple Crown winner in 45 years, left Monday's game in the bottom of the fifth inning with a left hip flexor injury. Detroit manager Jim Leyland gave no update on...
56-44, 1st place, 3.5 games up. The Tigers again took advantage of the hapless White Sox and cruised to a 6-2 victory. Cruised may not even be descriptive enough. After the fourth batter the game was never in doubt, and other than a really bad outing by Rondon and some bullpen chaos, there was little cause for concern for the Tigers' faithful. The Phil Coke 1 batter experiment...
The Tigers won a game, but lost a gamer Monday night. Unless he has a bionic hip. With Max Scherzer bouncing back from his first defeat to improve to 14-1 on the season, they beat the Chicago White Sox, 7-3, at U.S. Cellular Field. A red-hot Victor Martinez had four hits and drove in three runs in the victory. He's now hitting .425 for July. During the game, though, Tigers'...
They missed him, but they didn't Miguel Cabrera doesn't have to sit out many games, The Tigers, of course, are thankful for that. But it's not as if they go belly-up whenever he is just an observer, which was the case with his sore left hip flexor muscle on Tuesday night. Proving that any game without Cabrera can be won if your starting pitcher is sharp and the other team...
When the Tigers starters are pitching this way and their opponent is the cellar-dwelling Chicago White Sox, it's a little easier to live without Miguel Cabrera. The Tigers defeated the White Sox 6-2 Wednesday night, their fourth straight victory, third straight in Chicago and second straight without Cabrera. Cabrera missed his second straight game with a sore left hip flexor...
CHICAGO (AP) -- Jake Peavy pitched into the eighth inning and the Chicago White Sox beat Justin Verlander and Detroit 7-4 Thursday as the Tigers again played minus Miguel Cabrera. Cabrera missed his third straight game because of an injured left hip flexor. The AL MVP left in the middle of Monday's game. Torii Hunter homered for the third time time in the series. But the Tigers...
MLB News

Delivered to your inbox

You'll also receive Yardbarker's daily Top 10, featuring the best sports stories from around the web. Customize your newsletter to get articles on your favorite sports and teams. And the best part? It's free!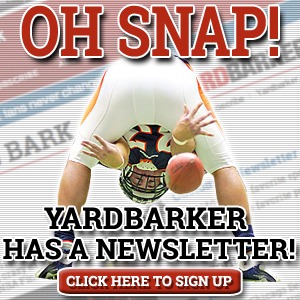 Latest Rumors
Best of Yardbarker

Today's Best Stuff

For Bloggers

Join the Yardbarker Network for more promotion, traffic, and money.

Company Info

Help

What is Yardbarker?

Yardbarker is the largest network of sports blogs and pro athlete blogs on the web. This site is the hub of the Yardbarker Network, where our editors and algorithms curate the best sports content from our network and beyond.