Found February 01, 2013 on Obstructed View OLD:
As most of you probably know, Tom Tango now exclusively consults with the Cubs. This is incredible news: Tom Tango, also knows as tangotiger, is one of the greatest baseball minds in the game today. Many of the foundational statistics that we have today come from The Book, the spiritual successor to The Hidden Game of Baseball. Mr. Tango has graciously agreed to answer some questions that I (and Berselius and dmick) had for him.  Note: I can't ask about the Cubs, specifically (there are NDAs about that sort of thing). Obstructed View: Where do you want to be 10 years from now? Do you aspire to be a GM? Tom: More of the same, I think. I have no desire to be a GM. Obstructed View: How did you end up meeting MGL? Tom: We both posted at an old baseball forum called BaseballBoards.com, which later became Fanhome. Voros, Patriot, David Smyth were also some of the posters there. (Note: How incredible would it have been to be in that environment?) Obstructed View: I worry sometimes that my father might misunderstand sabermetrics because the barrier to entry is too high. Are you ever afraid that advanced statistics are off-putting to people who might just be getting into baseball, or are already overmuch familiar with low-quality stats like RBI and Wins? Do you have recommendations on ways to introduce advanced stats to those who may not be comfortable with all of the math, or is it just not for them? Tom: I'm not worried about it being off-putting. Everyone should be comfortable with wherever they are. I think the reliance on RBI and Pitcher Wins is a barrier, but as we saw with Felix and others, pitcher wins is starting to erode. I think picking up an old Bill James Baseball Abstract through inter-library loan is the best way. Obstructed View: The Book came out in 2006, almost 7 years ago. What part of it do you think has held up the best and what part do you think has held up the worst? Tom: Sales every year has been pretty constant, which means it's getting pretty good word-of-mouth. Looking back, I don't think there's any one part that is better or worse in terms of timelessness. We wrote the book on the idea that it would be timeless. Obstructed View: What aspect of baseball do you think is least understood, from a statistics standpoint? What is holding the sabermetric community back as far as exploring that subject? Tom: Least understood by who? The only thing holding back the community is access to the relevant data. Without data, we have no way to test the hypothesis. Obstructed View: Whose work in baseball do you most respect from a statistics standpoint? Whose work in baseball do you most respect from an "old-school" standpoint? Tom: There are plenty of people. Bill James, Pete Palmer, MGL, Andy Dolphin, Tom Tippett, Dan Fox. Really, it's a very long list, and I can spit out another dozen names or three if you give me a few minutes. I'm just really happy to be part of such a community. Obstructed View: What statistic do you like the most that you DIDN'T invent? Any moments where you were surprised someone "got there" before you did? Tom: Well, Voros invented DIPS, which is about the most important finding in the last 15 years. Pete Palmer introduced us to Linear Weights. I'm never surprised, since everyone has their own creative input. We're all building on the work of others. Your question seems to suggest some single-lane race, when really, it's about all of us on some scavenger hunt, coming from all over the world, picking up items on our journey, and agreeing to meet at Times Square, and see what we can all share with each other by the time we get there. It's cooperation, not competition. Obstructed View: Many managers have started to embrace the new thinking as far as sabermetrics are concerned. In your opinion, will people with a purely statistical background ever be on-field coaches, giving strategic advice? How far away might we be from having, say, Dave Cameron advising Eric Wedge on when to use his bullpen? Tom: I don't even know what "purely statistical background" means. Are you suggesting someone who only has a vocation in some various mathematical disciplines, but has no baseball experience at all? That would be the worst person to put on the field. You need a subject matter expert, and that means someone who lives and breathes baseball as the first requirement.  Obstructed View: I'm afraid I may of framed the question incorrectly. I meant to say someone who perhaps never played baseball at a high level, but has a masterful grasp of the percentages and that sort of thing. With Billy Beane, Theo Epstein, Andrew Friedman, etc. changing the way front offices operate, I was curious if you thought that a similar thing might happen in the dugout (if it hasn't happened already). I think some managers are becoming much more receptive to the idea of using more and more specialized stats already. Tom: Ah, I see. Well, I'm not really qualified to answer that question. Obstructed View: How important do you think FIELD f/x will be as far as clearing up defensive metrics? Will we ever get to a place where fielding is as well understood as hitting? Should FIELD f/x ever be made public? Tom: Tracking player movements and ball movement is critical. We do it all the time with our eyes. So, now we need to have a systematic, precise way to do all that on a large scale. A system that does that will remove all the uncertainty we currently have. Obstructed View: From previous interviews, I know that you aren't a fan of the current system of the Hall of Fame. Do you think there is a place in the hall for sabermetricians and internet writers to have a say in who gets in? Do you think we'll live to see the day where someone like Bill James gets inducted for his contributions to baseball? Tom: There's some really passionate fans out there, who devote their time and energy on baseball and its history and they don't get paid for it. Any time I run my many polls, I'm quite happy with the results I get. The IBA shows how you can have a good system with good fans produce good results. Obstructed View: Anyone who has heard you speak about Rock Raines knows you believe he's a no-doubt Hall-of-Famer. In my mind, Edgar Martinez is in the same boat – his numbers look to me like he's better than maybe half of the Hall (not to mention that 3B are SORELY underrepresented in the Hall), and he hasn't really received any support (languishing in the mid-30's). With the growing backlog of worthy players that will "take votes away" from Gar, he most likely won't make it in until the Veteran's Committee, if at all. Do you think Edgar should make the Hall? Do you think he will? Tom: If you think a Hall of Fame should have about 20-25 new members every ten years, then Edgar would likely be part of that group. If you think it should be 10-15, he's probably outside that group.  If you think it should be 30-35 members, he's easily inside that group. So, you have to first decide the size of your hall of fame. The readers on my site have suggested that we should have 20-25 new members every ten years. Obstructed View: Are there any players in particular that you think are "better than their numbers?" Tom: It's a given that some players are better than they've performed so far, and others are worse. It's just a sampling issue. Obstructed View: What topic would you most like to research, but haven't been able to? Tom: There's a long list of things, and I'm really happy that we've got a broad community that someone somewhere is addressing each one and will eventually publish it. Obstructed View: How good are these Blackhawks? Are they for real? Tom: I've only been following the Canadiens and Devils so far, but eventually, I'll pick up on a few more teams. I still they think have the best uniform in all of pro sports in USA/Canada. Thanks again to Tom Tango for answering the questions. The post Interview with Tom Tango (aka tangotiger) appeared first on Obstructed View.
Original Story:
http://www.obstructedview.net/unobstr...
THE BACKYARD
BEST OF MAXIM
RELATED ARTICLES
Bad news concerning Carlos Marmol: According to a report in the Domincan Republic, Cubs closer Carlos Marmol is being accused of Domestic Violence. — David Kaplan (@thekapman) January 31, 2013 More on this as it develops, but if true this could be a hairy situation. I've been debating whether or not to throw a control issues joke in here, but decided against it. I'm...
I know I said I probably wasn't going to do these this year, but I am going to change the format a little bit. I won't be combining 5, 6 or 7 projections to create an average. I will just stick to two: CAIRO and ZiPS. I doubt the average between these two will be that much different than they'd be if we added in several other other projection systems so it's really ...
A woman in Carlos Marmal's native Dominican Republic has accused the Chicago Cubs' reliever of abusing her.  Marmol has denied the allegations and filed a counter claim against her.  Marmol has not yet been charged with a crime. The Chicago Tribune relayed the story from ListinDiario.com.  Marmol and his attorney, Nelson Pimentel say that the woman in question has...
Michael Bourn rumors have been flying around all offseason, but he is still sitting there without a job for 2013. We were told how he'd be one of the most highly sought after free agents this offseason, but perhaps those people who said that need to rethink it. Bourn has had plenty of suitors, but talks with him have not even progressed to the stages where we were hearing constant...
Mark Grace ((azfamily.com)) What is that saying about "When it rains is pours"? Former Chicago Cubs and Arizona Diamondbacks player Mark Grace was sentenced to 4-months in jail Thursday afternoon as part of a DUI arrest plea agreement. It was not his first DUI. Grace, who summarily lost his job as an analyst with the Diamondbacks broadcast team after his...
The Chicago Cubs have invited 22 non-roster players to major league spring training, which begins Tuesday, February 12 when pitchers and catchers hold their first formal workout in Mesa, Ariz. Position players are invited to report to camp Saturday, February 16 with the team's first full squad workout Sunday, February 17. The following 11 pitchers have been invited to major league...
Former Arizona Diamondbacks television analyst Mark Grace has been sentenced to four months in jail under a work-release program. The 48-year-old former first baseman with the Diamondbacks and the Chicago Cubs pleaded guilty Thursday to felony endangerment and misdemeanor driving under the influence of alcohol. Grace was arrested last August in Scottsdale - his second drunken driving...
Former Arizona Diamondbacks color commentator and Chicago Cubs first baseman Mark Grace has been sentenced to four months in jail following his second DUI arrest in a year. Grace took a leave of absence from the Diamondbacks in August following his arrest, and the team officially dismissed him and play by play man Daron Sutton after the season.  Grace's sentence also includes...
    Throughout the offseason, The Nats Blog will look back at every player's 2012 season to summarize and analyze his performance, and we'll look ahead to his possible role in 2013. We'll go from #1 Steve Lombardozzi all the way to #63 Henry Rodriguez until Spring Training. Enjoy. Edwin Jackson was an interesting case for the Washington Nationals in 2012. Signed...
Recently, we pointed out how strong this Atlanta lineup has a chance to be. But how does the Braves lineup compare to that of the defending NL East Champion Washington Nationals? Good question! Let's have a look. As with our most recent post, we'll borrow Bill James' projections. Again no one's projections ever prove entirely accurate–or even close to it. But James' prognostications...
Next up in our projection series is Matt Harvey. Two years after he was drafted, Harvey was in the majors, showing the best fastball for a Mets SP since they started keeping track of such things in 2002. He was shut down after 10 starts but he showed enough in that span to have fans dreaming of 30 starts from Harvey each and every year for the next 15 years. Will Harvey be able...
MLB News

Delivered to your inbox

You'll also receive Yardbarker's daily Top 10, featuring the best sports stories from around the web. Customize your newsletter to get articles on your favorite sports and teams. And the best part? It's free!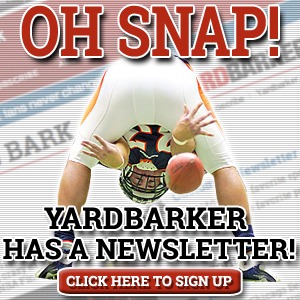 Latest Rumors
The Backyard

Today's Best Stuff

For Bloggers

Join the Yardbarker Network for more promotion, traffic, and money.

Company Info

Help

What is Yardbarker?

Yardbarker is the largest network of sports blogs and pro athlete blogs on the web. This site is the hub of the Yardbarker Network, where our editors and algorithms curate the best sports content from our network and beyond.