Found September 05, 2012 on Fox Sports:
PLAYERS:
Hal Steinbrenner
,
George Steinbrenner
,
Jayson Nix
,
Chris Dickerson
,
Chris Stewart
,
Ivan Nova
,
Michael Pineda
,
Manny Banuelos
,
Dellin Betances
,
CC Sabathia
,
CJ Wilson
,
Mark Buehrle
,
Cole Hamels
,
Matt Cain
,
Zack Greinke
,
Felix Hernandez
,
Justin Verlander
,
Clayton Kershaw
,
Alex Rodriguez
,
Mark Teixeira
,
Derek Jeter
,
Robinson Cano
,
Curtis Granderson
TEAMS:
Baltimore Orioles
,
New York Yankees
,
Boston Red Sox
,
Los Angeles Angels
,
Miami Marlins
,
Philadelphia Phillies
,
San Francisco Giants
,
Seattle Mariners
,
Detroit Tigers
,
Los Angeles Dodgers
,
Tampa Bay Rays
Here's the New York Yankees' problem, and it goes well beyond the threat posed by the run differential-defying Baltimore Orioles and the dollar-defying Tampa Bay Rays. If the Yankees fail to reach the postseason, it could wreck The Plan. The Plan, if you haven't heard, is for the Yankees to reduce their payroll below the $189 million luxury-tax threshold by 2014. The Plan, motivated by a series of provisions in the new labor agreement, is intended to save the Yankees tens of millions. And The Plan, according to Hal Steinbrenner, the Yankees' managing general partner, is non-negotiable. "I'm looking at it as a goal," Steinbrenner told reporters in spring training, "but my goals are normally considered a requirement." Well, let's see the Yankees stick to that goal if they fail to reach the postseason. Let's see them go two more offseasons without spending like the George Steinbrenner Yankees. Let's see them make their old guys younger, and their young guys worthy of their considerable hype. A fine mess this could be -- a different kind of mess than the one created by the Boston Red Sox, but a mess nonetheless. Heck, a fine mess it already is, considering that the Yankees led the AL East by 10 games on July 18 and fell into a first-place tie with the Orioles on Tuesday night. I'm not convinced that the Yankees are going to blow a playoff spot, even as their age/injury concerns mount, even though Jayson Nix, Chris Dickerson and Chris Stewart were their 7-8-9 hitters on Tuesday night with sole possession of first place at stake. Yet, even if the Yankees qualify, it's difficult to imagine them winning the World Series. Too many of their players are compromised physically and/or experiencing some degree of decline. And the trend certainly doesn't figure to reverse in the coming years. Granted, several of the injuries to the Yankees' older players were freakish, and maybe it's just one of those seasons, seeing as how some of their younger players also were hurt. But going forward, you wonder. To make The Plan work, the Yankees need to incorporate a greater number of young (read: inexpensive) players. Entering spring training, they envisioned a 2014 rotation that included three pitchers who fit that description -- right-hander Ivan Nova, righty Michael Pineda and lefty Manny Banuelos. Now, club officials can't be sure that any of those pitchers will be part of the long-term solution. Nova regressed before going on the disabled list with right shoulder tightness. Pineda required shoulder surgery that will force him to miss the entire season. Banuelos was shut down in May due to a bone bruise on his elbow, while the Yankees' other ballyhooed pitching prospect, righty Dellin Betances, recently was demoted from Triple A to Double A. Maybe there is no reason to panic -- Pineda and Banuelos are expected to be healthy by spring training. But if they are not, The Plan could take a serious hit -- particularly when the team's ace left-hander, CC Sabathia, might be starting to lose his dominance. The Yankees refrained from pursuing free-agent left-handers C.J. Wilson and Mark Buehrle last offseason in part because of their concern about the 2014 payroll. By getting under the luxury-tax threshold, they not only would avoid paying the penalty, but also reset their tax rate to 17.5 percent from a potential 50 percent and qualify for revenue-sharing rebates -- rebates that could multiply if they stay under the threshold from '14 to '16. Those, no doubt, are powerful incentives, but I'm not sure Yankees fans will want to hear about the team's austerity program if the club suddenly becomes less competitive. Here's the kicker: Even if the Yankees abandoned The Plan and again chose to spend big, they would be hard-pressed to put together an elite rotation. The best potential free agents -- Philadelphia's Cole Hamels and San Francisco's Matt Cain -- already have re-signed with their respective clubs. The Los Angeles Angels' Zack Greinke likely will be the only impact starter on the market, but the Yankees have never considered him a good fit for New York. The free-agent class of 2013-14 could be just as thin, and the top eligible starters in 2014-15 -- Seattle's Felix Hernandez, Detroit's Justin Verlander and the Los Angeles Dodgers' Clayton Kershaw -- aren't necessarily going anywhere. New local and national TV deals are injecting big money into the game, giving many clubs more financial flexibility. Thus, the Yankees soon could face a more level playing field due to changes in both the labor agreement and the game's economic landscape. A failure to make the playoffs for only the second time since 1993 might only be the start of a transitional period for a franchise unaccustomed to such interruptions. Sure, the Yankees could hold down their luxury-tax number by trading for low-salaried players under long-term contracts (baseball uses average annual values in its luxury-tax calculations). The Yankees also could continue patching holes by signing veterans to modest one-year deals. But eventually -- and maybe even this season -- the erosions of older stars such as Sabathia, third baseman Alex Rodriguez and first baseman Mark Teixeira might be too much for the Yankees to overcome. As first reported by Joel Sherman of the New York Post, Rodriguez, Sabathia and Teixeira will account for $74.4 million in luxury-tax dollars in 2014. Shortstop Derek Jeter, who has a player option in '14, will account for at least $8 million more. Extending the contracts of second baseman Robinson Cano and center fielder Curtis Granderson likely would cost more than $30 million annually. Factor in another $10 million that every club is charged for insurance, pension, etc., and the Yankees would have less than $70 million to play with, if they intended to stay under $189 million. They could justify such a squeeze if the team remained strong, telling fans that they were adjusting short-term with the idea of spending heavily again once The Plan delivered its expected windfall. But if the Yankees miss the playoffs, a shift in strategy might be warranted. Fans won't want to hear about The Plan.
Original Story:
http://msn.foxsports.com/mlb/story/ne...
THE BACKYARD
BEST OF MAXIM
RELATED ARTICLES
From Chad Jennings:Before last night's win put the Yankees back into sole possession of first place in the American League East, general manager Brian Cashman provided a pretty blunt assessment of what the Yankees had been doing for the past seven weeks and what they planned on doing for the next month. "We're just not playing up to the best of our abilities, that's all...
HEADS UP!
Your browser does not support iframes. During Monday's Yankees-Rays game, Robinson Cano fouled a ball straight for his own radio booth and Yankees play by play man John Sterling. You can hear the amazing sound of the ball whacking Sterling's mic, as Suzyn Waldman steps in and Sterling comes back to life with a baseball in his hand. The accompanying video from MLB.com has...
As a September to remember begins to unfold before us in Major League Baseball, the Yankees find themselves in an interesting position. After holding on to sole possession of the AL East for 84 days, they were tied with Baltimore for first place for one day. After a Baltimore loss and a Yanks win tonight, they now have a one-game lead, and hope to start a new streak atop the division...
New York Yankees 6 — Tampa Bay Rays 4   After losing sole possession of 1st in the AL East, the Yankees take it back with tonight's 6-4 win over the Tampa Bay Rays.   Like many starters recently, Hiroki Kuroda struggled to hold onto leads in tonight's start. In 6 innings, Kuroda gave up 2 leads that he received. After having a 3-1 lead in the 4th inning, a 2-run triple by...
The New York Yankees have held a team meeting one day after losing sole possession of first place in the AL East. The session took place prior to Wednesday night's game at Tampa Bay. The Yankees have blown a 10-game division lead in 47 days. They started play Wednesday tied with the Baltimore Orioles. The Rays are only 1 1/2 games back. New York had been sitting atop the division...
For weeks, manager Joe Girardi talked about how well Russell Martin was hitting the ball only to be foiled by the misfortune of hitting it at the opposing team's fielders. Wednesday, Martin kept the ball away from the Tampa Bay Rays. Girardi inserted Martin in the No. 5 hole against lefty Matt Moore, hoping to see some of those good swings manifest into big hits for the struggling...
New York went ahead with help from a key Tampa Bay error, Russell Martin homered and had three RBIs, and the Yankees regained sole possession of first-place in the AL East with a 6-4 win over the Rays on Wednesday night. Eliot Johnson's errant throw to home plate that led to two runs in the seventh inning helped New York win for just the fifth time in 15 games. New York sat...
ST. PETERSBURG, Fla. – The "master plan," said Alex Rodriguez, is back "in order." A pre-game team meeting, a hard-fought win and an aggressive style of offense apparently did wonders for the New York Yankees on Wednesday, as they salvaged the final game of a three-game series with the Tampa Bay Rays, 6-4 at Tropicana Field and retook sole possession of first place...
ST. PETERSBURG, Fla. - The New York Yankees had held sole possession of first place of the American League East for 84 consecutive days. Now they have to share. The Tampa Bay Rays used three home runs and a stalwart pitching effort from Alex Cobb on Tuesday at Tropicana Field to beat New York 5-2, allowing the Baltimore Orioles to climb into an AL East tie by routing the Blue...
MLB News

Delivered to your inbox

You'll also receive Yardbarker's daily Top 10, featuring the best sports stories from around the web. Customize your newsletter to get articles on your favorite sports and teams. And the best part? It's free!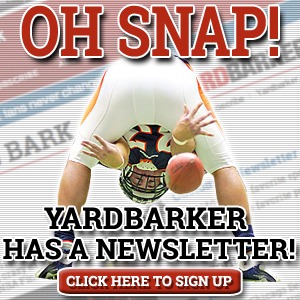 Latest Rumors
The Backyard

Today's Best Stuff

For Bloggers

Join the Yardbarker Network for more promotion, traffic, and money.

Company Info

Help

What is Yardbarker?

Yardbarker is the largest network of sports blogs and pro athlete blogs on the web. This site is the hub of the Yardbarker Network, where our editors and algorithms curate the best sports content from our network and beyond.